Apple challenges new Woolworths logo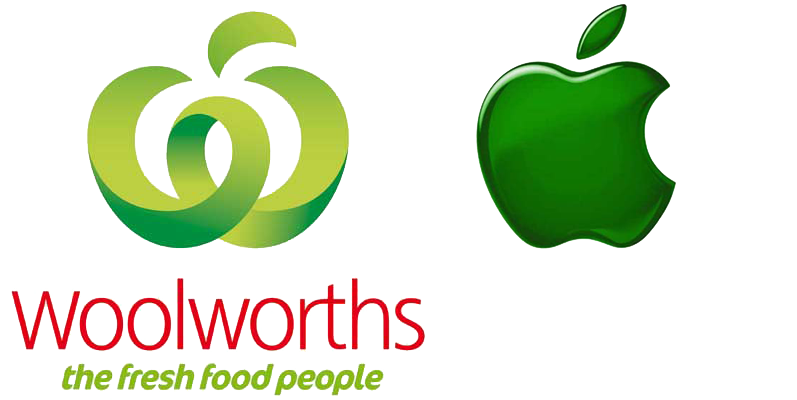 AppleInsider may earn an affiliate commission on purchases made through links on our site.
Attorneys for Apple have begun a legal response against the largest supermarket chain in Australia over a logo the electronics company says is too similar to its own iconic trademark.
Woolworths Supermarkets announced in August 2008 that it would revamp its corporate branding strategy (PDF) with a new logo, among other changes.
The Australian company has steered clear of mentioning apples in relation to its new mark, claiming the stylized 'W' was been paired with "an abstract leaf symbol" to represent fresh food. But others have noted its similarity to that particular fruit, including a trade publication that has twice compared the logo to a "peeling apple" (1, 2).
Apple, which has a long history of defending its world-famous bitten apple logo, has decided the similarities are a little too close for comfort. At first glance, the chance for confusion between a computer company and a food seller seems remote, but Woolworths' application asked for a blanket trademark extending even to electrical goods and technology.
"While we can't rule [computers, musical players, or other devices] out, we haven't got any plans at the moment," said a Woolworths spokesman.
The companies' trademarks could also clash in their respective retail presences. Apple operates an expanding line of international retail stores, while Woolworths is the largest retail company in Australia and New Zealand. Â And although the latter it is named after the American F.W. Woolworth chain of "five and dime" stores, the two are not related.
In April 2008, Apple similarly opposed a trademark filing for New York City's GreeNYC campaign that incorporated a stylized apple with a stalk and leaf.
And, most notably, Apple and The Beatles' parent company Apple Corps finally reached an agreement in 2007 after nearly thirty years of controversy about the use of the name "Apple" and related logos in various aspects of the music business.
Apple has not commented publicly on this latest dispute.