Apple's Mini DisplayPort officially adopted by VESA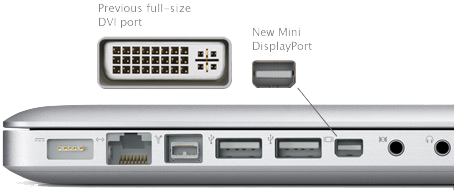 The Video Electronics Standard Association officially issued its Mini DisplayPort standard Tuesday, based on the technology licensed from Apple.
VESA said that all devices using the Mini DisplayPort connector must meet the specifications required by the DisplayPort 1.1a standard, and cables that support the standard must also meet specific electrical specifications. It's a formal confirmation of the news from earlier this year, when VESA announced the Mini DisplayPort connector would be included in the forthcoming DisplayPort 1.2 specification.
DisplayPort 1.2 is a new standard VESA is finalizing that will double the technology's bandwidth capabilities to 21.6GB/s. It is said to support multiple monitors via a single connector, 3D displays, and higher resolutions, refresh rates and color depths.
The Mini DisplayPort is a small form factor connector invented by Apple to fully support the VESA DisplayPort protocol. Unlike the Mini-DVI and Micro-DVI connectors common on previous generation Apple products, the port is capable of driving resolutions up to 2560x1600, which is commonly used on 30-inch displays. Since it was announced in 2008, Apple has added the interface to revisions of its MacBook lineup, the iMac, Mac mini, Mac Pro, and Apple Cinema Display.
"Originally developed by Apple for its new generation of portable PCs, Mini DisplayPort is much smaller than DVI (Digital Video Interface) or VGA connectors and enables full function display output on ultrathin notebooks and netbooks," VESA said.
The Mini DisplayPort is 10 percent the size of a full DVI connector.
Though the Mini DisplayPort technology was originally created by Apple, earlier this year the Cupertino, Calif., company agreed to license the interface to VESA for its own DisplayPort standard. Prior to the agreement, Apple had to license its technology itself and made the standard free, as an incentive for rapid adoption.
In April, the first non-Apple Mini DisplayPort compatible displays were revealed. The Colins America CinemaView LCD displays aim to be low-cost alternatives to Apple's own Cinema Displays.