Apple's Black Friday Mac in-store sales forecast to decrease [u]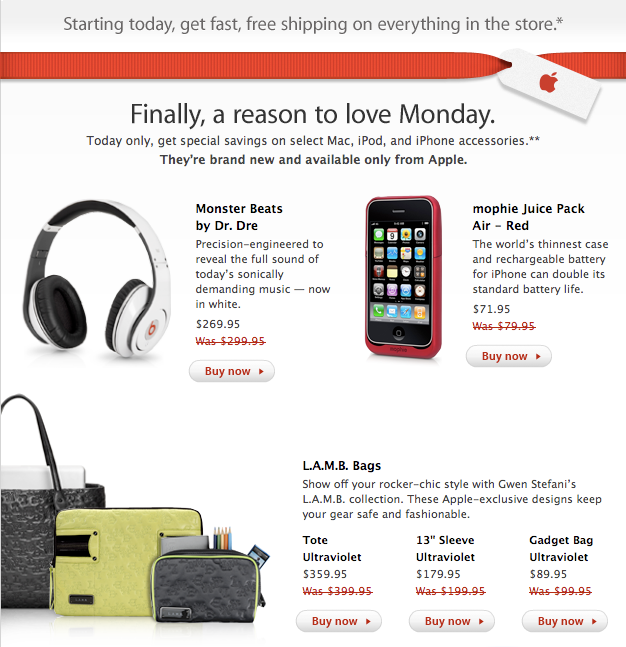 Checks with Apple stores last week suggest that in-store 2009 Black Friday Mac sales could see a year-over-year decrease, though online sales will likely compensate for losses, according to a new report. [Updated]
Analyst Gene Munster with Piper Jaffray said his team spent nine hours counting Mac sales in three different retail stores on the day after Thanksgiving. The firm counted an average of 8.3 Macs sold per hour, down from 13 per hour in 2008.
Update: The firm later issued a second note Monday morning, noting that strong online sales would likely "offset" the decrease seen in-store.
Munster said it is "too early" to make any calls on the overall December quarter. The analyst has retained his prediction of 2.8 million units sold during the frame, citing NPD Group numbers from October.
"While the average number of Macs sold per hour was down slightly y/y, we do not think we can make a call on Macs in the Dec. quarter with this data point alone," he said.
Expectations for Apple are high. In the September quarter, the Cupertino, Calif., company reported its best quarter ever, based on sales of 3 million Macs and 7.4 million iPhones. The company's profits rose more than 46 percent in the three-month period that concluded on Sept. 26.
As for online Black Friday sales, Apple's Web site traffic was one of five retail sites that surpassed 4 million unique visitors, according to comScore. Apple saw 39 percent year-over-year growth in its online traffic.
In all, the company reported that $595 million was spent online in the U.S. on Black Friday, an 11 percent increase over 2008.
Apple also discounted prices on some accessories for "Cyber Monday," the term used for the Monday following Black Friday. The day is said to be the busiest in the year for the purchase of electronics. The company has discounted Dr. Dre-branded headphones by $30, the mophie Juice Pack Air iPhone case and rechargeable battery by $8, and the Eye-Fi 2GB Geo SD card by $6.
In addition, Apple is offering free shipping on products purchased through Dec. 23.
"The $595 million in online spending this Black Friday represents the second heaviest online spending day of the season-to-date and a double-digit increase from last year," said comScore Chairman Gian Fulgoni. "While this acceleration in spending suggests the online holiday season may be shaping up slightly more optimistically than anticipated, it may also reflect the heavy discounting and creative promotions being put forth by retailers that now encompass the use of social networks such as Facebook and Twitter. Cyber Monday — the traditional kick-off to the online holiday shopping season — and the subsequent weeks will be the real test for how online retailers fare this season. That said, this is a very encouraging start."
AppleInsider has affiliate partnerships and may earn commission on products purchased through affiliate links. These partnerships do not influence our editorial content.