Apple's iPhone commands 46% of Japanese smartphone market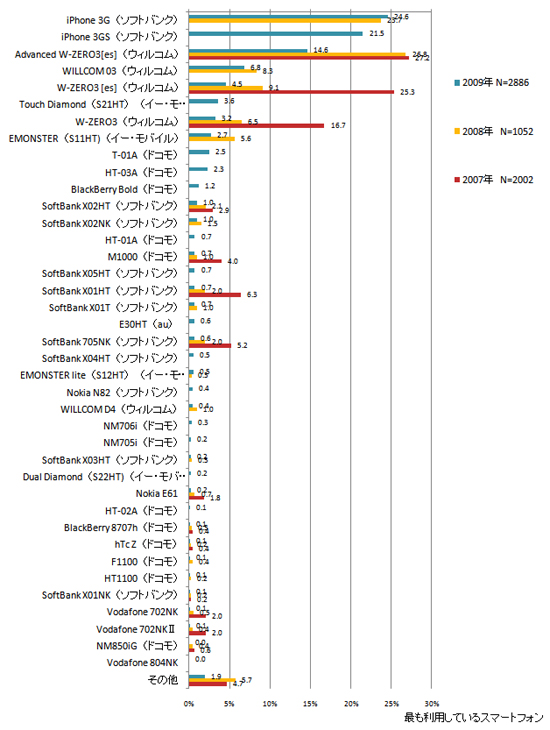 Nearly half of all domestic smartphone users have turned to the iPhone in Japan, giving Apple a dominant position in the market, according to a new study.
New data released this week from Tokyo-based research company Impress R&D shows the iPhone 3G taking 24.6 percent of the consumer smartphone market. The iPhone 3GS, released this year, accounts for another 21.5 percent.
Most of those gains came at the expense of the Sharp WillCOM W-Zero 3 Advance, a phone with a 3-inch screen and a slide-out QWERTY keyboard. In 2008, the phone was the most popular in Japan with 26.8 percent of the smartphone market. This year, its share tumbled to 14.6 percent while the iPhone 3GS was introduced, and the iPhone 3G saw a slight gain of 0.9 percent.
The success story soundly disproves reports from earlier this year that the iPhone was "hated" in Japan. It also demonstrates that the iPhone 3GS had a tremendous debut, just like the iPhone 3G did in 2008. This despite the fact that the Japanese market is notoriously difficult to crack for newcomers.
According to MobileCrunch, the iPhone has been aggressively marketed by carrier SoftBank Mobile, the exclusive wireless provider of the iPhone in Japan. "TV commercials virtually around the clock, print ads in major media, super-competitive pricing etc. do have an effect, it seems," the report said.
Earlier this month, it was reported that the iPhone had an exceptional debut in South Korea, selling 60,000 units at launch. That total represents about 15 percent of the 400,000 total smartphones sold in the country in the third quarter of 2009.
And despite a slow start for iPhone sales this fall in China, they have since sold at a steady pace, topping 100,000. And though numbers are difficult to track, various reports suggest the phone has sold well on China's gray market.