Apple exploring home power system, mood sensing media software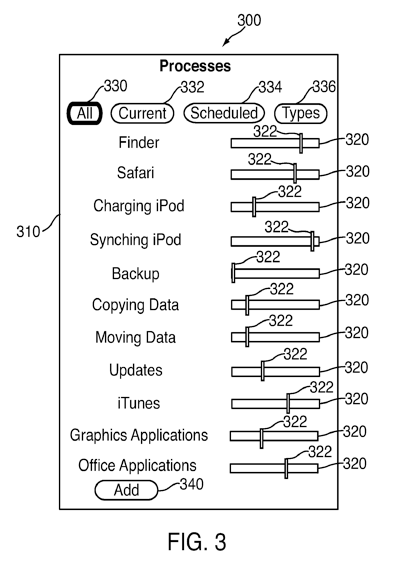 AppleInsider is supported by its audience and may earn commission as an Amazon Associate and affiliate partner on qualifying purchases. These affiliate partnerships do not influence our editorial content.
More new patent applications from Apple this week show a potential device that would analyze and control the power consumption of electronic devices within a home, and a method for sensing a user's mood and choosing media based on their emotional state.
Apple's filing for "Intelligent Power Monitoring" describes a system that would identify networked hardware, along with processes on a computer, to determine how much power consumption is necessary to keep everything running. The system could then predict the cost of the existing power requirements, and allow users the ability to reduce their overall power consumption.
The system would allow users to execute or close applications to create an ideal power plan. Through the system, devices such as iPhones, iPods and printers, along with Mac applications like Safari, Finder and iTunes, could be ranked according to priority levels assigned by the user.
Apple, in the application, noted that household power consumption continues to grow as devices like computers are left on for longer periods of time, and portable electronic devices have batteries that frequently need to be recharged. With the rising cost of electricity, these habits will not only result in wasted power, but also larger bills for consumers.
The application describes an "electronic device" that would aim to reduce waste and minimize a user's bill by calculating how much power a device will need to perform certain tasks.
"The cost of power can vary based on a number of factors, including for example the time of day, week or month, the consumer's tier or type of service, the amount of power previously consumed by the consumer, alternate sources of power used by the consumer (e.g., solar cells used during the day), or any other suitable criteria," the application reads.
"The criteria can be combined into one or more tables or graphs, or into one or more equations or algorithms used by the power supplier to determine how much to charge for each consumer's power use."
The system would define "boundaries or limits" to the power cost of operating a device. Users could, for example, say that their computer is not permitted to use power that totals more than a specified amount of money each week.
"Before performing each operation," it states, "the electronic device can then determine the power cost associated with the operation, and determine whether the power cost satisfies the boundaries or limits set for the operation."
Credited to Anthony Fadell, the invention was filed with the U.S. Patent and Trademark Office on May 8, 2009.
Another report on the matter Thursday included images that were implied to be from the "Intelligent Power Monitoring" patent application. However, those drawings are not a part of the specific application revealed this week. They show a greater emphasis on home automation with a mock-up of a house and various power plugs, but their source is unknown.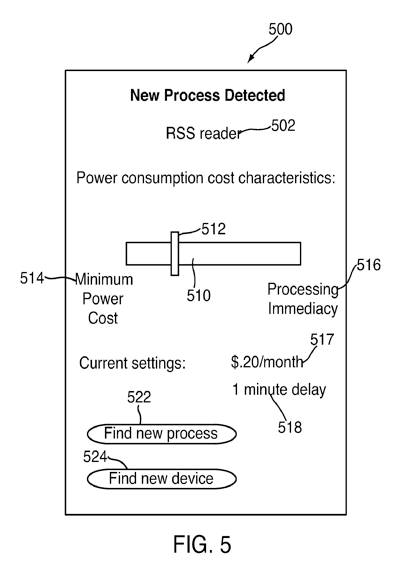 New software could select music in response to a user's mood, through a system that would determine whether they are happy, sad, angry or something else.
The system would detect a user's mood through a capacitance sensor in a variety of manners. For example, a sensor could be a part of a device's touchscreen panel, from which it would gather data and compare it to information corresponding to a common set of moods from a sample sized population.
The system could then recommend or automatically play various media types, including music and movies, based on the suer's current mood. The technology could also be used to counteract a "bad" mood: slow or soft music could be played when the user is angry or upset.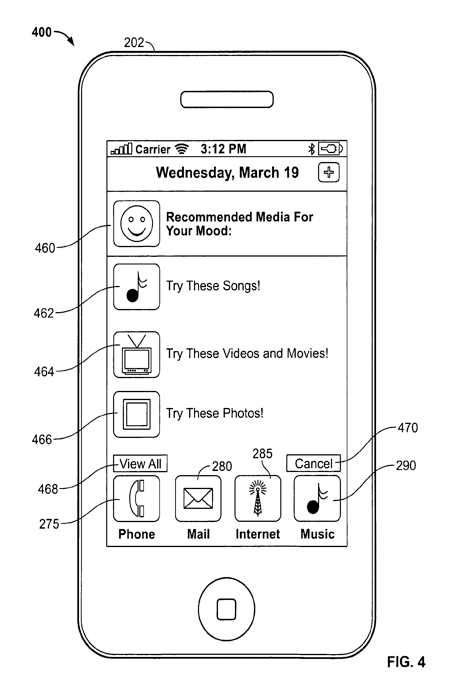 If no appropriate content is available, such a system could also automatically download or stream the right video, music or photos for that moment in time.
The system could also keep track of users' prior moods and playback preferences, and use that information to determine the best media to choose based on their current state of mind.
Entitled "System and Method for Creating Playlists Based on Mood," the application was filed for on July 10, 2008.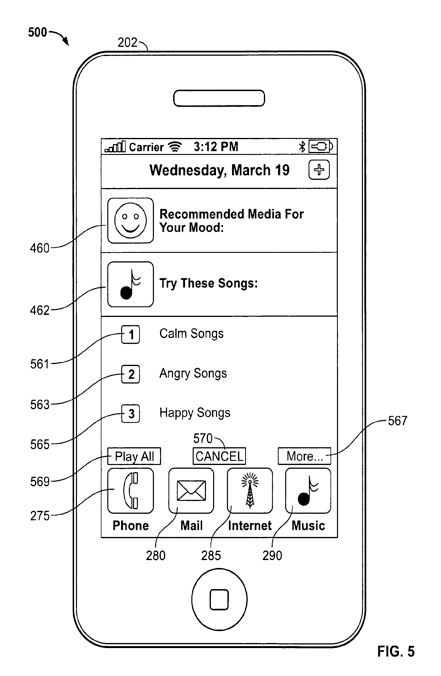 Contacts, promotions on iPhone home screen
Another application presents an option for users to place individual contacts directly on their phone's home screen. Simply titled "Adding a Contact to a Home Screen," the document describes just that.
The contact icon could be used to retrieve and display contact information, and also to access an application that is specifically chosen for that contact. The icon could also employ a proximity sensor with the contact's own separate cell phone, and show up on the screen only when that person is nearby.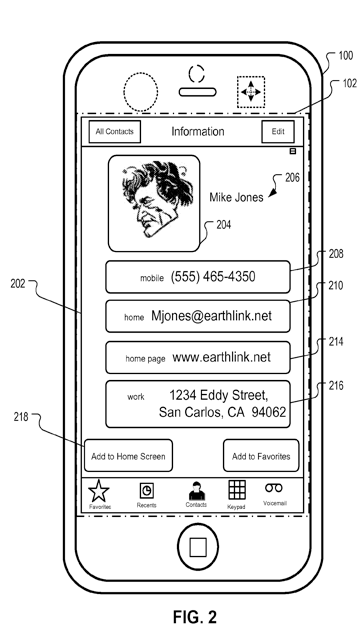 "User created icons can allow convenient access to all information and applications related to a contact," the application reads. "Thus, consecutive access to applications related to a contact can be greatly diminished. Additionally, temporary user access to applications relative to a location allows a user to minimize the amount of application data stored on a user mobile device."
Using this method, the icon could also serve as an advertisement for a business. The included images show a company called "Rocket Java" informing the user about a special on dark roasted Jamaican blend.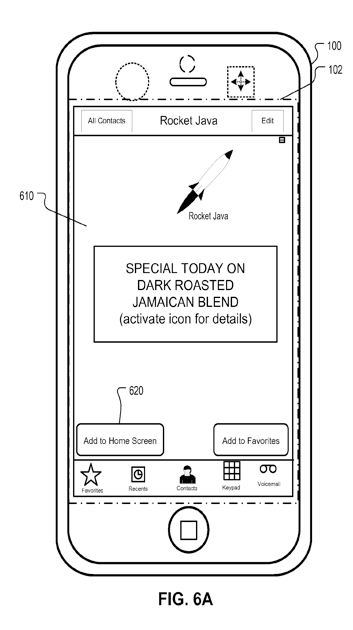 Previous applications have also addressed the possibility of more dynamic home screens, with a location-aware system offering custom icons and data, such as weather, based on what town the device is currently in. For example, when in San Francisco, a "San Francisco" icon would appear on the screen, and take the user to a location-specific option.