A closer look at Apple's iPad bundled applications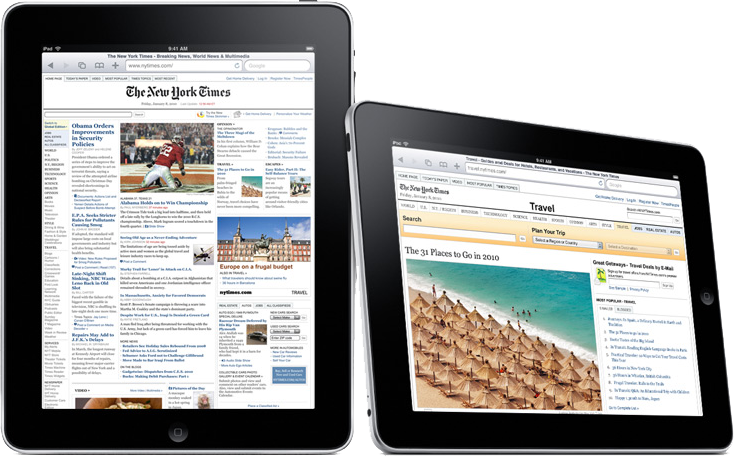 Apple's newly announced iPad features a number of native applications like those available on the iPhone and iPod touch, but with new features, capabilities and design tweaks that make them different.
The large Multi-Touch screen on iPad shows Web pages one whole page at a time. Sites can be viewed in portrait or landscape modes, with a size that's "actually readable," Apple said.
"And with iPad, navigating through the web has never been easier, or more intuitive. Because you use the most natural pointing device there is: your finger.
"You can scroll through a page just by flicking your finger up or down on the screen. Or pinch to zoom in or out on a photo. There's also a thumbnail view that shows all your open pages in a grid, to let you quickly move from one page to the next."
Landscape mode offers a split-screen view, showing both an opened email and the messages in your Inbox. To see the opened email by itself, you just turn iPad to portrait, and the email automatically rotates and fills the screen.
In any orientation, users can scroll through your mail, compose a new email using the large, on-screen keyboard, or delete messages, with a tap and a flick. If someone emails you a photo, you can see it right in the message.
Users can also save the photos in an email directly to the built-in Photos app. And iPad will work with all the popular email providers, including MobileMe, Yahoo! Mail, Gmail, Hotmail, and AOL.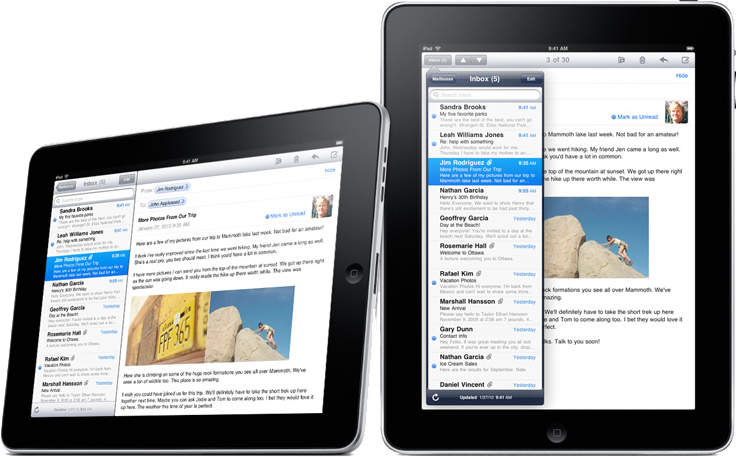 The new Photos app displays photos in an album as though they were in a stack. Tap or pinch to open the stack, and the whole album opens up. Then you can flip through your pictures, zoom in or out, or watch a slideshow.
The iPad can also be used as a digital photo frame while it is docked or charging. Photos can be imported through sync from a computer, download from an email, or imported directly from a camera using the Apple Camera Connection Kit.
During Wednesday's keynote, Apple CEO Steve Jobs showed how locations that photos were taken could be viewed through the integrated maps application. It also allows a photo slideshow that works much like in iPhoto.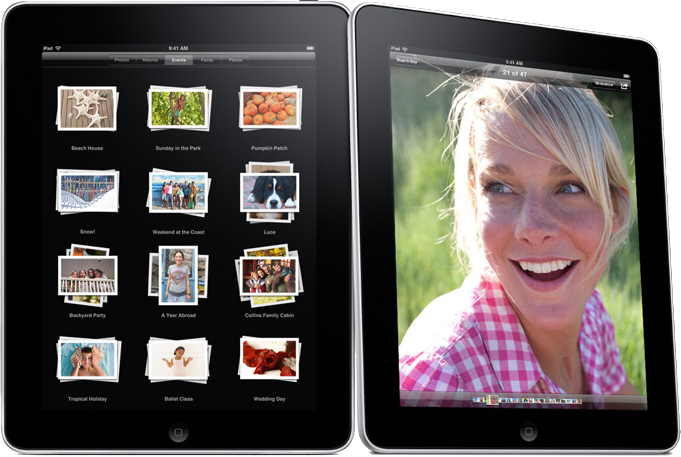 The iPad's high-resolution screen makes it ideal for watching HD movies, TV shows, podcasts and music videos. Users can move between wide-screen and full-screen with a double-tap.
With one big screen and no buttons to distract, the picture fills your line of sight.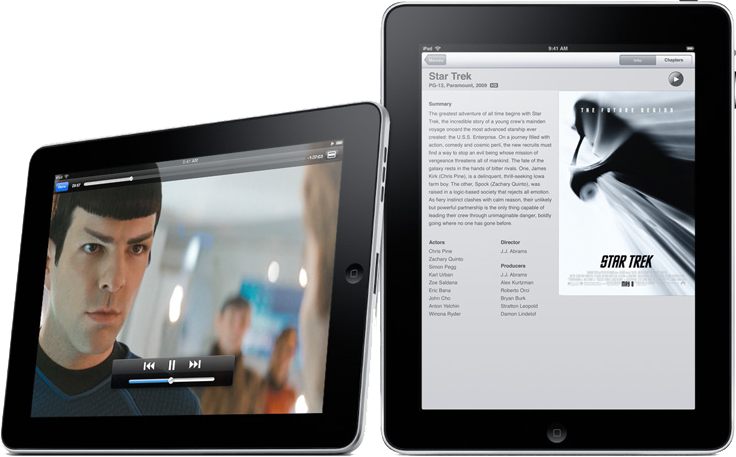 The YouTube app organizes video, making them easy to see and navigate. To watch one, tap it. When watching in landscape, the video will automatically play in full screen.
It also plays YouTube videos that are available in high-definition.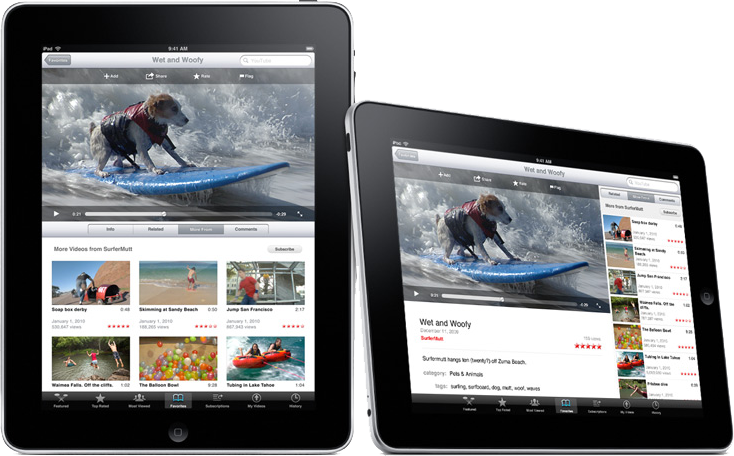 Browse by album, song, artist, or genre, with a flick. To play a song, tap it, and the now playing screen will show the album art at full size.
Listen to music with either the powerful built-in speaker, or with wired or Bluetooth wireless headphones.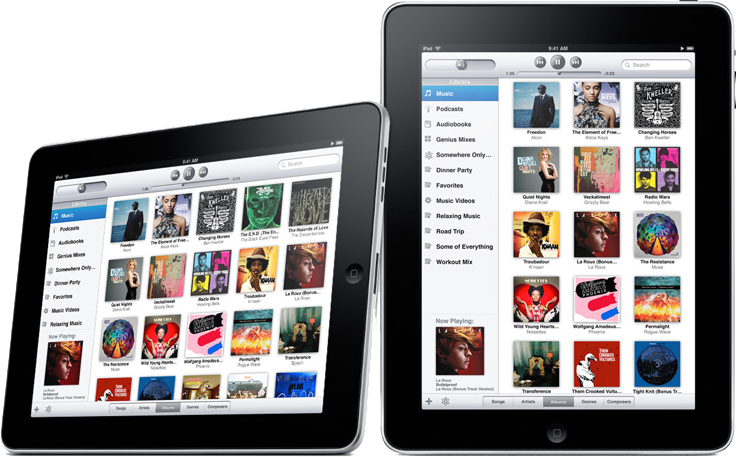 Tap on the iTunes Store icon to browse and buy music, TV shows, podcasts — or buy and rent movies — wirelessly, right from the iPad. Like on the desktop and via the iPhone, users can preview songs before purchasing them.
The iPad syncs with your existing iTunes library on Mac or PC via a USB cable.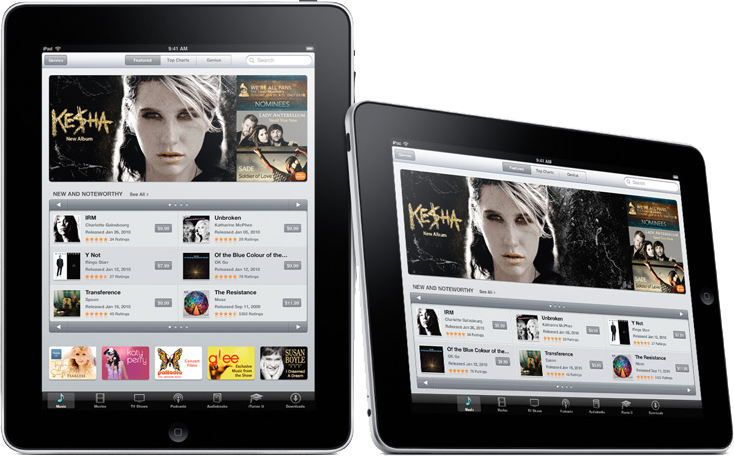 Runs almost 140,000 apps from the App Store: Everything from games to business apps, and more. In addition, new apps that have been designed just for iPad are highlighted, making them easy to find.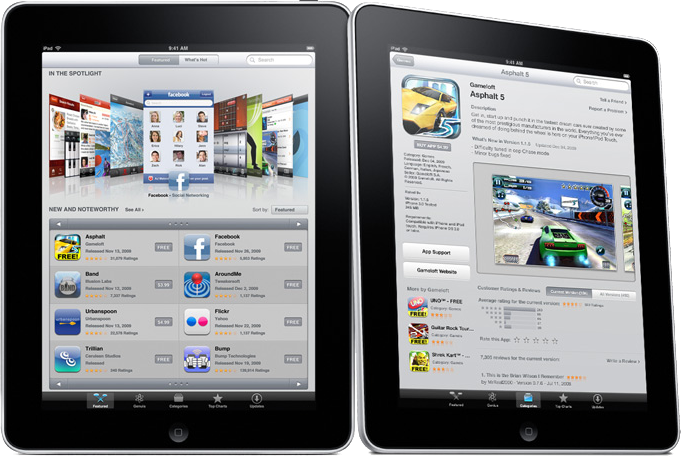 Download the iBooks app for free from the App Store, and you'll be able to buy everything from classics to bestsellers from the built-in iBookstore.
Purchased books are displayed on the iPad's virtual Bookshelf. To read it on the high-resolution, LED-backlit screen, tap on it and it opens up.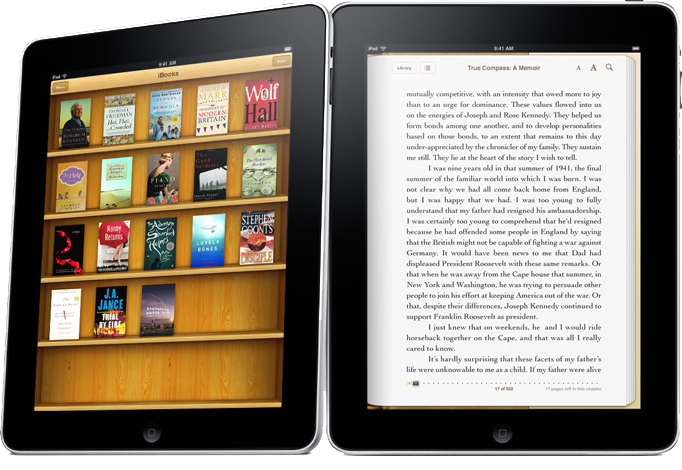 See more of the world with high-resolution Satellite and Street View images. View topography with the new Terrain view.
Search for a nearby business type (for example, "Restaurant") and then tap on that business to see the route and directions from your current location.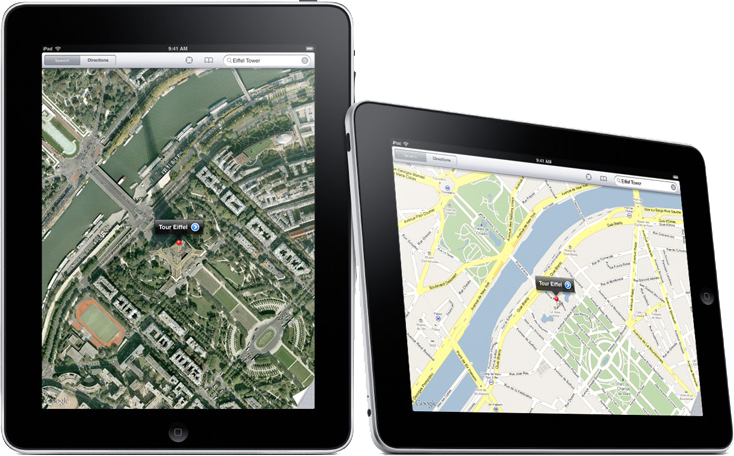 In landscape mode, users get a note-taking page and a list of all your notes, with the current note circled in red. It utilizes the device's full-screen virtual keyboard.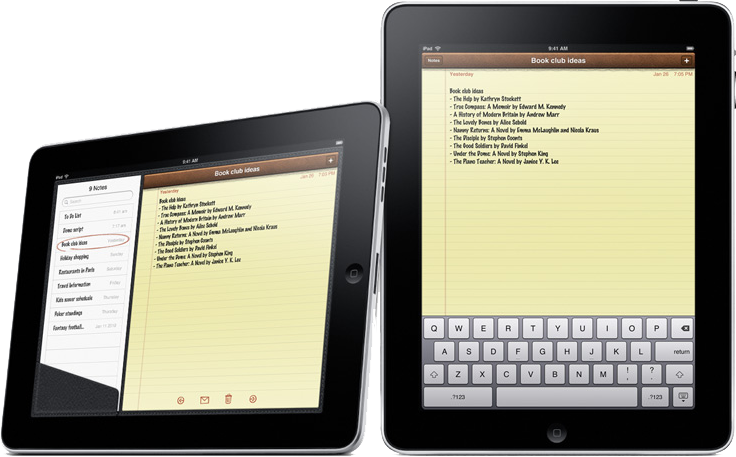 iPad displays Day, Week, Month or List views of your calendar. That way, you can see an overview of a whole month, or the details of a single day. iPad will even show multiple calendars at once, allowing work and personal calendars to be edited in the same place.
Jobs did a live demonstration of the Calendar app, which looks more akin to the Mac OS X software.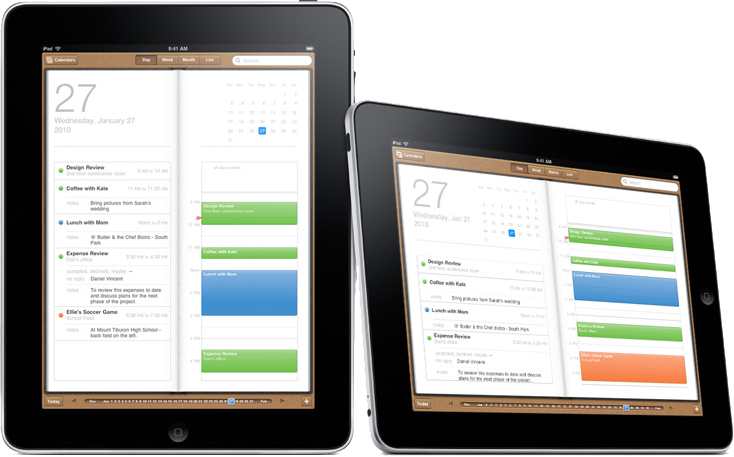 The Contacts app includes a new view that lets you see both your complete contact list, and a single contact, simultaneously. Tapping a contact's address opens it in Maps.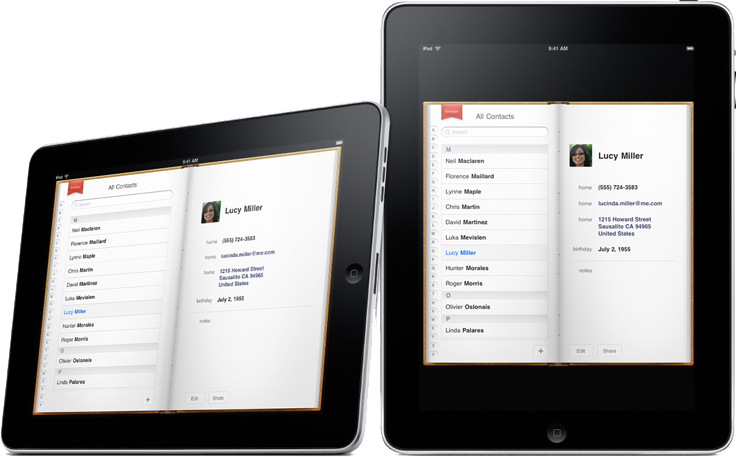 The Home Screen allows one-tap access to everything on iPad. The Home Screen can be customized by adding your favorite apps and websites, or using your own photos for the background. And you can move apps around to arrange them in any order you want.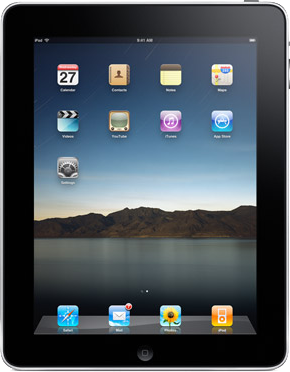 Spotlight Search allows users to search across iPad, and all of its built-in apps, including Mail, Contacts, Calendar, iPod, and Notes. It can also search for apps downloaded from the App Store.