Apple introduces iBooks store for iPad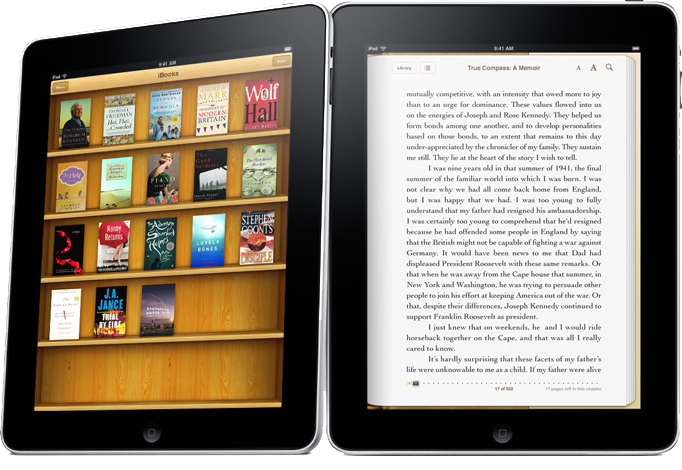 Alongside the new iPad tablet-style device, Apple on Wednesday introduced its own proprietary virtual bookstore, dubbed iBooks, for reading content on the device's 9.7-inch color display.
Apple CEO Steve Jobs demonstrated the application, which features a 3D virtual bookshelf with a user's personal collection. He then browsed a number of books available on the New York Times bestseller list.
Samples of books can be viewed before they are purchased, and downloaded content is placed onto the iPad's virtual bookshelf.
"If you've used iTunes or the App Store, you're already familiar with this," Jobs said.
When reading a book, users just tap anywhere on the right to flip forward, and tap on the left side of the screen to flip back.
HarperCollins Publishers
Hachette Book Group
Penguin
Macmillan
Simon & Shuster
Mentioned during the presentation were HarperCollins, Penguin, Simon & Schuster, Macmillan and Hachette Book Group. Jobs said there are more to come.
"We're going to open the flood gates for the rest of the publishers in the world starting this afternoon," he said.
iBooks will be available on the iPad when it launches in the U.S. It will feature titles from major and independent publishers.
"Watch movies, TV shows and YouTube, all in HD or flip through pages of an e-book you downloaded from Apple's new iBookstore while listening to your music collection," an Apple press release states.