Interest in Amazon Kindle wanes after Apple iPad unveiling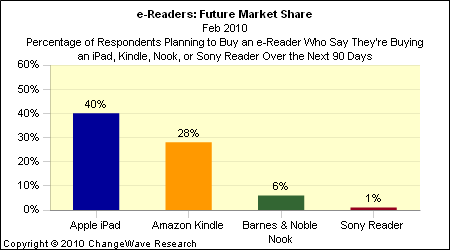 While most who currently own an e-reader have a Kindle from Amazon, a new survey found that a majority of consumers who intend to buy an e-reader in the near future will opt instead for the Apple iPad.
ChangeWave recently conducted a survey of 3,171 consumers the week after Apple announced the iPad, and the results suggest that the forthcoming device is poised to make a huge splash in the e-reader market.
"In particular, while a handful of e-Reader manufacturers — most prominently Amazon — clearly have a major head start," ChangeWave said, "the survey findings show the iPad is poised to profoundly shake up this market."
Among those who plan to purchase an e-reader in the next 90 days, 40 percent said they will buy the Apple iPad. That's well ahead of the 28 percent who will opt for an Amazon Kindle, 6 percent for the Barnes & Noble Nook and 1 percent for a Sony Reader.
That would be a major change for the Kindle, which is currently the far-and-away market leader. The ChangeWave survey found that 68 percent of respondents who already own an e-reader have the Kindle, while just 10 percent have a Sony Reader.
"While the iPad launch is likely to strengthen overall e-Reader demand, the survey suggests Amazon and its competitors could well find themselves relegated to playing catch-up within just a few quarters if they don't preemptively move quickly to upgrade their own e-Reader products," the analysis firm surmised.
In addition, among those who already own an e-reader, 27 percent said they would have bought an iPad if it were available at the time. Most — 45 percent — said they are content with their purchase, while 30 percent said they are unsure.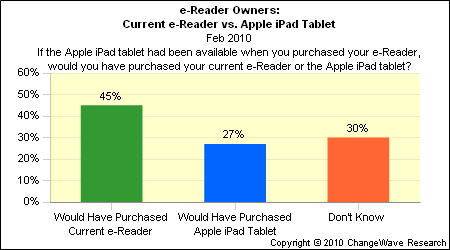 A portion of the same survey was revealed last month by RBC Capital Markets analyst Mike Abramsky. Those findings showed that 13 percent of respondents are likely to purchase Apple's forthcoming iPad, which is a number larger than the 9 percent who planned to buy an iPhone before its launch in 2007.
One of the strongest assets for the iPad is its $499 starting price. While 28 percent of respondents in 2007 said the iPhone was too expensive, only 8 percent in 2010 said they would not buy the iPad based on its price. In addition, while 19 percent said they are interested in the $499, 16GB model, another 19 percent said they would opt for the high-end, $829, 64GB model with 3G.
Working against the iPad, in the eyes of respondents: lack of a camera, no support for Adobe Flash, and no multitasking. Most consumers also said they will use the iPad for a variety of functions, suggesting it will serve more as a netbook than an e-reader.
The study also found the iPad will also have an effect on sales of other Mac products: 25 percent of respondents said they will delay planned purchases of one or more Apple products due to the iPad. MacBook purchases will be delayed by 9 percent of respondents, while 10 percent were prospective iPhone buyers that will now postpone their purchase.
Apple on Friday announced that the Wi-Fi-only iPad will be available for purchase in the U.S. on April 3, and the company will begin taking reorders on March 12. The 3G-capable model is expected to arrive stateside at the end of April, and overseas markets will receive both the Wi-Fi and 3G models at the end of the month as well.