Apple iPad demand exceeding pre-launch iPhone buzz?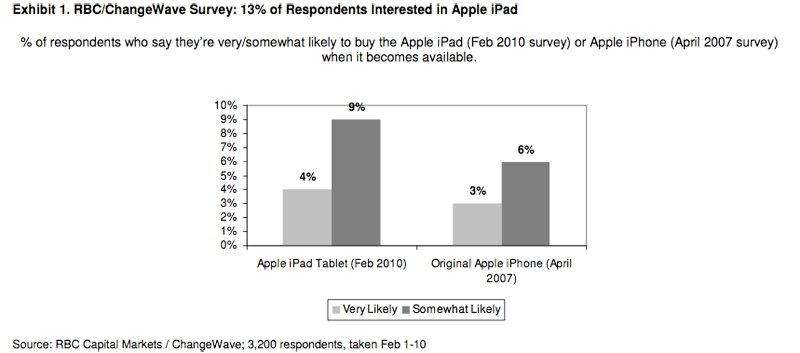 A new survey has found that 13 percent of respondents are likely to buy Apple's forthcoming iPad, a number greater than the 9 percent who planned to purchase an iPhone before its launch in 2007.
Details of the survey from RBC/ChangeWave were released Tuesday by RBC Capital Markets analyst Mike Abramsky. He said the responses from 3,200 participants show strong pent-up consumer demand for the iPad, which could bode well for Apple's new product.
One of the strongest assets for the iPad is its $499 starting price. While 28 percent of respondents in 2007 said the iPhone was too expensive, only 8 percent in 2010 said they would not buy the iPad based on its price. In addition, while 19 percent said they are interested in the $499, 16GB model, another 19 percent said they would opt for the high-end, $829, 64GB model with 3G.
The survey also found that lack of a camera, support for Adobe Flash, or multitasking have not had a significant impact on buyer interest. Most consumers plan on using the iPad for a variety of functions, suggesting it will serve as more of a netbook than e-reader. Of those surveyed, 68 percent said they would surf the Internet with the iPad, 44 percent would check e-mail, and 37 percent are interested in reading e-books.
The survey also found the iPad will also have an effect on sales of other Mac products: 25 percent of respondents said they will delay planned purchases of one or more Apple products due to the iPad. MacBook purchases will be delayed by 9 percent of respondents, while 10 percent were prospective iPhone buyers that will now postpone their purchase.
The survey's positive outlook for the iPad led Abramsky to maintain its prediction of 5 million units sold in the calendar year 2010, resulting in $2.4 billion in revenue and 33 cents earnings per share.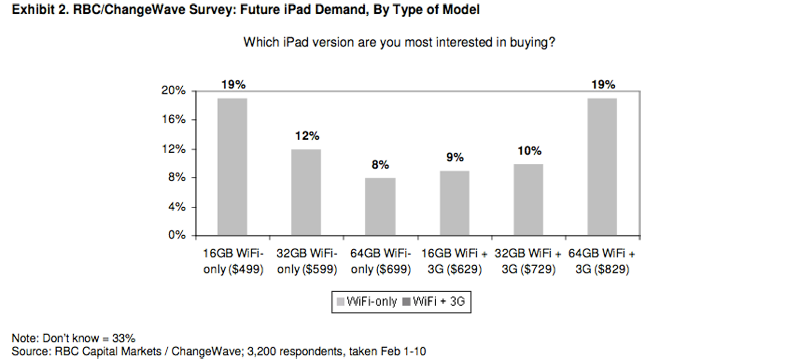 "This data, while preliminary, suggests iPad may have greater potential than expected, to expand Apple's addressable PC, iPod markets and to capture a segment of the home PC market," Abramsky wrote.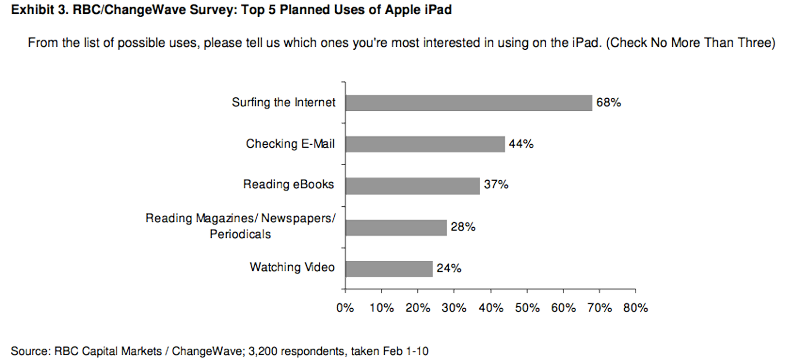 RBC Capital Markets has reiterated its outperform rating for AAPL stock, and has maintained a price target of $275.