Valve accepting applications for Steam for Mac beta program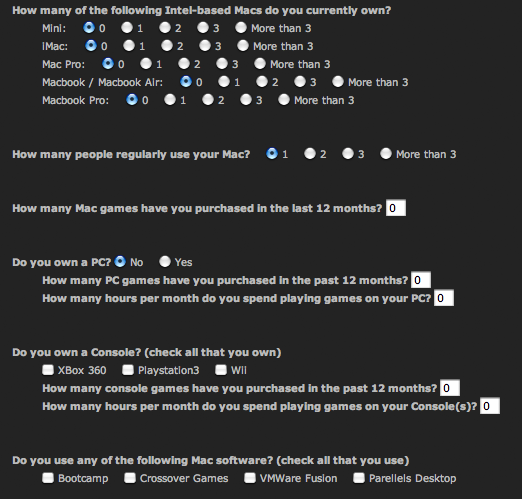 Valve Software this week quietly began accepting applications for a forthcoming beta program aimed at testing its highly-anticipated Steam for Mac online gaming service, several AppleInsider readers have discovered.
"We are going to conduct a closed beta for testing of the Mac client and Mac versions of Valve games," the company wrote on its website. "Participants will be selected to provide broad coverage of testing criteria. Please be honest in your answers as we need to test all types of users, systems, and software configurations."
Valve added that select applicants will be contacted in the comings weeks if their applications are approved. The signup process requires that applicants pre-register for a Steam account, which is a fairly painless process that requests basic information such as an email address and password.
Once registered, applicants are asked to provide some basic information such as which model Macs they own, how many games they've recently purchased for the Mac, whether they own a console gaming system like the Xbox, Wii, or Playstation, and whether they currently use an existing Mac virtualization solution or Apple's Bootcamp software.
Applicants are also asked to save and upload a mini snapshot of their system profile to provide Valve with the most accurate assessment of their current Mac hardware makeup.
Valve made headlines earlier this month when it confirmed through a web-based teaser campaign that it was finally getting the ball rolling on plans to bring its Steam gaming system to the Mac, along with the Source engine that powers titles such as Half-Life 2, Team Fortress 2, and Left 4 Dead 2.
The game maker said that once the Mac software hits the market, future Valve games will ship simultaneously on the Mac and Windows PC. Users who own games for the PC will also be able to download and play the same games on the Mac for free, and a new "Steam Play" feature will allow gamers on both Windows and Mac OS X to play online, with or against each other, cross-platform.
Jason Holtman, director of business development at Valve, commented that partners who sell games through the Steam service are "very excited" about embracing the Mac, implying that even more top-tier titles could be ported. The company has also made its tools, in the form of Steamworks for the Mac, available to its partners to make the transition easier.