Microsoft confirms Courier tablet, quashes hopes of shipping it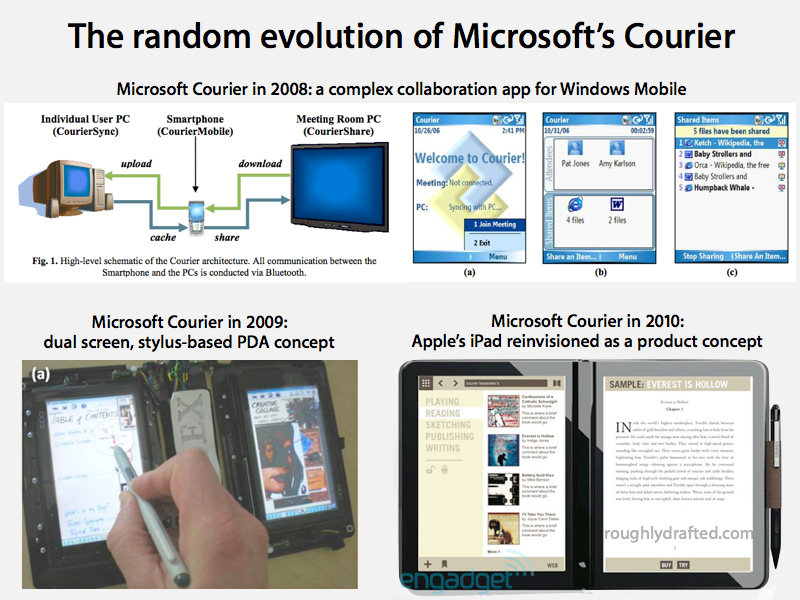 Microsoft has finally confirmed that it has been working on a tablet concept known as "Courier," but the company has also announced that it has "no plans to build such a device at this time."
The evolution of Courier at Microsoft
In 2008, Microsoft floated a mobile collaboration app for Windows Mobile under the name Courier. Nobody seemed to notice, given the overshadowing presence of iPhone 2.0 over the mobile software market.
The following year, Courier tablet concept photos were leaked by Gizmodo. It presented rendered depictions of dual-screen notebook supporting both touch and stylus input. The leak occurred just in time to suggest that Microsoft had big plans in place to rival the iPhone in the mobile arena, much like the introduction of the quickly forgotten Surface in 2007 had served as a temporary distraction from the original iPhone launch.
Shortly after the introduction of Apple's iPad, new pictures were leaked by Engadget depicting the dual screen Courier as a veritable competitor and near twin of the iPad, although there were no real details about availability or pricing.
Microsoft continued to officially promote the Slate PCs introduced in January by PC makers, but bloggers excitedly spoke of Courier as a real product that would ship at the end of 2010, presumably at a reasonable price and with lots of features missing from Apple's iPad.
Courier was also expected to run the same software (and Windows CE operating system) as the company's Zune HD music player and Windows Phone 7 smartphones, creating a counterpoint to Apple's iPhone OS and its App Store for iPhone, iPod touch, and iPad devices.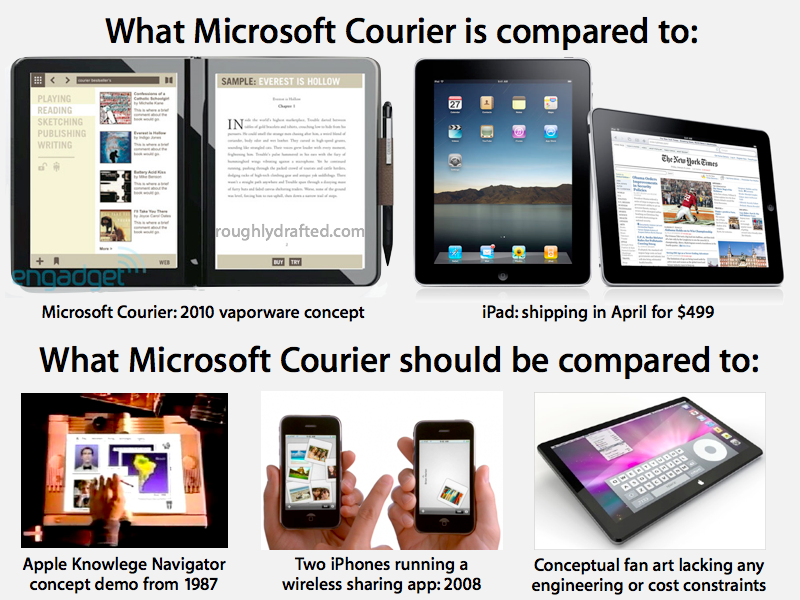 Today, Frank Shaw, Microsoft's VP of corporate communications, dashed any hopes for Courier in telling Engadget, "At any given time, across any of our business groups, there are new ideas being investigated, tested, and incubated. It's in Microsoft's DNA to continually develop and incubate new technologies to foster productivity and creativity. The 'Courier' project is an example of this type of effort and its technologies will be evaluated for use in future Microsoft offerings, but we have no plans to build such a device at this time."
Engadget mused that "Courier will always remain in our hearts as one of the finest unicorns that ever unicorned across our screens."