Apple's iPhone 4 "Retina" display claims spark controversy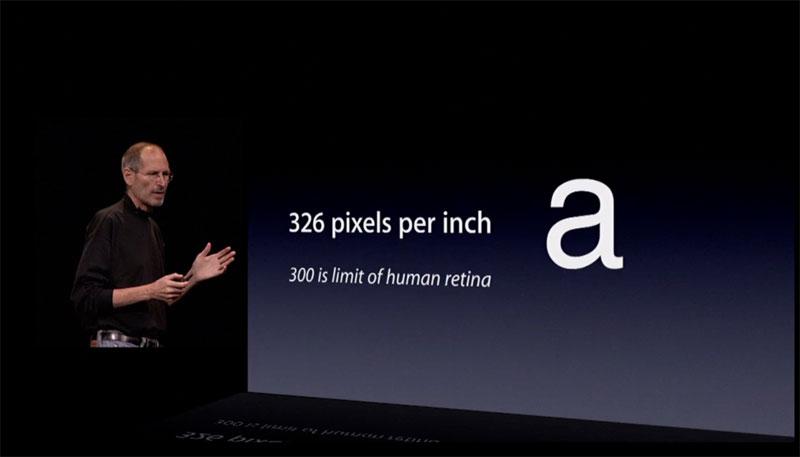 AppleInsider is supported by its audience and may earn commission as an Amazon Associate and affiliate partner on qualifying purchases. These affiliate partnerships do not influence our editorial content.
In the wake of Monday's iPhone 4 introduction, Apple has been the target of sharp criticism from some industry watchers and rivals looking to dispute some of the claims it made regarding the handset's new Retina Display.
Apple says new display sports four times as many pixels as that of the existing iPhone 3GS, with a resolution of 960x640, 326 pixels per inch, and backed by the same advanced IPS (In-Plane Switching) technology used in the iPad. During his keynote presentation at the company's annual developers conference, chief executive Steve Jobs asserted that the resolution of the new display was higher than "the limit of the human retina," which he noted as 300 ppi at 10- to 12-inches away.
In response to this, display expert Dr. Raymond Soneira, president of DisplayMate Technologies, contributed to an article over at PC World rebutting the claim. AppleInsider has previously referenced Soneira's extensive display critiques of both the Nexus One and the iPhone 3GS. In his most recent analysis, Soneira claims that the actual distinguishable resolution of the human retina is 477 ppi at a distance of 12 inches. According to his calculations, the iPhone 4's display wouldn't be a true retina display unless it was designed to be held at a distance of at least 18 inches from the eye, much farther than standard use for a mobile handset.
Soneira's comments were picked up by several major news outlets, including Reuters, Fox News and Wired, some of which expanded on those claims to accuse Apple of false advertising.
As numerous blogs sites continued coverage of the matter, some of the facts became further distorted, causing an eventual backlash against the criticism of false marketing. Discover Magazine blogger Phil Plait, who previously worked on the Hubble Telescope, sided with Apple by noting that Soneira's math assumes perfect eyesight, whereas the average person would be unable to distinguish the iPhone's pixels at a distance of a foot.
Jobs' WWDC keynote also drew criticism for the use of comparison graphics between the iPhone 3GS and iPhone 4 displays that some pundits have similarly deemed as misleading. Digital Society, a non-profit think tank, alleged that Jobs during the keynote falsely propped the iPhone 4's dispay with graphics that show an iPhone 4 resolution as high as 815 ppi, and up to 489 ppi on a separate Apple advertisement.
Adding to the controversy was global electronics maker Samsung, who joined the conversation by touting its AMOLED technology, which will be used in its recently announced Galaxy S, as superior to the newly released Retina Display. A spokesperson for the electronics maker told The Korea Herald that although the iPhone has a higher resolution, "visibility difference is only 3 to 5 percent," while consuming significantly more power than its own technology.
The LCD-IPS display used in the iPhone 4 is manufactured by LG, one of Samsung's primary rivals. For its part, research firm iSuppli believes that the competition between Apple and Google is bound spill over into a battle between LCD-IPS displays and AMOLED displays. Vinita Jakhanwal, a principal analyst for the firm, similarly sided with Apple, saying that while the Nexus One "upped the ante" for handset displays with its AMOLED display, the iPhone 4 "has raised the bar even further" with its LCD-IPS Retina display.