iPhone 4 apps will fill iPad screen, get VGA output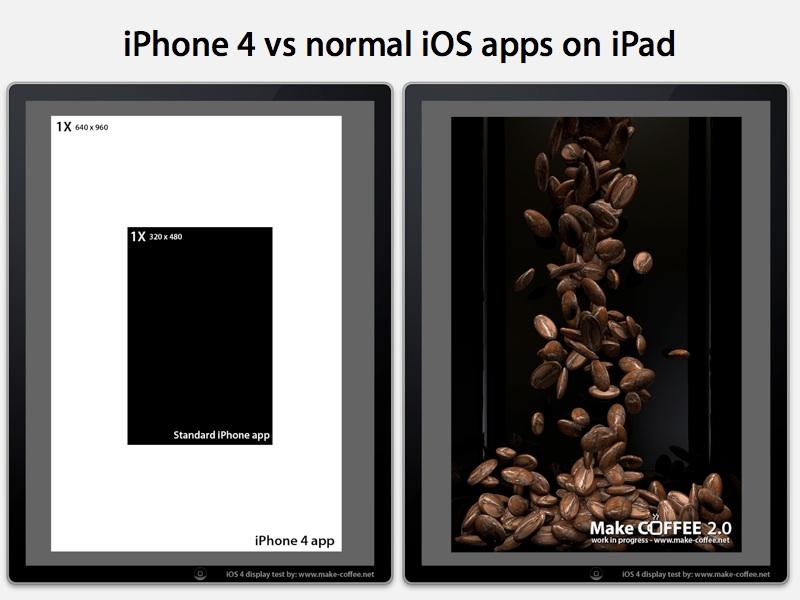 AppleInsider may earn an affiliate commission on purchases made through links on our site.
It seems obvious in retrospect to consider that apps designed for iPhone 4 will nearly fill an iPad display. Conversely, iPad apps will nearly fit into the new phone's Retina display without modification.
The stunning 960x640 resolution of the iPhone 4 Retina display is double the linear resolution of the current iPhone, giving it the highest pixel density of any smartphone on the market when it goes on sale later this month. The iPad's 1024x768 resolution is just slightly larger despite having a much larger display surface. While the 132ppi pixel density of iPad was already higher than any Mac Apple sells, the new iPhone 4 boasts a much higher 326ppi resolution density.
The iOS app developer of Make Coffee depicts on its site how apps with a native resolution version designed for iPhone 4 will look on iPad (below); it's the same as a pixel doubled version of a standard iPhone app, but in high resolution of course.
At WWDC, chief executive Steve Jobs noted during his keynote presentation that iPhone 4 will automatically scale existing iOS apps to its higher resolution, making text and user interface controls appear sharper without developers needing to do anything. Jobs noted that with a little additional effort, custom artwork can be enhanced to make iPhone 4 apps that look exceptional.
This reduces the efforts developers must make to address the iOS mobile resolution of existing iPhone and iPod touch users as well as iPhone 4 and iPad resolutions. These can all be packed into the same universal app. Other platforms have introduced a variety of non-standard resolutions on various new phones that developers will need to test against, complicating their efforts.
Blogger Robert Scoble captured a detailed shot of the new phone using what appears to be a 21 megapixel camera, resulting in a detailed, fingerprint-level look at its screen resolution density (shown here in part at the photo's native resolution).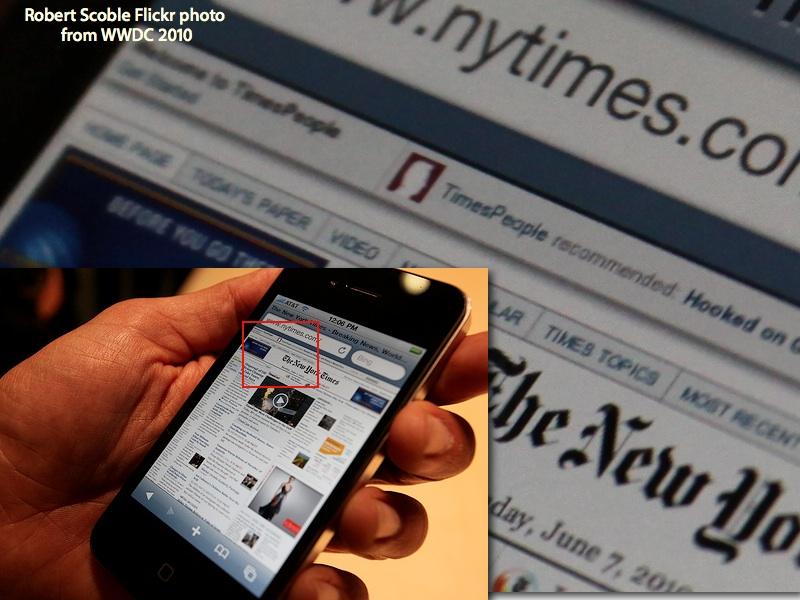 iPhone 4 gets additional iPad video features
Also underreported is the fact that iPhone 4 will support the iPad's VGA video output cable for delivering 1024x768 resolution, enabling developers to add video output features to their apps. Unfortunately, there is no hardware support for HDMI output (or its HDCP DRM), meaning that high definition content from iTunes will not be playable through a VGA projector or display.
Several high end competing smartphone devices now support HDMI output, although (somewhat ironically), these devices don't really have access to sync legitimately licensed HD media from sources such as iTunes or Blu-Ray Digital Copy, and therefore can only play what they don't have, rather than not being able to play what they do have, as iPhone 4 and iPad.
Unlike iPad, iPhone 4 can capture photos and video in both VGA quality (from the front facing camera) and in 720p HD at 30 fps from the 5 megapixel rear camera, providing additional reasons to output 1024x768 video from the device.
iPhone 4 also appears able to support the iPad's camera connection kit, although this isn't expressly stated by Apple. The new phone specifications add support for MJPEG video compression, a very inefficient format primarily used by point-and-shoot cameras that take video and capture it as AVI files. Support for the codec is only useful for syncing with camera devices; other similarities between iPhone 4 and iPad (such as VGA out support) suggest that the camera adapter should work with the new phone as well.