iPhone 4 Review: 3 - Camera Photos & Videos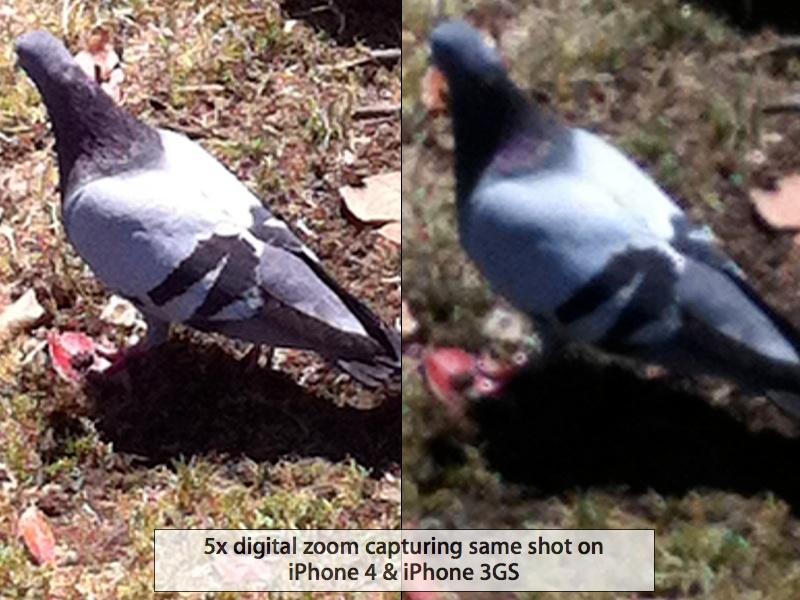 AppleInsider is supported by its audience and may earn commission as an Amazon Associate and affiliate partner on qualifying purchases. These affiliate partnerships do not influence our editorial content.
Apple's fourth generation iPhone is also the company's best mobile camera, whether shooting pictures, capturing video, or enabling video calls with FaceTime. Here's how it compares to the previous iPhone 3GS and other popular camera phones.
iPhone 4 may do a lot to help erase the market for both standalone point-and-shoot cameras and dedicated Flip-style camcorders. That's a bold statement until you see what kind of photos it can now take. It's not just photo quality either; it's ease of use, convenience, and speed. Taking pictures with iPhone 4 is really fast, with no lag between when you take the picture and when its captured.
The new LED flash helps fill in shots in low light (a feature Apple was lagging behind everyone in) and the cameras automatically geotag your photos, with the location now (in iOS 4) presented graphically right on the phone under Photo's Places tab.
The new phone even looks and feels like a camera, with flat edges that enable you stand it on its side or on end (if you dare) on a level surface. The built in camera app has no shutter delay timer, but you can set it up to record video, jump in the shot, and then trim out the initial part. You can now tap to focus for both still shots and while recording video.
There's very little to figure out in the ultra simple Camera app: just one button to set the flash and one to switch between the front and rear facing cameras (you can only switch before you start taking video or during a FaceTime chat; you can't go back and forth between the two cameras within the same recording).
New APIs in iOS 4 allow developers to access the raw data captured by the cameras, allowing third party apps to offer more options and additional (or less) imaging processing, meaning that Apple's simple and easy to use Camera app should get more complex alternatives offering additional features for those that want them.
Three years ago, Apple's first iPhone included a very rudimentarily camera that took only fair shots, useable for illustrating your contact list or snapping a shot of a funny sign. iPhone 3GS debuted a video camera with a touch to focus camera that took decent quality photos and acceptable videos, although our testing of the iPod nano suggested Apple had already improved upon its video capturing skills before that phone was even half a year old. In its fourth generation, Apple's iPhone 4 really shines as a camera.
iPhone 4 presents Apple's first front facing camera. It sports a "VGA resolution," which is 0.3 megapixels (640x480). That sounds like nothing at all in the megapixel arms race, but it's the same effective resolution of iChat and Photo Booth on the Mac, despite the fact that modern iSight cameras can capture 1.3 megapixels; a number of cameras take photos (and particularly videos) at lower resolutions than the hardware is capable of capturing.
The front facing camera takes plain pictures that are nothing special; it's there to capture video efficiently while you watch the other caller via FaceTime. If you want a good picture of yourself, click the camera-flip button and turn the unit around. You won't see a live view of your own photo, but the new highly reflective glass back of the iPhone 4 should give you an idea of what you're capturing, and make it easier to include friends in a self-held group shot (once you wipe the inevitable fingerprints of its back).
That rear camera captures very good pics with its 5 megapixel sensor, which sports both larger pixel size and a new "backside illumination" design that allows more light to hit the sensor. While the Retina Display's tightly packed, tiny pixels are a feature, as Apple's chief executive Steve Jobs explained in introducing the new phone, tiny pixels crammed into a camera sensor do not necessarily result in better pictures. Or in other words, more megapixels aren't automatically better if your sensor size isn't getting bigger as well.
Can it get better than this?
Rival phones with cameras capturing "more megapixel resolution" are often not capable of taking as good of pictures as iPhone 4, every review so far has indicated. What they do provide is a much larger picture size. The more megapixels you have capturing bits, the more megabytes your photo consumes. iPhone 4 pictures (2592x1936, 5 megapixel) are usually around 2-2.5MB, while iPhone 3GS photos (2048x1536, 3 megapixel) are usually closer to 1-1.5MB. In both cases, the raw data is JPEG compressed by the Camera app.
Without increasing the size of the sensor, packing more pixels into the tiny chip primarily gives you photos that are simply bigger. The iPhone 4 camera could certainly get better; a better lens with an actual optical zoom would be nice. The digital zoom of iOS 4 works by blowing up a section of the chip's sensor rather than using all of its pixels (as an optical zoom does).
You'll notice a big increase in pixelation when you zoom in, but iPhone 4 has enough resolution to make this at least somewhat useful; my test shot (below) taken while chasing pigeons in the park show the iPhone 4's maxed digital zoom compared to the iPhone 3GS.
One downside related to iOS 4 is that there's no longer an option to double click the Home button to activate the Camera app. That button sequence is now hardwired to the multitasking tray, so you have to manually hunt down the Camera app by icon.
If you're scrambling to capture something spontaneously, any delay spent navigating the device's touch screen is a potential shot killer. It's too bad iPhone 4's substantial new volume control buttons can't be programmed to pull up the camera (as in, up,down = launch Camera app). It would be nice to see this feature added in a software update.
On page 2 of 3: iPhone 4 vs iPhone 3GS, other Android phones: photos.
iPhone 4 vs iPhone 3GS: photos
The new camera's digital aperture responds faster than last year's iPhone 3GS, making it easier to capture the shot you wanted (once the Camera app is open), rather than the moment right after. Taking low light pictures is vastly better, and overall picture quality is significantly better.
The new phone also sports a useful new LED "flash" lamp, which can be turned on, off, or set to automatic. You can also activate the LED while video recording to help light your scene. On, the very bright LED can illuminate shots that would be too dark or noisy without it, but it's potentially annoying to use (it's very bright, and clicks on before the shot much longer than an actual flash unit) and may give you a picture that's overly orange.
Apple's LED at least uses a warmer white lamp, rather than the harsher blue tinged LEDs that most camera phones use, which tend to deliver unnatural and unflattering skin tones. Without the LED on, the new camera captures surprisingly good shots and video in limited light, a particularly difficult problem for most camera phones. The shots below demonstrate the kind of picture you can expect in a low light situation when using the iPhone 4 with the LED on and off, compared to the image captured by the iPhone 3GS camera.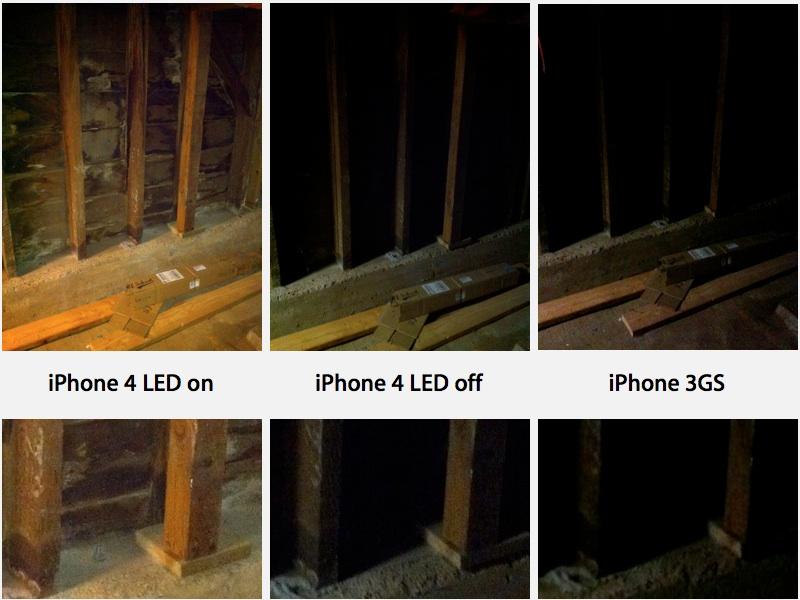 The shots below was taken indoors in obscured florescent lighting. iPhone 4 still manages to capture vibrant colors and the detail of the clear plastic, while the earlier iPhone 3GS camera suffers a lot of pixel noise from the poor lighting available.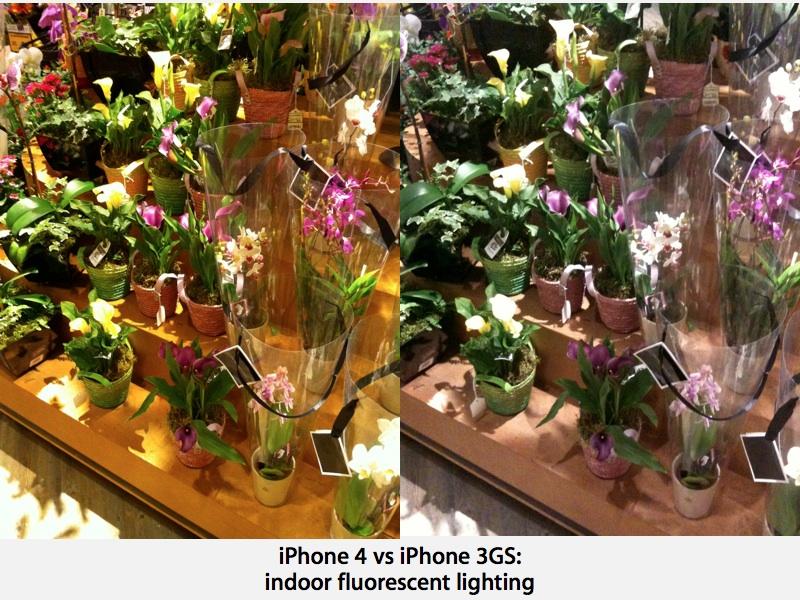 In bright sun at Dolores Park, iPhone 4 delivers more accurate color and much more depth, capturing sharper details even in distant skyline.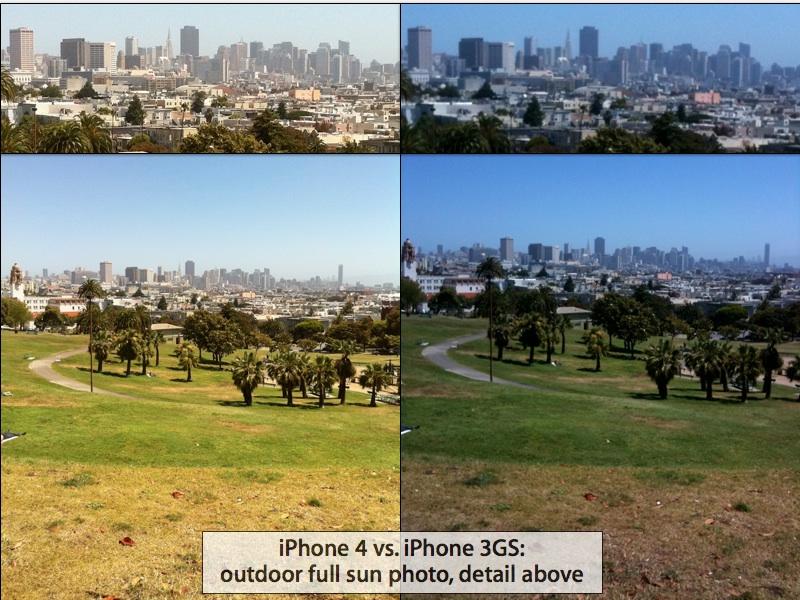 iPhone 4 beats top Android cameras, even point and shoot models
Expert tests performed by PC World which compared the iPhone 4 camera against Motorola's new Droid X, the HTC EVO 4G, and the new Samsung Galaxy reported, "iPhone 4 led the pack for overall image quality in our tests, serving up well-exposed, brightly colored images in our evaluations."
Even when compared to two popular 10 and 12 megapixel point-and-shoot cameras from Sony and Samsung, the panel wrote that "iPhone 4 outscored both of them in terms of exposure quality and color accuracy."
PC World noted that "iPhone 4's image quality was far less impressive in two categories: sharpness and distortion. It trailed the Droid X in terms of image sharpness, and those Sony and Samsung point-and-shoots finished far ahead of it." Overall however, the report concluded, "iPhone 4's photos looked more colorful and had better white balance than pictures taken with the other phones in this comparison."
Summing up the iPhone 4 photo experience, PC World wrote, "shutter lag is non-existent, image and video quality are solid, and the unique extras that the iPhone 4 has in its bag of tricks (tap-to-focus switching while shooting video, quick switching between the front-facing and back-facing camera, scrubbing a timeline to jump forward and back during clip playback, and a 5X digital zoom) take it a step above the competition in both speed and usability."
On page 3 of 3: iPhone 4 vs iPhone 3GS, other Android phones: videos.
iPhone 4 vs iPhone 3GS: video
When taking video, iPhone 4 captures a wider aspect ratio in full motion 30fps, 720p high definition (1280x720); iPhone 3GS only captures VGA resolution videos (640x480). This results in a bigger file: a 13 second video taken by both cameras of the same subject (panning across the view from the top of Dolores Park) resulted in the iPhone 3GS creating a 6.2MB file at 3.6Mbps, while iPhone 4 created 17.1MB file recording at 10.5Mbps.
Video quality captured by iPhone 4 is tremendously better than Apple's previous iPhone 3GS, as the still frame detail below demonstrates. The Retina Display of iPhone 4 amplifies the differences considerably, presenting a very sharp rendition of the photos and videos captured.
Video recording can also make use of the LED to illuminate the scene, but even without the lamp on it takes pretty decent video even in limited lighting. The Camera app also now supports tap to focus while recording video on iPhone 4, although this might be tricky to use while taking handheld videos.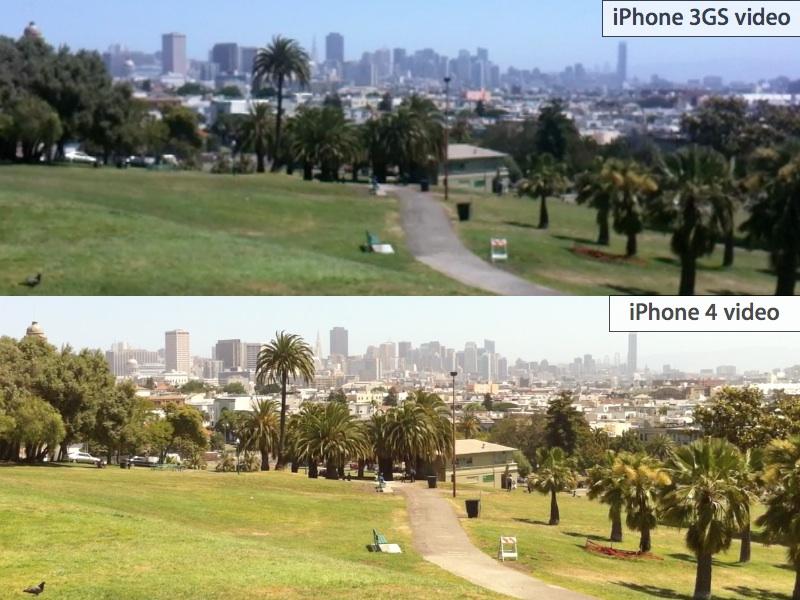 Apple bundles easy to use trim editing controls right into the Camera app, and also offers a pretty amazing version of iMovie for cranking out polished clips with titles and automatic transitions. The new iMovie app is exclusive to the faster iPhone 4; it was recently reviewed by Chris Smith of T3, who runs through its workings in the video below.
iPhone 4 video rated best, particularly in low light
In its aforementioned smartphone comparison article PC World reported, "iPhone 4 also led the charge when it came to video quality, and this part of the battle wasn't even close. Video quality shot with the iPhone 4 in bright light was rated as Very Good, showing smooth motion, bright colors, and accurate white balance. But low-light video shot with the iPhone 4 is the real story, as its ratings didn't just run circles around the low-light video performance of the other smartphones, but also of the Samsung and Sony point-and-shoot cameras."
Compared against a Flip Video MinoHD, the report said "the Flip showed sharper and more-colorful footage in low light, but when it comes to phones (and even some full point-and-shoot cameras), the iPhone 4 is a go-to device for low-light video."
Other comparisons show the iPhone 4 video camera blowing out the picture when the camera is pointed at a strong light source, a problem that dedicated video cameras like the Flip do a much better job of handling. There's still reasons why you might want to record video using a Flip, or of course, a higher end consumer camcorder. Audio might be a prime reason; iPhone 4 has a small mic that isn't going to catch audio as well as a camcorder.
Apple gets serious about camera quality
With its camera now taking pictures competitive to a point and shoot and videos approaching those captured by standalone digital video cameras, iPhone 4's well performing still and video cameras make it hard to consider wanting to carry multiple devices. It will also prevent users from leaving the iPhone platform to find a phone that also takes decent pictures, as Apple's previous offerings were never competitive cameras.
There's still room for iPhone 4's camera to get better in software. Apple will hopefully address the obvious feature of being able to invoke the Camera app using a physical button, and third parties are likely to take full advantage of the new, low level photo and video camera access iOS 4 affords them to create alternative camera apps.
Apple has exposed full public access to iOS 4's new AV Foundation (used by both Camera and iMovie), which provides developers full camera hardware access and control, raw pixel camera recording, support for setting exposure and white balance, and frame accurate video editing. In addition to creating alternative capture and editing apps, the software access will also help software developers to create new and improved apps that feature bar code scanning or augmented reality.
The final part 4 of our iPhone 4 review will look at additional software details and features of iOS 4.