Apple responds to US congressmen's query about iOS privacy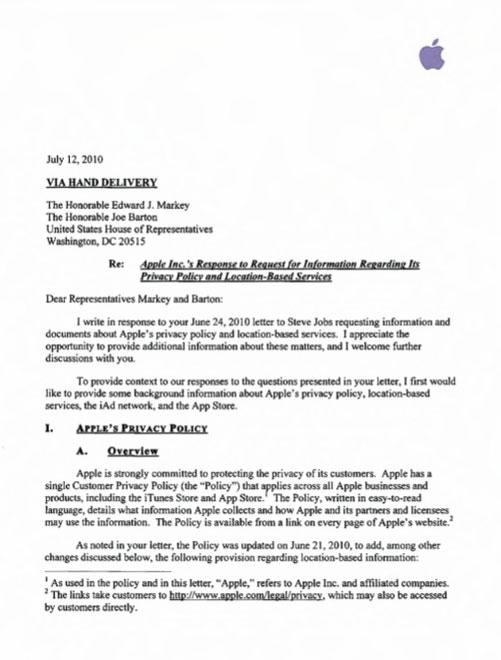 Apple has given a detailed summary its iOS privacy policy to two members of the U.S. House of Representatives who inquired about changes that were implemented in June.
Reps. Joe Barton (R-Texas) and Edward J. Markey (D-Mass.) sent a letter to Apple Chief Executive Steve Jobs in June. The congressmen expressed their concerns over Apple's modifications to its iOS privacy policy, and asked for information on exactly what information Apple is gathering on its customers.
Bruce Sewell, general counsel for Apple, responded with a letter dated July 12, which explained the basics of the privacy policy revisions. Last month, the company added a new section to its customer privacy policy entitled "Location-Based Services." Users were required to agree to the new terms and conditions before they could download anything from iTunes or the App Store. Sewell said the company did this to ensure that everyone would see the changes.
The update said Apple and its partners could "collect, use and share precise location data, including real-time geographic location" of a device. The information could be supplied anonymously to help Apple's partners and licensees provide better products and services, but a user's personal information is never shared. Users can opt out of the service by visiting oo.apple.com.
In the letter, Sewell said Apple keeps location data for six months to improve its iAd network. After that, the information is aggregated.
"Apple does not share any interest-based or location-based information about individual customers, including the zip code calculated by the iAd server, with advertisers," the letter reads. "Apple retains a record of each ad sent to a particular device in a separate iAd database, accessible only by Apple, to ensure that customers do not receive overly repetitive and/or duplicative ads for administrative purposes."
He also noted that users have the ability to turn off location-based services in iOS under its settings, and also notifies users in iOS 4 when location based services are in use, through an icon arrow displayed in the system's status bar.
"Apple's responses provided additional information about how it uses location data and the ability of consumers to exercise control over a variety of features on Apple's products, and I appreciate the company's response," Markey said in a statement.
"While I applaud Apple for responding to our questions," Barton said, "I remain concerned about privacy policies that run on for pages and pages. I hope every business uses information for advertising and marketing purposes that will work toward more transparency and complete disclosure about their practices, as well as robust security for the information they hold."