Roundup: Apple impresses Wall Street with another 'stellar' quarter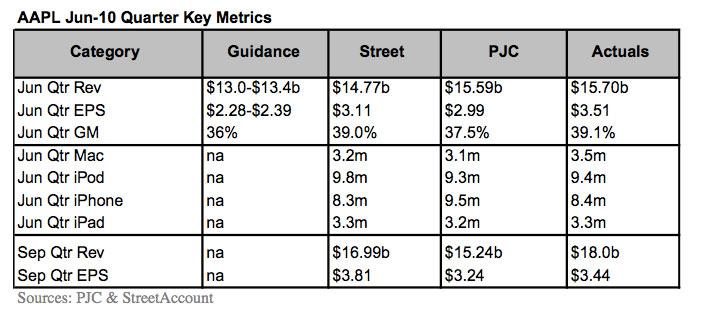 Apple again exceeded expectations on Tuesday, when it reported its quarterly earnings, with record Mac sales and signs that the company can sustain its continued growth.
Wall Street analysts were overwhelmingly positive Wednesday in reaction to Apple's earnings report. The company reported 77 percent profit growth, riding the strength of 3.47 million Macs sold, along with 8.4 million iPhones and 3.27 million iPads.
Analyst Gene Munster said while Apple had yet another "stellar quarter," investors will inevitably wonder whether that pace is sustainable for the company.
"We believe it is, given Apple has small market share in large, growing markets," he said. "We estimate that if Apple meets our Mac, iPhone, and iPad targets in 2011, the company will have only about 5% market share in the phone and computer markets, a number that will likely grow over some time."
Apple's revenue guidance, he said, was 6 percent above consensus, which is the highest Piper Jaffray has seen since tracking 17 quarters. The average revenue guidance from Apple is 3 percent below Wall Street's expectations.
And the strong Mac growth suggests that there is no cannibalization from the iPad, starting at just $499. Instead, the halo effect seems to be in play again, with other products including the iPad and iPhone driving Mac sales.
Piper Jaffray has maintained its overweight rating for AAPL stock, and increased its price target from $351 to $371.
Analyst Mark Moskowitz said he believes Apple's quarterly performance should restore focus back on the company's tremendous growth, and take some of the attention away from the antenna issues that have surrounded the iPhone 4 as of late.
Apple provided fourth-quarter guidance of 35 percent gross margins, a number that Moskowitz said is likely conservative. He believes the ramping of production of the iPhone 4 and iPad will achieve greater economies of scale, and will not greatly reduce Apple's gross margins.
Moskowitz, like Munster, suggested another halo effect is in play with the iPad, with Apple's touchscreen tablet driving sales of Macs. He sees users relying on their Mac for home use, and using the iPad on the road.
J.P. Morgan has reiterated its overweight rating for Apple stock, and increased its price target to $400, up from $390.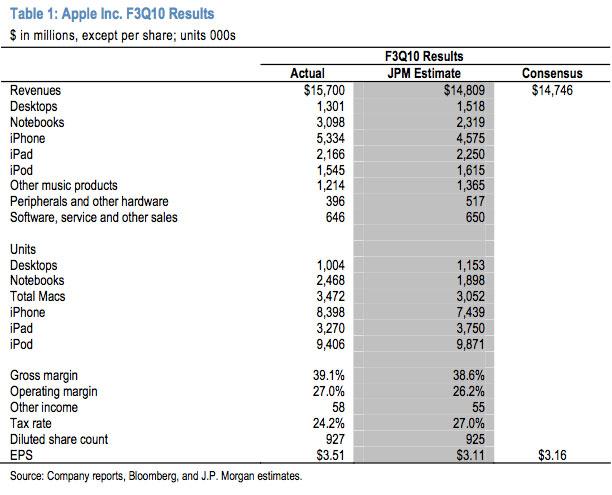 Maintaining his $280 price target, analyst Charlie Wolf said the biggest surprise of Tuesday's earnings report was Apple's fourth-quarter revenue guidance of $18 billion, even though the iPhone 4 and iPad are "hopelessly backlogged."
"Apple's fourth quarter guidance clearly assumes the company will be able to ramp production of both products to reduce their backlogs, if not meet demand," he said.
To Apple's advantage, the company "remains a small fish in some very large ponds," Wolf said. Even Apple's record Mac sales are still just a small fraction of the overall PC market. And the iPhone remains just a portion of the fast-growing smartphone market. And the iPad, while in a class of its own, is now cannibalizing the low-cost netbook market.
"Indeed, the iPad has jumped to the mainstream market, passing through the early adopter market in an instant," he said.
Analyst Mike Abramsky said Apple's third quarter will help to offset the near-term fallout from the iPhone 4 antenna issue. The company is now benefiting from a "cascade of cool," with multiple product cycles combining to drive "synergistic outperformance."
The addition of the iPad to Apple's successful product lineup is driving the strongest outperformance seen by the company in four years, with more to come, Abramsky said. Additional drivers for the company include international rollouts, smartphone adoption, PC-to-Mac migration, and growth in the enterprise market.
He expects Apple to sell a total of 15 million iPads in calendar year 2010. Abramsky sees that number growing to 26 million in 2011.
"iPad has the potential, in our view, to become the hottest product this holiday season, giving its positioning as a marquee media, e-book reading and gaming device and may see significant upgrades among the est. 40M+ iPod touch install base," he said.
RBC Capital Markets has increased its fiscal year 2010 revenue estimate to $64.6 billion (up from $62.4 billion), and earnings per share to $14.67 (up from $14.28). It has maintained a price target of $350 for AAPL stock.
Most surprising of Tuesday's results, analyst Yair Reiner said, was Apple's "mammoth revenue forecast," which he believes took Wall Street by surprise.
"To those (like us) who fretted that Antennagate might hamper iPhone sales, Apple's guidance seems to say, antennagate schmantennagate," Reiner wrote. "Apple is seeing a swell of demand across its product lines and increasingly compelling evidence that the iPhone has unleashed a halo effect in the international markets. These are facts on the ground that even Apple's stubbornly bearish guidance can't resist."
Apple's $18 billion in revenue guidance for the fourth quarter of 2010 is well beyond Wall Street's expectation of $16.9 billion. But its gross margin forecast of 35 percent, much less than Wall Street's 40.1 percent, left Apple's earnings per share guidance lower as well, at $3.44 versus consensus $3.72. Reiner isn't worried, as he expects it to again follow Apple's track record of "hyper-conservatism."
Oppenheimer has a 12-to-18-month price target of $330 for AAPL stock.
Most impressive in Apple's quarter, analyst Brian Marshall said, is the fact that Apple delivered about $1 billion in revenue upside from Macs and iPhones, which essentially negates the belief that the iPad will prove cannibalistic to the company's other products.
Gleacher is conservatively adjusting its future gross margin profile due to higher costs associated with the iPhone 4 and iPad, and revenue deferral from the forthcoming bumper giveaway.
Marshall said he is decreasing his gross margin estimate for calendar year 2011 to 37.3 percent, down from 42.1 percent. He expects Apple to post revenue of $81.872 billion next year. Gleacher has reiterated a buy rating for AAPL stock, with a $345 price target, down from $370.
Apple's unexpectedly strong guidance for the next quarter may be Apple's way of telling investors that it isn't concerned about "antennagate" and its impact on the company's bottom line, analyst Shaw Wu theorized. Kaufman Bros. slightly increased its price target for AAPL, to $350 from $349.
He said that Mac and iPhone sales surprised, while iPad sales were in line with investor expectations, and iPod sales were "a little light." Apple even managed to post strong iPhone shipments in the face of a "tough transition," when introducing three new products, given the lower 8GB capacity of the $99 iPhone 3GS.
Apple was also helped by a lower-than-expected tax rate, which helped the company's earnings per share by 13 cents. And gross margin, which usually beats Wall Street expectations, was in line at 39 percent.
"Regardless, we find the results and guidance impressive in light of difficult macroeconomic conditions and the attention drawn to its controversial iPhone 4 antenna design," Wu said.
The degree to which Apple can beat its traditionally conservative guidance for the fourth fiscal quarter of 2010 will depend on the available supply for the iPhone and iPad, analyst Maynard Um believes. The magnitude of potential upside will be the pace of capacity increases, as Apple is currently selling ever iPhone 4 and iPad it can create.
UBS Investment Research has increased its fiscal year 2010 estimates to $63.2 billion in revenue (up from $60.373 billion) and $14.50 earnings per share (up from $13.55). Fiscal year 2011 estimates have also been raised to $73.2 billion in revenue (from $67.2 billion), and $16.62 earnings per share (an increase from $15.20).
The firm has reiterated its buy rating, and believes that the iPad and iPhone will be two of the most sought after products in the second half of 2010.