Apple opens new iPad-like MobileMe Calendar beta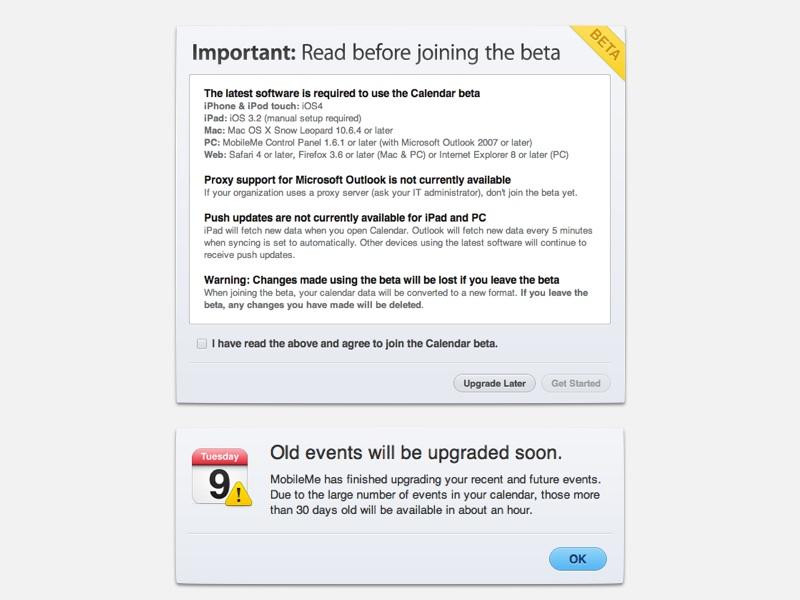 Apple has launched its new beta V2 update of the MobileMe web-based Calendar, sending users announcements that allows them to opt into the new program, which brings shared calendaring and an iPad-like appearance.
Opting into the new beta upgrades the calendar data in a way that makes any changes connected to the new format. Users who choose to leave the beta will lose updated changes, as Apple warns in the signup process.
The new Calendar requires users to upgrade to the latest iOS 4 for iPhone and iPod touch, the latest Mac OS X 10.6.4 or the most recent MobileMe Control Panel 1.6.1 for Windows, and demands a modern web browser, minimally Safari 4, Firefox 3.6, or Internet Explore 8.
Apple also notes that the new calendar beta does not support Microsoft Outlook behind a proxy server, and does not support push updates for Windows and iPad users. The iPad will fetch new data when its Calendar is opened, while Outlook running on Windows will fetch new event data every five minutes. Other iOS devices and Mac will continue to receive push updates normally.
Users with lots of calendar data may be warned that their older data will be incrementally upgraded over the next hour.
The new MobileMe Calendar features an iPad-like slider control at the bottom for rapidly navigating to future and previous months, and a calendar and notes view that appear to be tear off pads of paper. Also like the iPad Calendar, it presents a Day summary and List view of upcoming events.
MobileMe users can opt in to the new beta by logging in and requesting an invite. The new Calendar update is the latest in an overhaul series that began with Mail. The new updates use the latest SproutCore frameworks to create a very desktop-like experience.