Apple releases Safari 5.0.1 with Extensions, launches gallery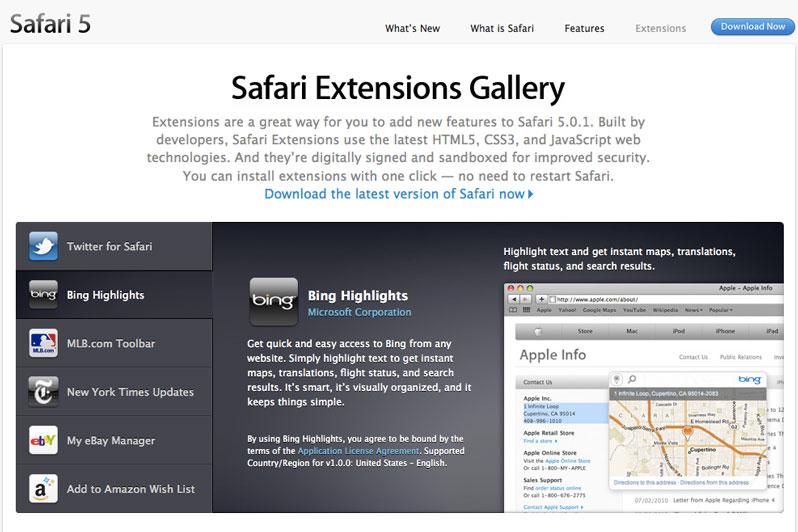 AppleInsider is supported by its audience and may earn commission as an Amazon Associate and affiliate partner on qualifying purchases. These affiliate partnerships do not influence our editorial content.
Apple on Wednesday released Safari 5.0.1, the latest version of its Web browser, with Safari Extension enabled. Users can also download Extensions through the newly launched gallery.
The latest update to Safari allows users to download and install extensions either from the Safari Extensions Gallery or directly from a developer's site. With Safari Extensions Gallery, users can quickly find extensions that add powerful new features to Safari, from toolbars that display live web feeds to sophisticated programs that filter web content.
Initial extensions are available from popular services including Twitter, The New York Times, MLB.com, Amazon and Bing.
"Safari 5 has been a big hit, and user response to the innovative new Safari Reader has been fantastic," said Brian Croll, Apple's vice president of OS X Product Marketing. "We're thrilled to see so many leading developers creating great extensions and think our users are going to love being able to customize Safari."
Apple introduced extensions support when it launched Safari 5 in June so developers could begin creating extensions with HTML5, CSS3 and JavaScript web standards. The company sent out a reminder earlier this month to developers that its Safari Extensions Gallery would launch soon.
With Safari Extensions Gallery, users can quickly find extensions that add powerful new features to Safari, from toolbars that display live web feeds to sophisticated programs that filter web content.
"Millions of our customers already use Amazon Wish Lists to store items they want to buy for themselves or receive as gifts," said Gianna Puerini, vice president of Worldwide Design and Community at Amazon.com. "With Safari 5, we were able to quickly build the Add to Amazon Wish List extension that lets customers add items from any website to their Amazon Wish List with the click of a button."
The Safari Extensions Gallery is accessible from the Safari menu or at extensions.apple.com. Users can download and install extensions from the gallery with a single click, and there's no need to restart the browser. Extensions can be automatically updated and are easily managed within Safari. Users can enable or disable individual extensions, or turn off all extensions with one click.
"We're excited to continue working closely with Apple to bring visually compelling Bing experiences to Safari," said Jeff Henshaw, general manager of Bing User Experience. "The Bing Extension for Safari brings Bing search intelligence to everyday browsing with Safari. When a user selects text in Safari, Bing instantly recognizes what they might need and pops up helpful, informative tips, from real time maps and driving directions to real time translations to direct web search results."
Safari Extensions are built with HTML5, CSS3 and JavaScript web standards, and can have all the power and functionality of advanced web applications. Every Safari Extension is signed with a digital certificate from Apple to prevent tampering and to verify that updates to the extension are from the original developer.
Safari Extensions are sandboxed, so they can't access information on a user's system or communicate with websites aside from those specified by the developer. For increased stability, Safari Extensions run solely in the browser.
"Using web standard technologies and Safari's extension builder, we developed an MLB.com extension to give fans another way to consume up-to-the-moment baseball content, including live look-ins to games, right from the Safari toolbar," said Noah Garden, executive vice president, Commerce and Sponsorship at MLB.com.
Safari 5 also features Safari Reader, which presents single and multipage articles on the web in a new, scrollable view without distracting content or clutter.
"Our extension for Safari is a great way for readers to get all of the latest breaking news and all the important stories, blogs and columns they want to see," said Denise Warren, general manager, NYTimes.com at The New York Times Company. "While you browse other sites in Safari, our extension checks for updates and slides in new headlines and thumbnails, so you won't miss a thing."
The Nitro JavaScript engine runs JavaScript up to 30 percent faster than Safari 4. Built on the open source WebKit engine developed by Apple, Safari 5 includes more than a dozen powerful new HTML5 features for creating media-rich experiences, like full screen playback and closed captions for HTML5 video.
"Creating our Twitter extension in Safari couldn't have been easier," said Jason Goldman, vice president of Product at Twitter. "By providing features like the ability to tweet about a page and view trending topics, we've created a simple way to deliver relevant, interesting content to people regardless of where they are on the web."