Apple reveals new cloud-centric Apple TV for $99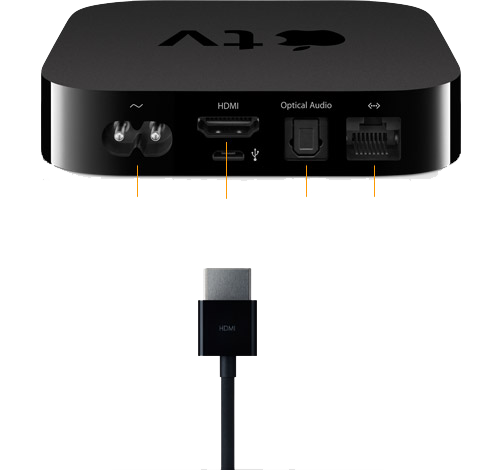 Apple Chief Executive Steve Jobs showed off "one more hobby" Wednesday, with a newly redesigned Apple TV that costs less than half of the price of its predecessor — $99.
The new Apple TV has a built-in power supply, HDMI, optical audio, Ethernet, and Wi-Fi, all packed into a device that is a quarter of the size of the previous generation hardware.
"It's a fourth the size," Jobs said. "You can hold it in the palm of your hand."
The CEO said that the new Apple TV does away with concerns of storage, as it is based on a rental model rather than purchasing. Users can rent first-run HDTV movies for $4.99, while single episodes of TV shows in HD will be available for 99 cents from Fox and ABC.
"We think the rest of the studios will see the light and get on board pretty fast," Jobs said.
Users can also stream content from an iOS device running version 4.2 or later. Jobs demonstrated streaming the movie "Up," instantly from an iPad over Wi-Fi.
The new Apple TV also offers access to Netflix streaming, YouTube videos, and photos from Flickr. Content can also be streamed from a Mac or PC, and from a MobileMe account. The new Apple TV will ship later this month.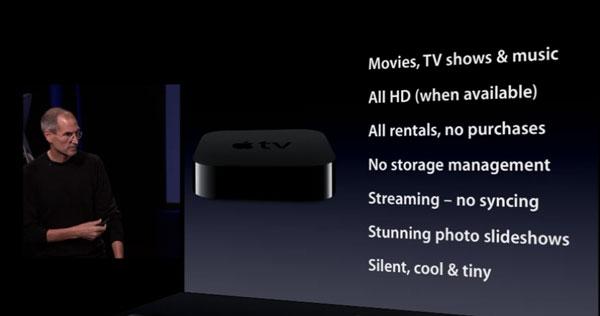 Other features, according to Apple, include:
Silent, cool, and small: The new Apple TV is quiet, energy efficient, and so small it fits just about anywhere.
Less clutter with HDMI: Play audio and video though a single HDMI connection.
Apple Remote included: Control Apple TV with the sleek, aluminum Apple Remote.
Integration: Includes access to Netflix, Flickr, Rotten Tomatoes, and MobileMe.
Photos, music and videos: View your own content on the new Apple TV. And stream content wirelessly via an iOS 4.2 or later device using the new AirPlay technology.
Remote app for iPhone or iPod touch . Remote uses the same easy-to-use interface you already use to browse music and video on your Multi-Touch device. So right away, you know how to navigate. If you want to find something specific, use your device's QWERTY keyboard to quickly tap out the title instead of clicking letters on the Apple TV screen.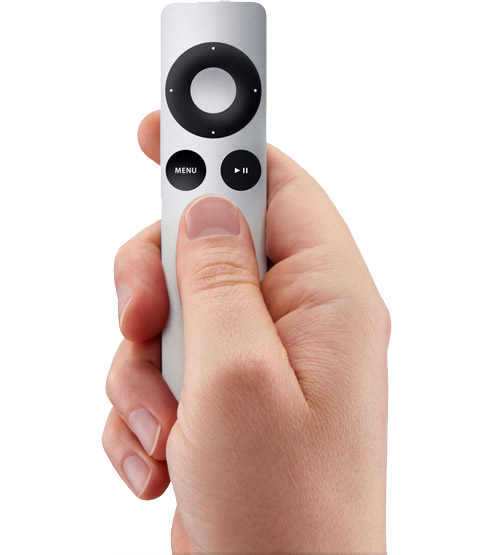 "The new Apple TV, paired with the largest selection of online HD movie and TV show rentals, lets users watch Hollywood content on their HD TV whenever they want," Jobs said in a press release. "This tiny, silent box costing just $99 lets users watch thousands of HD movies and TV shows, and makes all of their music, photos and videos effortlessly available on their home entertainment system."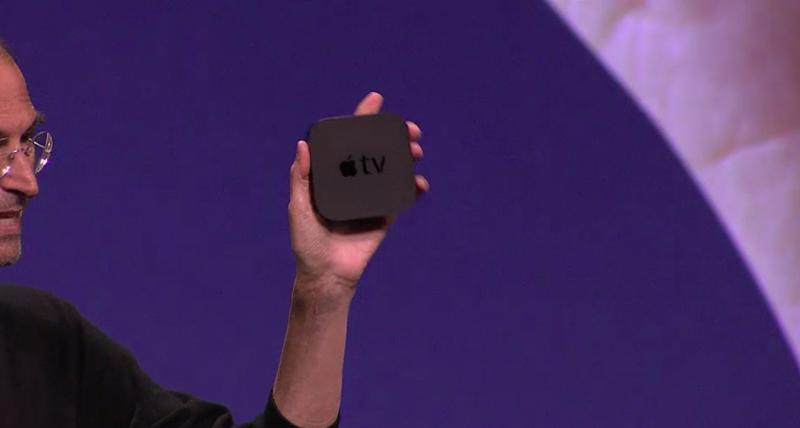 Height: 0.9 inches (23 mm)
Width: 3.9 inches (98 mm)
Depth: 3.9 inches (98 mm)
Weight: 0.6 pounds
Apple TV
Aluminum Apple Remote
Power cord
Documentation
Environmental Status Report:
BFR-free
PVC-free (internal cables and components)
Meets ENERGY STAR Version 2.0 requirements for set-top boxes
AirPort Extreme, Wi-Fi 802.11b, g, or n wireless network (wireless video streaming requires 802.11g or 802.11n) or 10/100BASE-T Ethernet network
iTunes Store account for renting movies and TV shows
Netflix account for streaming Netflix content
For streaming media from a Mac or PC: iTunes 10 or later; iTunes Store account for Home Sharing
HDMI2
Optical audio
10/100BASE-T Ethernet
Built-in IR receiver
Micro-USB (for service and support)
Environmental requirements:
Operating temperature: 32° to 95° F (0° to 35° C)
Storage temperature: -4° to 113° F (-20° to 45° C)
Relative humidity: 5% to 95% noncondensing
Maximum operating altitude: 10,000 feet (3000 m)
Power: Built-in 6-watt universal power supply
Wireless: 802.11n Wi-Fi (a/b/g compatible), 2.4GHz and 5GHz