iPhone 4 and iPad shortages could temper upside to Apple's earnings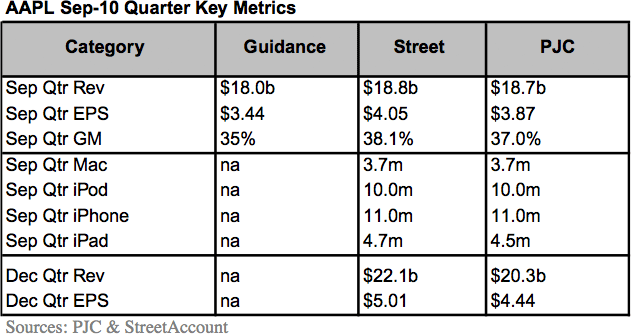 AppleInsider is supported by its audience and may earn commission as an Amazon Associate and affiliate partner on qualifying purchases. These affiliate partnerships do not influence our editorial content.
Apple, which will disclose earnings for its fourth fiscal quarter of 2010 on Monday, is expected to report profits in-line with Wall Street's estimates but may face trouble besting those predictions with its usual degree of flair due to shortages of two of its hottest products throughout the quarter.
On average, analysts polled by Thompson First Call expect the Mac and iPhone maker to report earnings per-share of $4.03 on sales of $18.76 billion for the three-month period ending September. However, the Cupertino-based company has on average beat Street estimates by roughly 15% for the past 17 quarters, Piper Jaffray analyst Gene Munster noted in a report to clients Friday.
Assuming Apple achieved the same upside in the fourth quarter, it would stand to report earnings of $4.80 per share, according to the analyst. But he believes shortages of both the iPhone 4 and iPad during the quarter prevented the company from generating the revenue it would need to garner those additional profits.
"To get to $4.80 on $18.8b in revenue would require gross margin of 43%, well ahead of 39.1% in June, the Street's 38% September estimate and guidance of 35%," he explained. " The bottom line is the mix shift and revenue upside driven by the lower margin iPad (about 30% gross margin) significantly tempers EPS upside potential."
Munster's estimates are based on his expectations that Apple during the quarter shipped 11 million iPhones, 4.5 million iPads, 3.7 million Macs, and between 10 and 10.5 million iPods. Overall, those predictions are "slightly below the street," he admitted, "due to of uncertainty regarding the impact of supply shortages that we have monitored throughout the quarter, particularly with the iPad."
"[W]e believe Apple can't make iPhones fast enough, and the reported iPhone number in the September quarter will understate true demand," he continued. The analyst erred on the same side of caution with his iPad numbers, estimating sales of 200,000 units less than the Street average "because of uncertainty in the supply levels internationally."
"Bottom line," the analyst said, "while its hard to predict the stock action the day after Apple reports, we believe shares will move higher over the next 3 month. We believe investors will remain optimistic that the growth story can continue given the size of Apple's addressable markets combined with the company's relatively small market share."
Munster maintained his Overweight rating and $390 price target shares of Apple.