Apple exploring nitride coatings for scratch-proof devices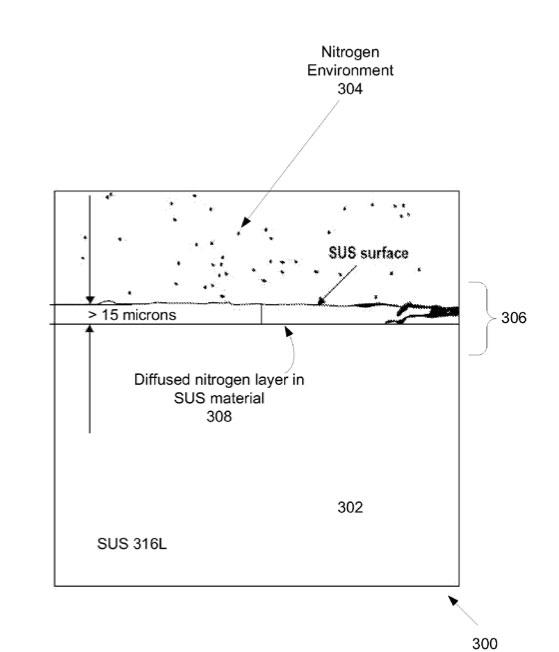 AppleInsider is supported by its audience and may earn commission as an Amazon Associate and affiliate partner on qualifying purchases. These affiliate partnerships do not influence our editorial content.
Apple has shown interest in creating stainless steel electronic devices that are more durable and scratch resistant, thanks to a thin external coating of nitride.
This week, the U.S. Patent and Trademark Office published the details of Apple's invention in a new application entitled "Nitriding Stainless Steel for Consumer Electronic Products." It describes a cost-effective system that would place a layer of nitride atop a stainless steel exterior.
"In addition to providing a durable, hard surface that is both scratch and impact resistant, the nitride layer allows for the natural surface color and texture of the underlying stainless steel to remain visible to the user," the application reads. "It is this natural surface color and texture of the stainless steel that adds to the aesthetically pleasing appearance of the consumer electronic product, thereby enhancing the user's overall experience."
The ability of a nitride coating to allow the stainless steel color to show through is different from titanium nitride, a ceramic material also used as a coating on metal. Titanium nitride carries a metallic gold color that covers the metal beneath it.
Apple's proposed patent would maintain the look and feel of stainless steel on its electronic devices, by both allowing the color of the metal to show through the nitride coating, and also relying on the nitride to protect the device from scratches and blemishes.
The application notes that austenitic stainless steel, while scratch-prone, is a desirable material for consumer electronics because it is non-magnetic and less likely to inhibit wireless technology like a cell phone signal, Wi-Fi, or Bluetooth. Apple wishes to maintain the look and feel of stainless steel, but to also provide more protection for the external material.
Apple's patent application describes a variety of methods to place the nitride on the surface, where the material would be at least 15 microns thick and carry a Vickers Hardness value of at least 1,000.
The application, made public this week, is credited to Douglas Weber. It was originally filed by Apple on April 6, 2010.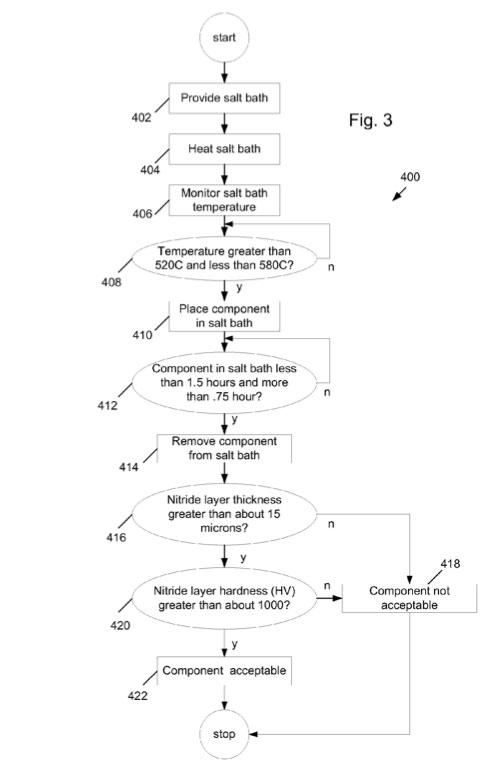 Apple has repeatedly shown interest in making its devices more durable and protected from daily wear-and-tear. This August, the company entered into an exclusive agreement with Liquidmetal Technologies, creator of an amorphous metal alloy with unique atomic structures, allowing for products that are stronger, lighter, and resistant to wear and corrosion.