Apple surpasses Sony, Motorola in total handset sales - Gartner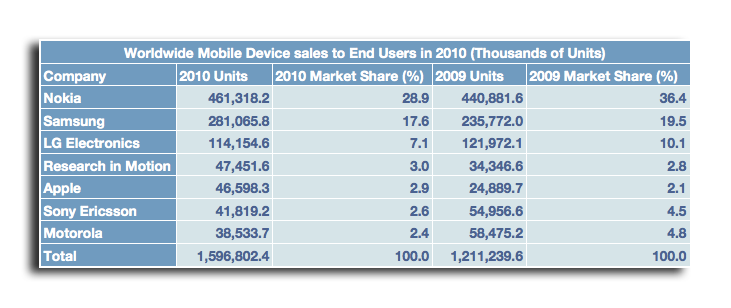 The growth of Apple's iPhone in 2010 came at the expense of competitors who lost significant market share and experienced reduced sales, including Sony Ericsson and Motorola, according to new data from Gartner.
Gartner on Wednesday revealed that worldwide mobile device sales to end users reached 1.6 billion in 2010, driven by the growth of smartphones, which saw a 72 percent increase. Among all handsets — both smartphones and "feature phones" — Apple was the No. 5 device maker for the calendar year, selling 46.6 million iPhones.
Apple's share of the total mobile phone market in 2010, according to Gartner, was 2.9 percent, up from the 2.1 percent it earned in 2009 on sales of 24.9 million devices. Apple's growth and near-doubled sales helped to push it past both Sony Ericsson and Motorola, which saw year-over-year declines in sales.
Sony Ericsson came in sixth on sales of 41.8 million handsets, good for a 2.6 percent market share. That was down from the 55 million units and 4.5 percent market share the company enjoyed in calendar year 2009.
It was a similar story for Motorola, which sold 38.6 million units in 2010 and earned a 2.4 percent market share. Both of those figures were down from 58 million units and 4.8 percent share in 2009.
The market leaders also lost ground in 2010, as Nokia slid from a 36.4 percent share in 2009 to 28.9 percent in 2010. But with sales of 461.3 million units in the calendar year, the Finnish handset maker retained its spot as the top mobile device manufacturer.
In second was Samsung, which dropped from 19.5 percent in 2009 to 17.6 percent in 2010. LG Electronics also slid from 10.1 percent to 7.1 percent.
Among the top companies, only Research in Motion joined Apple with year over year growth. The BlackBerry Maker earned a 3 percent market share in 2010 on sales of 47.5 million units, up from 2.8 percent share and 34.3 million units in 2009.
"Strong smartphone sales in the fourth quarter of 2010 pushed Apple and Research In Motion (RIM) up in our 2010 worldwide ranking of mobile device manufacturers to the No. 5 and No. 4 positions, respectively, displacing Sony Ericsson and Motorola," said Carolina Milanesi, research vice president at Gartner. "Nokia and LG saw their market share erode in 2010 as they came under increasing pressure to refine their smartphone strategies."
Gartner concluded that Apple's 87.2 percent year-over-year growth in 2009 was largely due to expansion into new countries and the end of exclusivity deals. They said the iPhone is now available through 185 communication service providers around the world.
In the smartphone operating system race, Apple's iOS grew from a 14.4 percent overall share in 2009 to 15.7 percent in 2010, good for fourth place. But Apple couldn't keep pace with Google Android, which catapulted itself into second place with major 888.8 percent year-over-year growth.
Nokia's Symbian platform remained atop the mobile operating system market with 111.6 million units sold and a 37.6 percent market share. Symbian still holds a significant lead over Android, which was on 67.2 million units and earned 22.7 percent of the market.
In third and just ahead of Apple was Research in Motion, which, for the calendar year 2010, shipped 47.5 million units for 16 percent market share. Apple's iOS remains well ahead of Microsoft, which accounted for just 12.4 million units shipped and 4.2 percent of the mobile operating system market.
The growth of Android and its outpacing of Apple's iOS has been well documented, including one report released this week which showed that, as of December 2010, Android was responsible for 27.7 percent of the U.S. smartphone market. Apple's iOS accounted for 25 percent of smartphone subscribers in America as of the end of 2010.
And in January, research firm Canalys reported that Android, along with Chinese variants OMS and Tapas, had overtaken Nokia to become the top smartphone platform in the world. But the Android platform is distributed by multiple device makers, while Apple makes both the iOS software and iPhone hardware, leaving Apple as the second-largest smartphone maker in the world, according recent data from IDC.