Google overtakes Nokia as top smartphone platform maker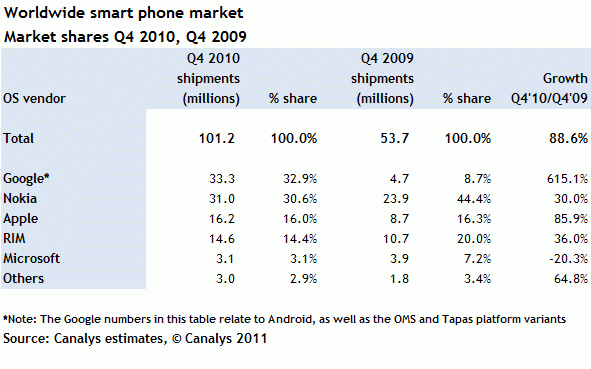 After passing Apple's iPhone on its way up, Google's Android has now passed up Nokia's Symbian to take the top spot among smartphone platforms, ending Nokia's 10 year reign on top of the global smartphone industry, according to one research firm.
Research firm Canalys revealed Monday that the 32.9 million handsets running a Google platform, which includes Android, OMS and Tapas, sold last quarter were enough to topple Nokia's Symbian, which had sales of 31 million, from the number one place, Reuters reports.
Google saw 615 percent growth year over year, compared to Nokia's 30 percent growth. Apple came in third with 16.2 million iPhones sold, giving it 16 percent of the global smartphone market. Research in Motion and Microsoft rounded out the list with 14 percent and 3 percent of the market respectively.
Though Nokia still maintains a sizable lead as the largest handset maker in the world, it has lost significant ground in the smartphone market in recent years. Former CEO Olli-Pekka Kallasvuo admitted last year that the Finnish handset maker had failed to make a splash in the U.S. smartphone market.
In September, Nokia went through a major management shakeup. The company first announced it would change CEOs, bringing in Microsoft executive Stephen Elop, in hopes of reenergizing the company's smartphone offerings. The company's smartphone chief announced his resignation several days later, then Nokia Chairman Jorma Ollila declared his intention to step down.
Nokia's flagship N8 smartphone saw numerous delays on its way to market. The company even went through a lost prototype debacle similar to the leak of an Apple iPhone 4 prototype that made headlines last year. Though sales of the N8 reportedly reached around 4 million units in the fourth quarter of 2010, the figures have been viewed as too little too late for Nokia.
Google's Android has seen its fair share of controversy on the way to the top. Reports emerged last year that Apple Chief Executive Steve Jobs felt betrayed by Google after the search giant followed his company into the smartphone business.
"We did not enter the search business. They entered the phone business," Jobs allegedly said during a company meeting. "Make no mistake; Google wants to kill the iPhone. We won't let them."
While Apple has yet to pursue direct legal action against Google, the iPhone maker has filed infringement complaints against several prominent Android handset manufacturers. The Cupertino, Calif., company sued HTC in March of last year over alleged infringement of patents related to the iPhone user interface, architecture and hardware. HTC responded with a countersuit.
Apple and Motorola are also locked in a legal dispute. In October, Motorola accused Apple of violating a number of its patents, citing the company's "late entry into the telecommunications market." Apple responded in kind, eventually adding to the suit the same patents it was accusing HTC of violating after Motorola attempted to have them invalidated.
Quarterly sales of Android passed up the iPhone in May of last year. Earlier this month, research firm comScore reported that total subscribers of Google Android in the U.S. have passed the iPhone.