NPD: Android phones now outsell Apple's iPhone in US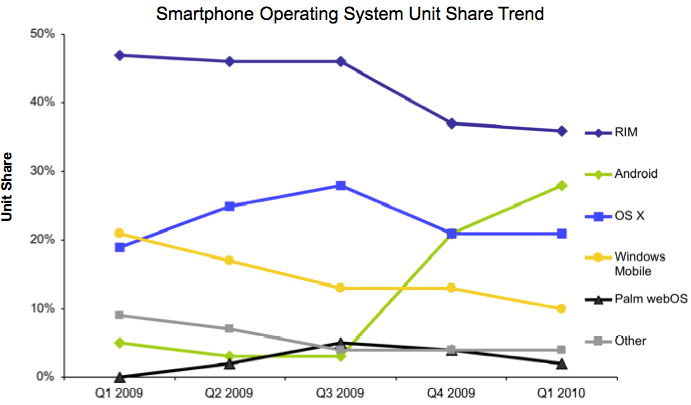 AppleInsider may earn an affiliate commission on purchases made through links on our site.
With a variety of smartphones powered by Google's Android mobile operating system now available on the market, the handsets collectively outsell Apple's iPhone in the U.S., according to new data from the NPD Group.
NPD revealed data Monday that shows Android outselling Apple's iPhone, becoming the No. 2 selling smartphone operating system last quarter in America. Android was responsible for 28 percent of all handsets sold, ahead of Apple's 21 percent, but still behind Research in Motion's 36 percent.
The iPhone is only available in two hardware models with three total capacity sizes, and only on one network — AT&T — in the U.S. Android, on the other hand, has a multitude of handsets, including the Nexus One, Motoroal Droid, HTC Incredible and more, on a variety of networks.
"As in the past, carrier distribution and promotion have played a crucial role in determining smartphone market share," said Ross Rubin, executive director of industry analysis for NPD. "In order to compete with the iPhone, Verizon Wireless has expanded its buy-one-get-one offer beyond RIM devices to now include all of their smartphones."
Verizon's tactics have paid off, according to NPD. Sales of the Droid, Droid Eris and BlackBerry Curve helped kept Verizon just behind AT&T in sales in the first quarter of 2010. Smartphone sales at AT&T were 32 percent of the U.S. market, followed by 30 percent for Verizon, 17 percent for T-Mobile, and 15 percent for Sprint.
"Recent previews of BlackBerry 6, the recently announced acquisition of Palm by HP, and the pending release of Windows Phone 7 demonstrates the industry's willingness to make investments to address consumer demand for smartphones and other mobile devices," Rubin said. "Carriers continue to offer attractive pricing for devices, but will need to present other data-plan options to attract more customers in the future."
NPD's figures are based on sales data from more than 150,000 completed online consumer research surveys each month. The results, NPD says, represent the entire population of U.S. consumers.
The numbers are very different from the picture painted earlier this year by ComScore, which found the iPhone to have 25.3 percent of all Web smartphone traffic at the end of 2009, compared with just 5.2 percent for Google's Android.
NPD's study also found that the average price for a smartphone in the first quarter of 2010 was $151, a 3 percent increase from the same three-month period at the start of 2009. Mobile phones in general had an average selling price of $88, up 5 percent year over year.
Last week, data showing international smartphone sales found that the iPhone represented 16.1 percent of the market, after achieving 8.75 million sales in the first calendar quarter of 2010. Apple's market share was behind RIM's BlackBerry, which had 19.4 percent, and Nokia, which carried 39.3 percent.