Verizon brings iPhone 4 to several new states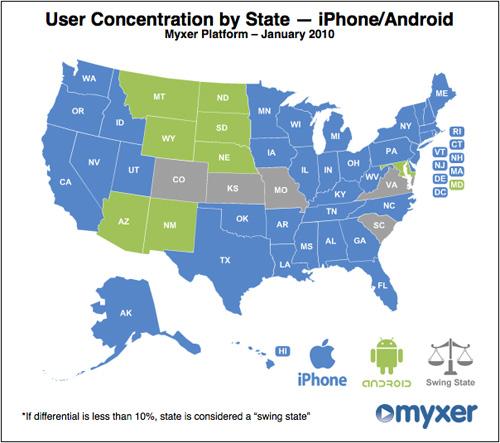 Some customers in Montana, Wyoming, North and South Dakota, Minnesota and Nebraska are getting their first taste of Apple's revolutionary iPhone, which has only finally become a viable option there now that Verizon Wireless is carrying it.
New York and San Francisco are often cited as cities with poor AT&T coverage, but while the 147,042 square miles of Montana, the fourth largest state behind California, Texas and Alaska, has a slightly higher population than the 49 square mile city of San Francisco, it can't boast nearly as good of coverage by what used to be the exclusive carrier of iPhone.
Along with its neighboring states, the largely rural region of the north central West and Midwest US is now getting its first taste of the iPhone, and certainly its first opportunity to connect an iOS device to a functional 3G network.
While AT&T's coverage map suggests the carrier blankets at least the majority of the populated corridors of these and other rural states, that's only for 2G GSM service, and as with the carrier's map for San Francisco, it takes some liberties with its definition of coverage.
There is no 3G AT&T service at all in most of these states, with the company only claiming service hot spots in two cities in Nebraska and four urban centers in Minnesota. Other Western states, including Arizona, Colorado, Idaho, Kansas, New Mexico, Nevada and Utah, similarly only have small pockets of 3G service in their urban centers, as was highlighted for dramatic effect in Verizon's "there's a map for that" ads last year.
I've got friends in low (population) places
A report by the Associated Press profiled "Apple devotees in states largely disregarded under a formerly exclusive deal to distribute the iPhone," who it said "rushed to stores to snap up the gadget early Thursday as Verizon Wireless entered the fray."
It noted a Verizon retail store in Baxter, Minnesota that opened today at 7 AM, three hours earlier than normal to greet dozens of people, despite wintery weather dipping well below zero degrees Fahrenheit.
In Fargo, North Dakota, 20 year old Madison Bratz described her old Android phone as the "next best thing in Fargo," and said, smiling, "I totally spent my whole paycheck but I don't care. I have waited so long for this. So long."
Robert Swope, the manager of the Verizon store in Fargo's mall, braced for an even greater turnout than appeared to materialized, calling all 24 employes in to work to greet only about as many customers in line. "I figure we're going to stay pretty busy throughout the weekend," he added.
Barry Stall, the manager of a second Fargo Verizon store, said in the report, "the demand is definitely there. A lot of people have been waiting a long time."
Apple eating everyone's launch
The Verizon launch of iPhone 4, a nearly year old model simply finding a new carrier in one country, appears set to easily surpass the global launch of Microsoft's Windows Phone 7 last fall, in addition to the Nexus One launch in the spring of 2010 and the Palm Pre launch in 2009.
Verizon reported that within two hours of pre-order sales, iPhone 4 had already surpassed its own records set by the BlackBerry Storm and Android-based Motorola Droid launches, calling the event "unprecedented."
It's possible that the Verizon iPhone 4 launch on Verizon may even surpass last year's launch on AT&T, at least in its initial surge of pre-order sales.
Are long lines a thing of the past?
The long lines associated with previous iPhone launches worldwide haven't turned up for Verizon's launch in the US however, in part because existing Verizon customers were able to pre-order the phone last week for launch-day delivery.
At last year's US iPhone 4 launch, AT&T's pre-ordering system completely melted down almost immediately, forcing most customers to head to retail stores on launch day, creating lines that wrapped around the block of Apple Stores such as the one in downtown San Francisco, where many users waited an unbelievable 8 hours or more to get the new phone.
There were much shorter lines at AT&T's own retail stores, in part because Apple seems to prioritize inventory to stock its own outlets first. Today, Verizon is also launching in a large number of markets across the country where there are no Apple Stores, and there are more Verizon outlets to choose between, spreading the load around and minimizing waiting lines.
Apple has concentrated the build-out of its retail outlets in markets where there are large existing bases of Apple users. In the north central US, there are no Apple Stores between Spokane and Boise in the west to Omaha and Minneapolis to the east. That may change if Verizon helps the company to establish more customers throughout the region.
Last year, a report by Android ringtone and wallpaper provider Myxer graphically presented that Android phone use was strongest in areas where AT&T doesn't have good coverage.
Among the strongest areas for Android were the same western states virtually new to the iPhone. Even so, the firm reported that across Montana, Wyoming, North and South Dakota, Nebraska, and New Mexico, Android was only ahead of iPhone in its figures by about 1,000 additional users per state.