Newly replaced first-gen iPad now discounted $100 by Apple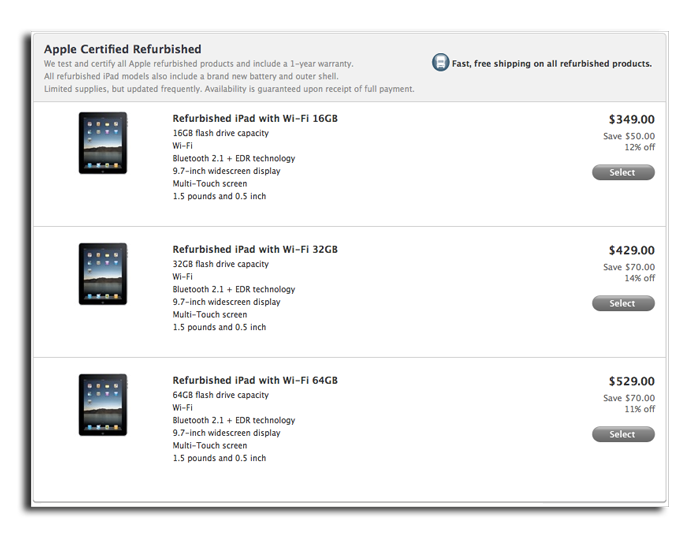 AppleInsider may earn an affiliate commission on purchases made through links on our site.
The new iPad 2 has replaced the first-generation iPad, and Apple has discounted the starting price of the last year's model down to $399, or $349 for a refurbished tablet, for remaining stock.
For those who don't need the latest and greatest, Apple is selling its remaining stock of last year's iPad at a $100 discount. Users can buy the 16GB Wi-Fi-only model for just $399, and all models are currently available in stock, up to the high-end 64GB 3G-capable model for $729.
Apple is offering an even greater discount of $150 off of the price of the 16GB Wi-Fi and 3G refurbished previous-generation iPads. The entry-level model is available in Apple's online store for $349 for Wi-Fi-only, or $479 for 3G-capable.
For the 32GB and 64GB capacities, buyers will save $70 off the newly discounted price, bringing total savings over the old pricing of $170. The high-end refurbished iPad with Wi-Fi, 3G and 64GB of capacity is $659.
The 3G-capable iPads are GSM/UMTS only, and in the U.S. are only capable of integrated 3G data speeds with the AT&T network. Apple will sell the new iPad 2 in two 3G variants: one GSM, and one CDMA for compatibility with Verizon's network.
The iPad 2 packs a faster dual-core A5 processor, two video cameras, and a thinner design and lighter weight. It has completely replaced last year's first-generation iPad, and adopted the same price points. The 16GB Wi-Fi-only model will be $499 when it goes on sale next Friday, March 11, at 5 p.m., scaling all the way up to the 64GB 3G-capable model for $829.