Top Mac App Store apps generate 50% as much revenue as top iPad apps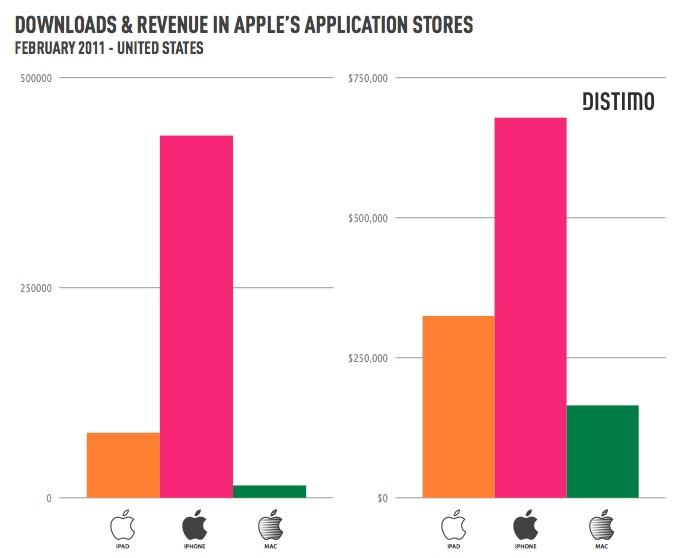 Just two months after Apple's launch of the Mac App Store, the 300 bestselling Mac apps already generate, on average, 50 percent of the revenue of the top 300 iPad apps.
App analytics firm Distimo revealed its findings in a February 2011 report on app store ecosystems published Friday.
Although the iPad App Store still sees considerably more downloads than the Mac App Store, a higher average selling price for Mac apps makes up some of the difference, the report noted. The average selling price of the top 300 applications on the Mac App Store is $11.21, seven times higher than bestselling applications for the iPhone and nearly three times higher than on the iPad.
Also of note is the fact that the Mac App Store maintains the lowest proportion of free apps among any of the app stores Distimo analyzed, including BlackBerry App World, Android Market and Windows Phone 7 Marketplace. 12 percent of applications on the Mac App Store are free, compared to 35 percent of all iPhone apps and 29 percent of all iPad apps.
According to the report, the Mac App Store had 2,225 applications as of February 2011, compared to the 8,099 iPad applications available in May 2010, two months after the launch of the iPad. Of those 2,225 Mac applications, 646, or 29 percent, are games.
More than 60 percent of the 100 most popular free and paid iPhone applications were games during February 2011, compared to less than 50 percent of iPad apps and less than 40 percent of Mac apps. Mac apps tended to be more focused on productivity, with a greater proportion of categories like Education, Graphics & Design, Productivity, Utilities and Video in the top 100 free and paid apps than on the iPhone and iPad App Stores.
Given that Apple launched the Mac App Store on Jan. 6 with the release of Mac OS X 10.6.6, Distimo's analytics cover the first full month since the digital storefront opened.
Apple recently stirred a controversy over in-app subscriptions on the iPad and iPhone App Stores. Shortly after unveiling new App Store subscription services, Apple came under fire from developers and publishers for new rules banning links to out-of-app purchases and requiring matching prices with subscriptions offered outside of an app. Also at issue was a policy that requires legacy apps to comply with the new rules by June 30 or possibly face removal from the App Store.