Apple's iPad 2 launch in China draws crowds, scalpers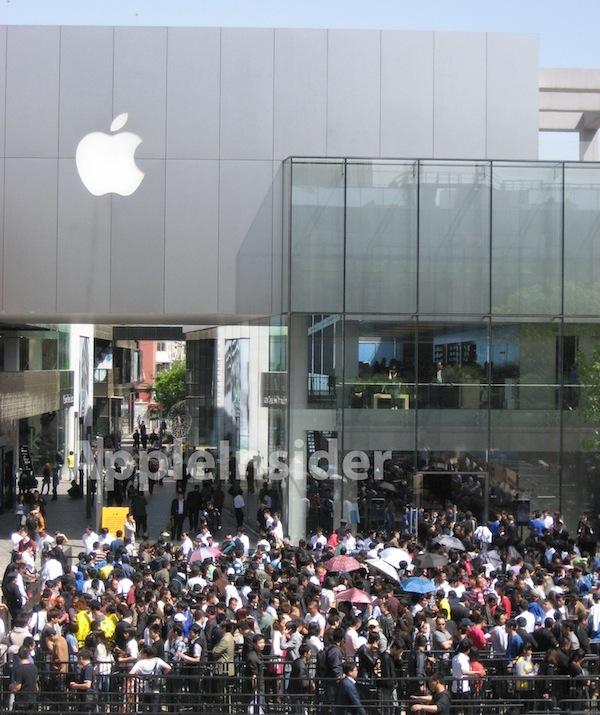 Apple's launch of the Wi-Fi iPad 2 in China on Friday drew customers and scalpers alike, with anecdotal evidence suggesting that the white model is significantly more popular.
The iPad 2 went on sale at Apple Stores in China at 8 a.m. Friday. The touchscreen tablet also launched on the China Apple Online Store, which was taken down early Friday and returned with an iPad 2 shipping estimate of one to two weeks.
At the Cupertino, Calif., company's flagship store in Beijing, the line still numbered in the hundreds by 10 a.m. local time. Apple retail staff carefully managed the line, allowing just a handful of customers in at a time. Dozens of scalpers congregated outside the retail store, offering to sell the device, which starts at 3688 yuan ($568), for a markup of just 200 yuan ($30).
The launch drew noticeably more customers than last year's launch of the original iPad. However, weather may have played a part, as last year's launch was rained out.
Line for the iPad 2 at Apple's flagship Beijing Sanlitun store
This year, Apple retail staff put in place more organized rules for customers choosing to wait overnight and provided a waiting room and numbered wristbands. The first customers reportedly began arriving at 5 p.m. the day before.
"If you leave the queue, an Apple staff member will take your wristband. If you return within one hour, it will be given back to you. If you return more than one hour later, you will be given a new wristband for a different place in line," one sign detailing the new rules read.
An informal exit survey of customers appeared to indicate that the white iPad 2 was more popular than the black model. Also, remaining inventory stored behind the Apple Store cash register was skewed heavily toward the black model, though the proportion of black to white iPads that Apple started the day with remains unclear.
White versions of Apple's products have proved popular in China in the past. Analyst Brian White with Ticonderoga Securities said last month that China was "a prime candidate for a 'white' iPhone 4." The white iPhone 4 quickly sold out in mainland China when it was released there late last month.
Apple has made an effort to shorten the gap between the U.S. and China releases of its major products. The first-generation iPad took four months to officially arrive in China, while the iPhone 4 saw a two month delay and the iPad 2 launched less than two months after the U.S. release.
China's thriving grey market may have motivated the company to more quickly release its products in the region. Last year, rampant scalping outside of Apple's stores in China resulted in a scuffle between customers and grey market resellers.
During its quarterly earnings call last month, the company indicated that its China strategy would serve as a model for similar emerging markets. Apple has been "on a tear" in China, with overall sales reaching just under $5 billion, roughly 10 percent of total revenues, in the first half of fiscal 2011.