Verizon iPhone sales dwarfed by international growth, still larger than 4G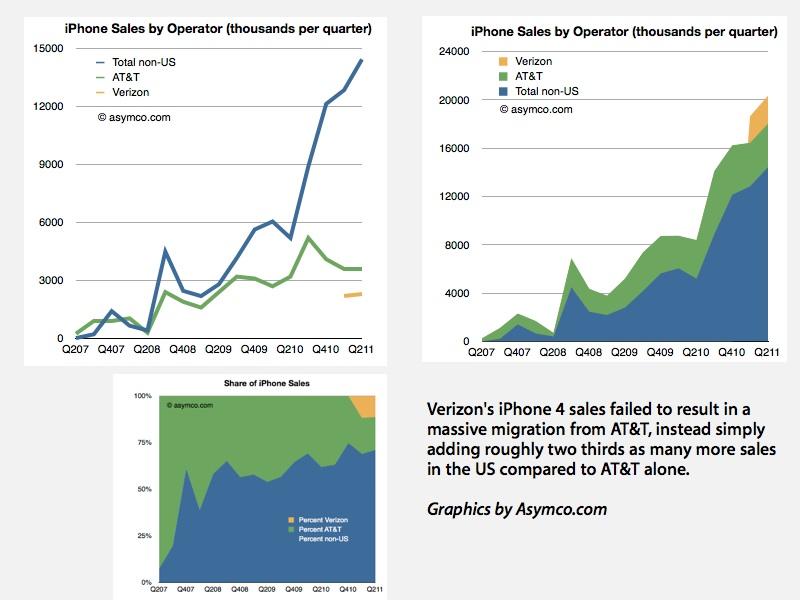 AppleInsider may earn an affiliate commission on purchases made through links on our site.
Verizon Wireless sold 2.3 million iPhones but only 1.2 million LTE 4G smartphones in its latest quarter, contributing incrementally to Apple's total iPhone sales but not nearly as much as its international growth.
A report by Asymco describes how Verizon's iPhone 4 sales failed to result in a massive migration from AT&T, instead simply adding roughly two thirds as many more sales in the US compared to AT&T alone.
Predictions that the Verizon iPhone would be largely ignored by Verizon users happy with Android or enticed to upgrade to Verizon's new 4G LTE network (which is not supported by Apple's smartphone) also failed to materialize, with the year-old design of iPhone 4 outselling new 4G LTE smartphones at Verizon by a nearly 2-to-1 margin.
At the beginning of July, Goldman Sachs analyst Jason Armstrong predicted Verizon's iPhone sales would "likely be a touch below the 2.2 million" that the company had sold in its initial quarter of iPhone sales.
However, Verizon actually sold slightly more iPhones in its second quarter, despite competition from newer Android models capable of tapping into Verizon's much faster 4G network, such as the HTC Thunderbolt and Droid Charge.
Beyond the US, explosive growth
While the iPhone was able to hold its own at Verizon, achieving significant US growth for Apple without significantly blunting AT&T's sales, Apple's most intense growth came from outside the US, as noted in charts presented by Asymco.
The site calculates non-US iPhone sales as being all reported iPhone sales minus the number of reported activation by AT&T and Verizon. However, there is a delay between sales and activations, so this "non US" number also includes the entire inventory of iPhones held by AT&T and Verizon which are waiting to be sold to end users and then activated.
Even so, the growth in iPhone sales independent from US carrier activations indicates that Apple's efforts to aggressively expand its international carrier network is paying of dramatically. Sales of iPhones outside the US passed the halfway mark back at the end of 2007, and have inched upward since, leaving US sales at around 30 percent of Apple's total iPhone market.