New MacBook Air using smaller, cheaper Thunderbolt chip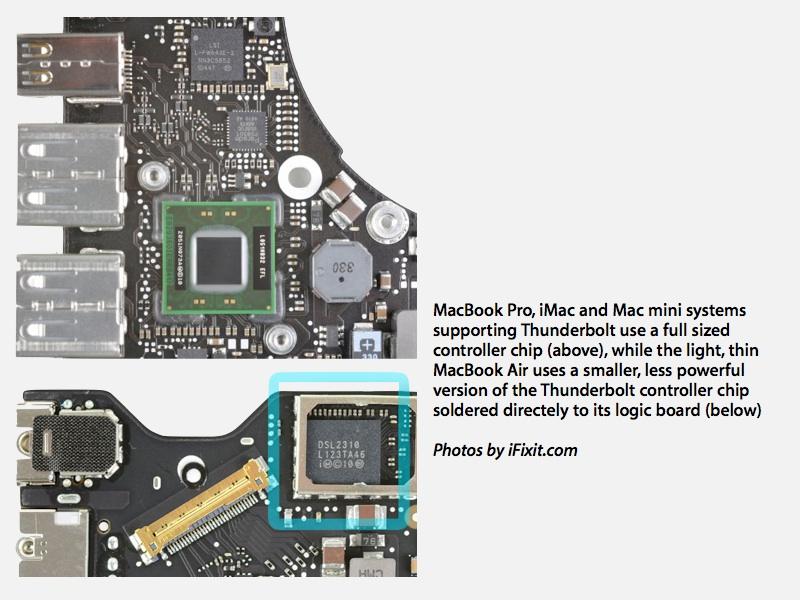 AppleInsider is supported by its audience and may earn commission as an Amazon Associate and affiliate partner on qualifying purchases. These affiliate partnerships do not influence our editorial content.
New MacBook Air models use a smaller, cheaper Thunderbolt controller that limits them to using a single external display while consuming less space on the logic board.
A report by Anandtech outlines that larger form factor Macs, including the early 2011 MacBook Pros, iMac, and latest mid-2011 Mac mini use a full sized Thunderbolt controller named Light Ridge, which features four bidirectional 10 Gbps channels and support for up to two external DisplayPort screens.
The new Thunderbolt MacBook Air uses a scaled down version of the chip named Eagle Ridge, supplying two Thunderbolt channels and support for a single external DisplayPort screen.
The report notes that the smaller, cheaper chip will likely be the choice of generic PC makers who wish to implement the new interface, which essentially exposes PCIe on an external cable, allowing for very fast data transfers and support for other interfaces such as USB, Firewire and Gigabit Ethernet.
Apple's newly announced (and as yet unavailable) Thunderbolt Display enables computers with a Thunderbolt port to interface with its 27" screen; FaceTime HD camera, mic and speakers; USB, Firewire and Gigabit Ethernet ports; and daisy-chain additional Thunderbolt devices via its integrated port.
Thunderbolt Macs outside of the MacBook Air will be able to connect dual external displays to their Thunderbolt port, while the Air's limited architecture will only support one external display.