Rendering shows off Apple's new, simplified Fifth Ave glass cube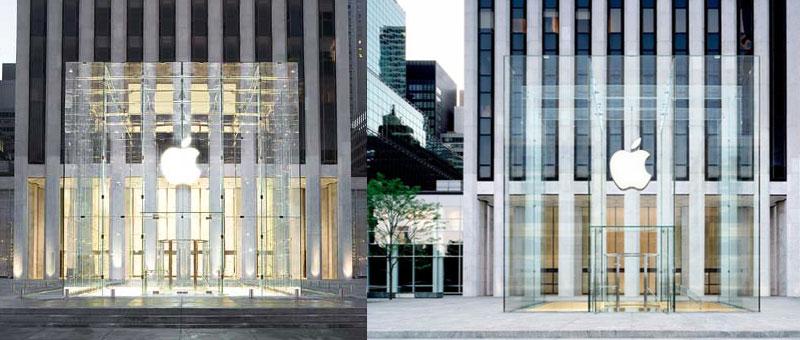 AppleInsider is supported by its audience and may earn commission as an Amazon Associate and affiliate partner on qualifying purchases. These affiliate partnerships do not influence our editorial content.
Apple has provided an artists' rendering of its redesigned 32-foot glass cube entrance on Fifth Avenue in New York City, showing what the $6.7 million project will look like once completed.
The rendering, provided by Apple to Gothamist, shows what Apple intends for the new, simplified glass cube to look like. The multi-million dollar project will reduce the number of panes of glass on the structure from 90 to just 15.
The rendering shows far fewer seams in the cube made possible because of the use of larger pieces of glass, giving a cleaner look to the structure that is among one of the most photographed structures in New York.
The illustration of the new cube marks the second occasion this week that Apple has decided to publicly share information about its $6.7 million project currently underway at its flagship store in New York City.
Earlier this week, the company posted a sign at the Fifth Avenue construction site explaining the purpose of the major project. Previously, the company had not disclosed why the cube was being replaced.
"We're simplifying the Fifth Avenue Cube," Apple's note to passersby reads. "By using larger, seamless pieces of glass, we're using just 15 panes instead of 90."
Left, the old Fifth Ave glass cube. Right, Apple's rendering of the new cube.
The store remains open 24 hours a day, 7 days a week, as always, but the iconic 32-foot cube that usually serves as the entrance to the underground store has been shrouded underneath another, even bigger temporary cube as construction continues. Customers must pass through a makeshift lit hallway to enter the store.
The task of replacing the glass structure began in June, when a temporary wall of grey plywood was erected to shield the public from the work-in-progress. Permits filed with the New York Department of Buildings show that the entire project will cost Apple $6.7 million, and that construction is expected to be completed by November.
The cube first opened in May of 2006, and was personally designed by Apple's chief executive, Steve Jobs. The CEO even paid for the project himself, and is the owner of the structure.