Apple shrouds Fifth Ave glass cube inside another cube as renovations begin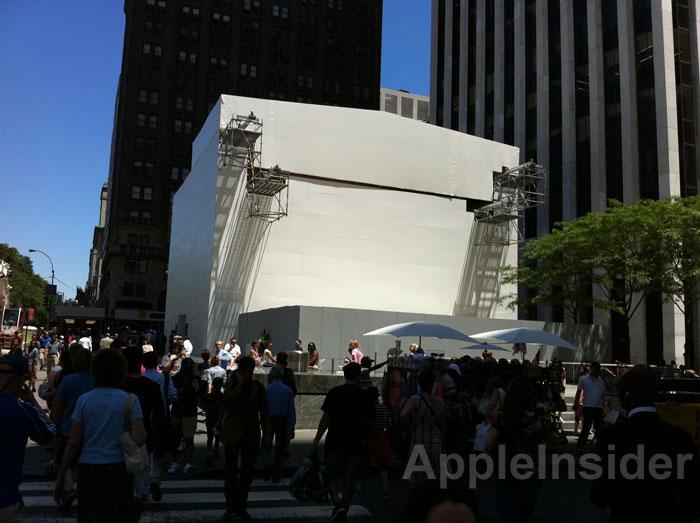 Apple has constructed a second, temporary cube made of tarps to cover its iconic glass cube at its Fifth Avenue store, as construction to replace the structure has begun.
AppleInsider reader Ryan passed along photos that show the latest look at Apple's flagship store in New York City (included below). Last month, Apple began preparations for major renovations at the store which is open 24 hours a day.
The $6.7 million project will replace and improve the giant 32-foot glass cube that serves as the entrance to the Fifth Avenue retail store. Workers are completely removing the structure and reinstalling it, and the project is expected to be finished by November.
For those who visit the store now, a makeshift hallway has been built, complete with overhead lights, to access the stairs that lead to the underground store. Inside, the ongoing construction is blocked from the view of customers with white tarps.
The impressive structure has been a New York City destination since it opened in May of 2006. A recent study found that it is one of the most photographed locations in the entire city.
Apple Chief Executive Steve Jobs personally designed and even paid for the hollow glass structure that serves as the store's entrance. The latest renovations are not the first time the structure has been tweaked: Shortly before its unveiling in 2006, Jobs was said to have been unhappy with some of the materials used to construct the cube, and last-minute changes were made.
The all-glass design has even inspired other projects from Apple, including its megastore in Shanghai that opened last summer. Like the Fifth Avenue store, its entrance is a staircase enclosed in glass, though the one in China is a cylinder.