Apple Campus 2 sparks some traffic, growth fears in Cupertino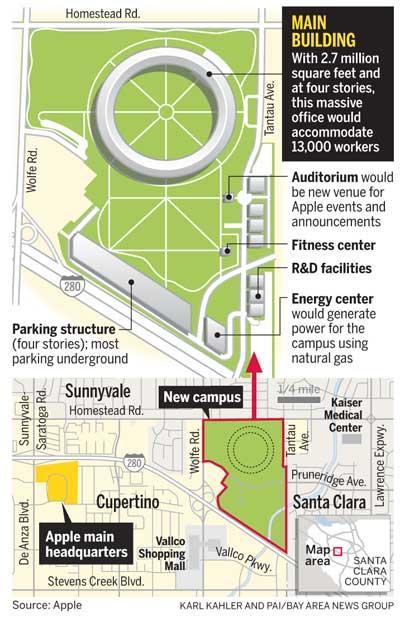 Apple's new campus expansion in its hometown of Cupertino California sparked concerns from some residents about traffic and growth at an environmental impact meeting held last night, but no worries seem likely to hold up the project's ambitious timeline.
Apple's project is the largest ever proposed in Cupertino. Around 100 people attended yesterday's planning meeting in person, while others commented while viewing the event online, according to a report by the San Jose Mercury News.
Most of the concerns voiced by attendees related to traffic, fearing that the massive new development would slow Interstate 280 and roads in the surrounding neighborhoods. Some suggested a new, dedicated freeway offramp for the campus, despite the fact that it already sits directly adjacent to the Wolfe Road exit, which has long served HP's existing Pruneridge Campus on the same land.
Cupertino resident Tom Dyer said "traffic is at the top of our list. 280 is a tragedy now, this isn't going to get any better. We're also concerned about public access to what will be Cupertino's Taj Mahal, with people from all over the world coming to visit it."
Apple Campus 2 will be one freeway exit away from Apple's existing headquarters, located off De Anza Boulevard. Despite occasional traffic snarls, 280 is one of the Bay Area's least utilized freeways, existing as a wide and modern alternative to the more frequently gridlocked highway 101 corridor that runs parallel with it north from San Jose to San Francisco.
Apple has a gift shop but no full retail store at its current headquarters, offering limited options for tourists hoping to see anything there. There does not appear to be much focus given toward accommodating tourism at the new Apple Campus 2 either.
Steve Jobs shot down the idea of building a local Apple retail store by the Cupertino board at his original appearance debuting the planned project, noting that the company builds stores only where it expects sustainable traffic. Apple already operates a variety of nearby retail locations.
A variety of those commenting expressed misplaced fears that the new campus would result in a sudden boom of 13,000 new residents. Homer Tong, a member of the local high school's board, fearing "our schools may have to go to two stories, because we have limited room. Maybe we need some [financial] help from Apple."
In reality, Apple already has more than 12,000 employees in Cupertino who can't fit into its existing headquarters, and are therefore working from nearby temporary locations leased by Apple. The new campus simply puts these workers in closer proximity to Apple's main campus.
Resident Parth Dhebar commented, "I was at the meeting last night and majority of the concerns people shared just didn't make sense."
Apple has detailed plans to build a massive parking garage along the 280 freeway, although it's not clear if much of the structure would even be visible from the highway. San Francisco Chronicle architecture columnist John King described the structure in noting that "the parking garage would signal Apple's presence to I-280 commuters with a freeway-friendly sweep."
The new garage would be four stories and 1,440 feet (about 440 meters) in length, with spaces for 4,300 cars. That's 1,715 spaces larger than San Francisco's largest parking structure, the Fifth and Mission garage adjacent to Moscone West, where Apple holds its Worldwide Developer Conference each summer.
Less emphasis has been given to the fact that Apple's new campus will incorporate a new transit hub directly adjacent to its main building, and that it already sits on main VTA bus lines that connect the site to San Jose.
King noted that the main building itself, with 2.8 million square feet of space, is larger than San Francisco's largest tower, 555 California.
That 52 story tower was built in 1969, originally as the headquarters of Bank of America, and helped to spark an anti-growth backlash that resulted in scaling back the city's iconic Transamerica Pyramid from 1,000 feet to a mere 850, making it taller than 555 California but not nearly as large inside, with just 530,000 square feet.
However, while being larger than San Francisco's tallest towers, Apple's massive ring building would not even be visible from the freeway. King referred to the structure as "a sci-fi fantasy best viewed from a helicopter."
Despite the size of the new project, Apple is already said to be planning a third campus in an undisclosed location to meet its expansion needs following the completion of Apple Campus 2, which is expected to open in 2015 after beginning construction about a year from now.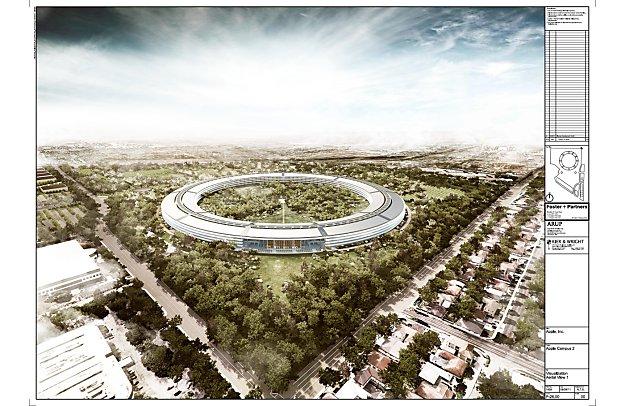 Room for events, but not WWDC
The Apple Campus 2 project incorporates an auditorium capable of seating 1,000 attendees, making it large enough to host events on the scale of its typical iPod and iPad unveilings now held in San Francisco's Yerba Buena Center for the Arts theater, a venue that seats about 750.
However, the new theater would be much smaller than the Moscone West facilities Apple currently uses to host WWDC, an event that involves more than 6,000 attendees and Apple employees, and which already sells out within hours of tickets becoming available.
Jobs has noted that Apple simply can't find a larger space to accommodate its summer developer convention, although the same convention center complex is used by Oracle to host its OracleWorld attendance with more than 40,000 attendees.
Oracle's event closes down streets and redirects traffic in the South of Market neighborhood, and expands into the cavernous, original Moscone Center underground rooms that once hosted large Macworld Expos. That event once attracted crowds of up to 45,000 attendees, although the Macworld tradeshow never involved the same logistics as WWDC's tightly scheduled sessions and labs.