Roughly 40% of mobile users in North America and UK plan to buy the iPhone 5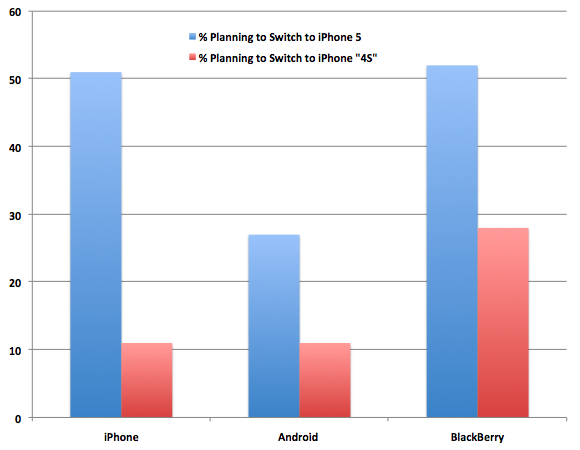 Two new studies have revealed rising interest in Apple's forthcoming iPhone 5 from North American and UK mobile users at the expense of rival mobile platforms from Google and Research in Motion.
One study conducted by mobile ad network InMobi reveals that 41% of mobile phone users in U.S., Mexico and Canada want to buy the iPhone 5 in the future. Of those interested in the device, 50% would purchase it in the first six months after launch.
The same survey suggests that customer interest will be significantly lower in case Apple announces a softer iPhone update, "akin to the 3GS version of the iPhone that Apple released in 2009." In this instance fewer than 15% of mobile users would buy such a device.
Analyzing customer retention and new users, InMobi says its data indicates that 51% of current iPhone owners would switch to the iPhone 5 but that only 11% of them would choose a so-called iPhone 4S.
As for current BlackBerry & Android users, 52% and 27%, respectively, said they would choose the iPhone 5. In the event Apple announces only an iPhone 4S model, fewer BlackBerry and Android device owners would be likely to make the switch to iOS – 28% and 11%, respectively.
In a second study covering the UK, research firm InMobi found similar responses.
For instance, 39% of mobile users in that study said they want to buy an iPhone 5 with 48% of them committed to purchasing the device in the first six months from launch. Only 12% of them said they'd buy an iPhone 4S.
At the same time, 62% of UK iPad users said they plan to purchase a iPhone 5, while 45% of BlackBerry users and 24% of Android device owners said they would purchase the upcoming handset. Interest in an iPhone 4S was also significantly lower in the UK market, at 25%, 7% and 18%, respectively.
When asked what potential features of a new iPhone they'd find most appealing, survey respondents said they'd want "improved battery life, increased processing speed, higher-quality screen resolution and stronger phone service."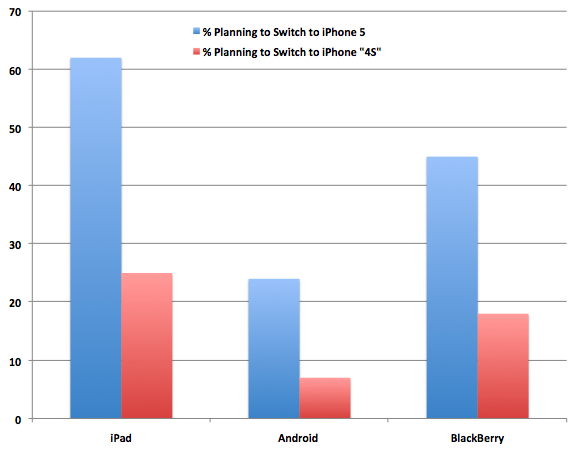 The InMobi study also indicates that Apple stands to gain critical mobile market share in the future with the arrival of the iPhone 5, with responses indicating the Cupertino-based company's slice of the North American market could grow from 27% to 41% while is share in the UK could rise from 20% to 40%.
Apple on Tuesday sent out invites for its Oct. 4 "Let's talk iPhone" event expected to be hosted by Tim Cook on the company's Cupertino, California campus.
It remains unclear how many distinct iPhones the company plans to announce next week. Some reports claim Apple will sell two new iPhones this year — a low-end iPhone 4S and a high-end iPhone 5 — while others indicate that a single fifth-generation iPhone will make its debut.