iTunes Match settings now visible on iOS 5 devices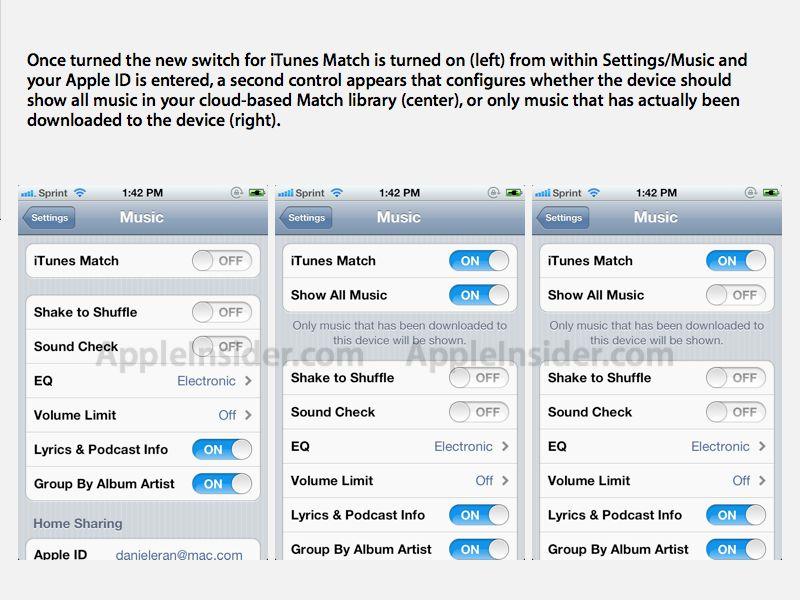 AppleInsider is supported by its audience and may earn commission as an Amazon Associate and affiliate partner on qualifying purchases. These affiliate partnerships do not influence our editorial content.
Support for Apple's new iTunes Match service is now active and configurable in non-developer devices running iOS 5, indicating that it will soon roll out to the general public.
Devices running iOS 5 originally lacked any mention of iTunes Match under Settings/Music, but a toggle switch is now live, and does not require a software update.
After turning on iTunes Match, the user is prompted to enter the Apple ID associated with his or her iTunes Match subscription, although subscriptions have not yet been made available to the public. Developers have been able to sign up for accounts to test the new service for the past few weeks.
Once turned on, a second control appears that configures whether the device should show all music in the user's cloud based library, or only music that has been downloaded to the device.
iTunes Match will cost $24.99 per year, and provides a 256 Kbps AAC digital download from the cloud for each song appearing in a user's iTunes library, regardless of its original source, and in general, without having to actually upload gigabytes of music to the cloud (a process Apple says could otherwise take "weeks").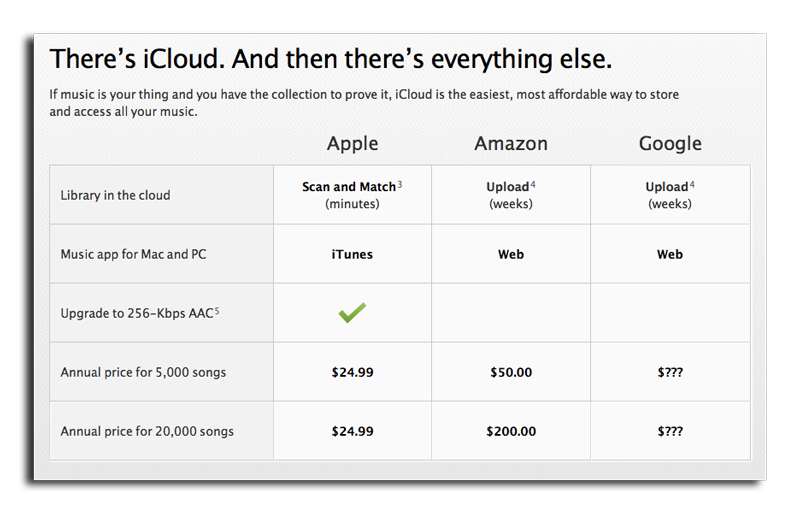 This allows legitimate owners of CDs who have ripped their collections the option of having all their music available from any iTunes PC or iOS mobile device associated with their iTunes Match account, but also allows file traders who have obtained music from less legitimate sources to similarly take their music to the cloud by paying a "no questions asked" fee that is shared with music owners.
Apple's official promotional materials say, "if you want all the benefits of iTunes in the Cloud for music you haven't purchased from iTunes, iTunes Match is the perfect solution. It lets you store your entire collection, including music you've ripped from CDs or purchased somewhere other than iTunes, for just $24.99 a year."
As Apple explains, "here's how it works: iTunes determines which songs in your collection are available in the iTunes Store. Any music with a match is automatically added to your iCloud library for you to listen to anytime, on any device. Since there are more than 18 million songs in the iTunes Store, most of your music is probably already in iCloud.
"All you have to upload is what iTunes can't match. Which is much faster than starting from scratch. And all the music iTunes matches plays back at 256-Kbps iTunes Plus quality — even if your original copy was of lower quality."