Steve Jobs left designer Jony Ive more power than anyone at Apple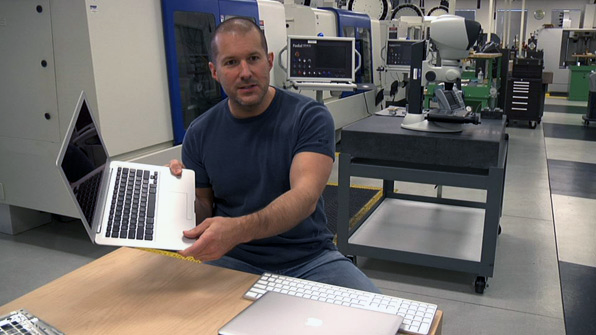 Apple's widely praised design chief Jonathan Ive has no true boss who can tell him what to do at the company, a distinction put in place by Steve Jobs himself.
Information from the new biography of Jobs, set to arrive next week, continues to arrive, offering a glimpse into the highly private life of the Apple co-founder. The Associated Press obtained an early copy of the book, and shared some details on the relationship between Jobs and Ive, Apple's senior vice president of industrial design.
In talking with author Walter Isaacson for the book, Jobs revealed that he viewed Ive as his "spiritual partner" at Apple. Showing his trust in Ive, the company co-founder left him more freedom than anyone else in the company — a perk that remains even after Jobs's death.
"He told Isaacson that Ive had 'more operational power' at Apple than anyone else besides Jobs himself — that there's no one at the company who can tell Ive what to do," the report said. "That, says Jobs, is 'the way I set it up.'"
Ive and Jobs became close at Apple, working directly together on designing a number of the company's core products, including the iMac, iPod, iPhone and iPad. Ive, a 44-year-old native of London, joined Apple in 1996 and has held his current job since 1997.
Showcasing their extensive work together, Jobs and Ive share credit for inventing over 200 patents. Jobs is responsible for the most total patents at the company, at 313.
A 2006 profile of Ive said that at the time he and his team worked in a large, secretive open studio that many Apple employees were not allowed to enter. There a "massive sound system" played music as he and his team worked with state-of-the-art prototyping equipment with "intense iteration."

Apple design chief Jonathan Ive somewhere in Apple's design studio | Source: Objectified
Ive has been heralded as one of the most influential designers of his time, and legendary Braun designer Dieter Rams publicly praised him in the 2009 documentary Objectified. In return for his design work at Apple, Ive has been well compensated, and is said to be worth more than $128 million.
In 2009, Ive was declared the "smartest designer" in technology by Forbes. He was also honored with the title "Designer of the Year" in 2003 by Design Museum London, and was named "Royal Designer for Industry" by The Royal Society of Arts.
More details on the relationship between Ive and Jobs will be available in Isaacson's book, arriving next week. Entitled "Steve Jobs," will be available in a hardcover edition, as well as digitally through Amazon Kindle and Apple's iBooks.