Apple overtakes Nokia in China as iPhone brand, sales surge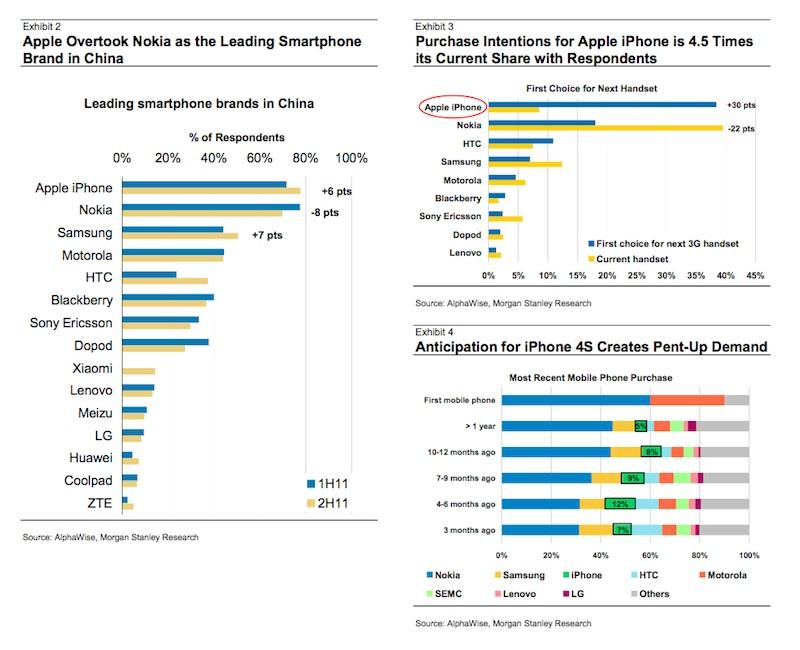 Apple's smartphone brand has surged ahead of Nokia among Chinese buyers' preference for their next 3G handset, as more than a third express a preference for iPhone, twice that for Nokia's models.
A report published by Morgan Stanley and obtained by AppleInsider points to "a surge in iPhone growth" in China above and beyond the demand that has already made that country Apple's second largest market globally.
Apple's revenues in China grew from $3 billion in fiscal year 2010 to $13 billion over fiscal 2011, fueled by demand for iPhone 4, which China Unicom began selling in the third calendar quarter of last year.
Morgan Stanley says it believes "China could surpass the US as Apple's largest market in about three years, adding nearly $30 billion more per year to the top-line along the way."
In a September survey of 2,050 urban Chinese mobile phone users, Apple replaced Nokia as China's leading smartphone brand in the second half of 2011, as Apple increased its share by 6 percentage points to reach 34 percent of planned purchases, an increase in demand of 4 percent over the findings gathered six months ago in February and March.
In contrast, Nokia dropped 8 percentage points to make up just 16 percent of the nation's planned purchases, a decrease of 9 percent over the same period. Among other smartphone makers, third place Samsung grew by 7 percentage points, while fourth place Motorola remained static. Fifth place HTC also grew significantly by 14 percentage points, while RIM and Sony Ericsson continued to slide, dropping 3 and 4 points, respectively.
In the most recent quarter, Apple's share of Chinese mobile phone purchases retracted from 12 percent to 7 percent, but the report notes this is due to pent up demand for the iPhone 4S, citing an overwhelming preference among buyers as their next handset.
iPhone halo for Mac, iPod and iPad sales
The firm notes that sales of iPhones are also driving purchases of related Apple products, noting that Mac use is nearly four times higher among iPhone users, where Mac user share jumps to 35 percent from the standard 9 percent of the general population.
iPod use is also higher among iPhone users, with 63 percent of iPhone users buying iPods compared to 30 percent share among other smartphone users.
The research also noted that Chinese buyers overwhelmingly use iPhone 4, with 68 percent using the latest model, while 20 percent have an iPhone 3GS and just 13 percent have an iPhone 3G.