67% of potential Asian iPhone buyers remain untapped by Apple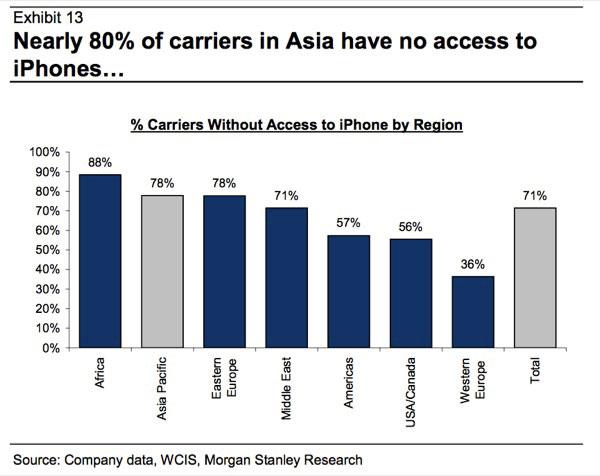 AppleInsider is supported by its audience and may earn commission as an Amazon Associate and affiliate partner on qualifying purchases. These affiliate partnerships do not influence our editorial content.
The iPhone could see huge sales numbers in Asia as the region's burgeoning smartphone market has been largely untapped, with only about 22 percent of carriers selling Apple's handset, according to a new analysis.
In a note to investors on Monday, investment bank Morgan Stanley said that expanding the number of mobile carriers that offer the iPhone within Asia's emerging smartphone market is Apple's biggest worldwide opportunity for device sales.
Analyst Katy Huberty estimates that carrier expansion has driven about 50 percent of overall cellular subscriber growth globally since 2008, with carrier growth playing a significant factor in driving iPhone sales. Since its launch on AT&T's network in 2007, Apple has partnered with over 230 carriers in 105 countries, helping iPhone shipments grow from 270,000 units in its first year to over 20 million units per quarter in 2011.
Huberty notes that smartphone penetration is highest among 25 to 34 year olds with Asia having 655 million people, or 10 percent of the world's population, in that age group. The second-largest demographic is Africa with 153 million people.
However, Asia's large smartphone demographic is largely untapped, with Apple's handset yet to be offered by 78 percent of Asia's carriers, which represents 67 percent of the region's subscriber base. In contrast, carrier penetration in North America and Western Europe is high with mobile subscribers without access to the device being 56 percent and 36 percent, respectively.
China, Asia's largest mobile market and second-largest worldwide, is seen as key to Apple's success. In the recent AlphaWise China smartphone survey, 90 percent of respondents said their next purchase was likely to be a 3G phone, with 91 percent saying they would opt for a smartphone. This was up from 87 percent and 88 percent, respectively, from the first half of 2011.
According to the survey, the iPhone was the strongest brand, with 38 percent of respondents saying they planned to purchase the smartphone as their next device. Huberty believes that Apple can can more than double demand by introducing a cheaper $300 phone, as the survey suggested that many would-be iPhone buyers care most about device cost.
AppleInsider recently reported that Apple's potential market in China is already on the rise as the number of 3G users surpassed 100 million at the end of October. Currently, only China Unicom, the nation's second-largest carrier, is the only company licensed to sell the iPhone. However, unlicensed nation-leader China Mobile reported over 10 million customers using the device on its network, and analysts expect that all three major Chinese carriers will be offering the iPhone by 2012.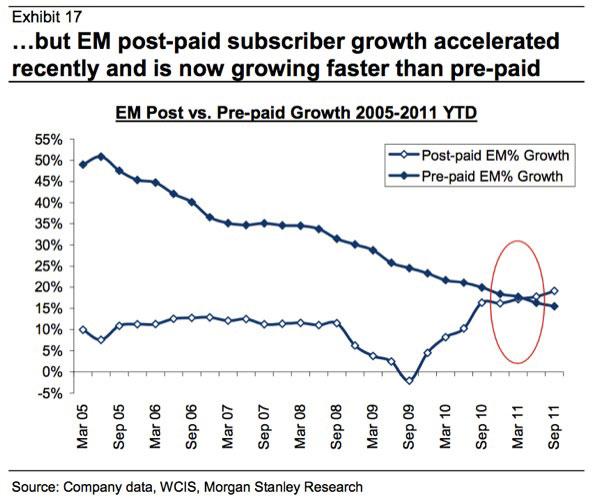 Huberty sees carrier expansion as the main factor in driving sales in the region, but a hindrance to the iPhone's growth in emerging markets has been pre-paid subscribers, who account for 69 percent of global cell users.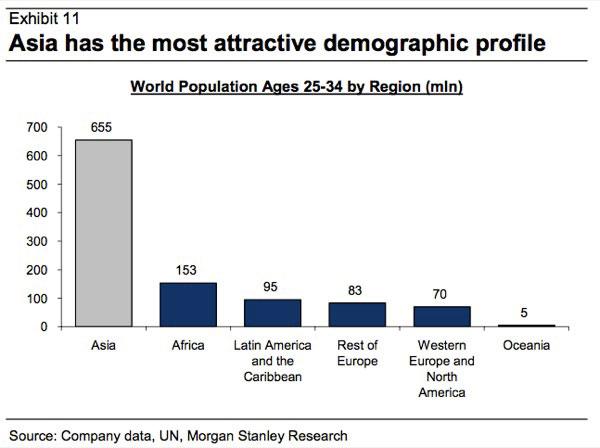 Historically, the number of post-paid subscribers grows more slowly compared to pre-paid, however the trend reversed in June 2011, when post-paid growth outpaced pre-paid growth for the first time. This could mean increased demand for the data-centric iPhone if contract subsidies and low-priced models are introduced.
Huberty gives AAPL a bull case price of $600 based on an LTE iPhone upgrade and lower priced 3G iPhone in 2012, an expanding Apple-dominated tablet market, growing distribution in China and the potential for Apple to enter the Smart TV market in 2012-2013.