Unverified photo may show pre-production iPad 3 Retina Display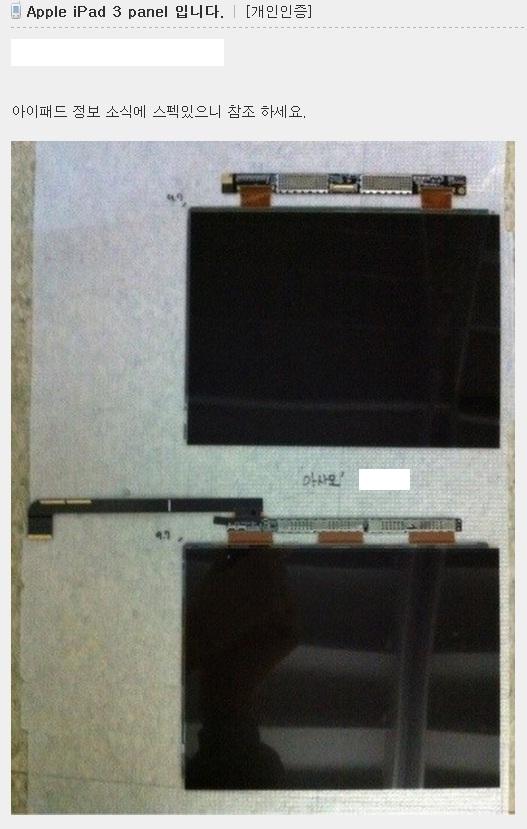 AppleInsider is supported by its audience and may earn commission as an Amazon Associate and affiliate partner on qualifying purchases. These affiliate partnerships do not influence our editorial content.
An unverified photo from a Korean Apple forum claims to detail the rumored iPad 3's display, and reveals a subtle change from the iPad 2 that could suggest a higher resolution panel is being sourced for the upcoming tablet.
An image published to a Korean forum (via MacRumors) on Friday claims to be a photo of the much rumored iPad 3's high-resolution display, showing a component that has three ribbon cable connectors instead of the two found on current iterations of the device.
Little to no information accompanied the photo, however it is believed that the image is a comparison shot of a current iPad 2 panel sitting above an alleged iPad 3 display. Clearly illustrated are the three ribbon cables attached to the new component in a totally new configuration.
While the iPad 2's cables are known to be for power and data transfer, the extra cable in the photo is thought to provide for the bandwidth necessary to power a display capable of Retina display-like resolutions.
Recent reports have suggested that Apple will be using an IGZO panel capable of a 330 dots-per-inch resolution, and are in line with a The Wall Street Journal claim that Apple had invested a substantial amount of capital in Sharp's LCD manufacturing facilities.