Commercial airliner named in honor of Steve Jobs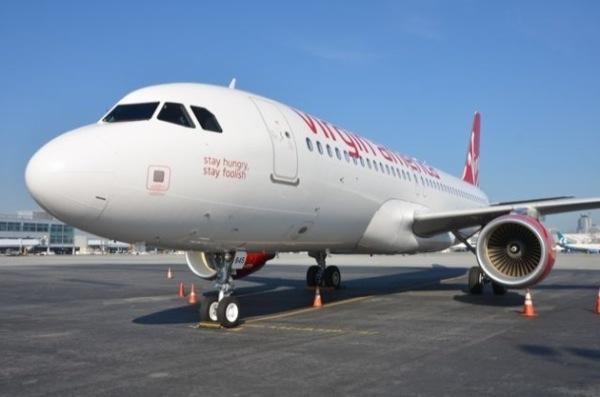 AppleInsider is supported by its audience and may earn commission as an Amazon Associate and affiliate partner on qualifying purchases. These affiliate partnerships do not influence our editorial content.
A Virgin America Airbus A320 now has the quote, "Stay Hungry, Stay Foolish" emblazoned on its fuselage directly beneath the cockpit in tribute to late Apple co-founder Steve Jobs.
The Burlingame, California-based airline recently added the popular quote taken from Jobs' 2005 Stanford commencement speech to the nose of a plane that has been in service since last fall, reports CNET.
"The 'Stay Hungry, Stay Foolish' aircraft name was actually submitted as a tribute to Mr. Jobs by one of our employees in an internal plane naming competition," said Virgin America spokesperson Abby Lunardini.
Virgin likens itself to Jobs in its forward thinking approach to air travel, noting that it was the first company to roll out fleet-wide onboard Wi-Fi in one of its many attempts to bring technology to the sky.
"The idea behind Virgin America was to reinvent the travel experience by thinking differently about design and service— we are known for the tech-forward amenities we offer onboard," Lunardini said.
"Stay Hungry, Stay Foolish" Plane | Source: Virgin America
Currently, Virgin America's fleet is comprised exclusively of Airbus jets and employs 36 of the short to medium range A320 model.
The airline has been known to dream up imaginative marketing schemes and has previously opened up naming to the public, including the 2008 inaugural flight of Air Colbert after comedian Stephen Colbert and a 2010 opportunity to purchase a chartered flight with plane-naming rights for $60,000.