Apple features 'communication to protect consumers' in Italy after court ruling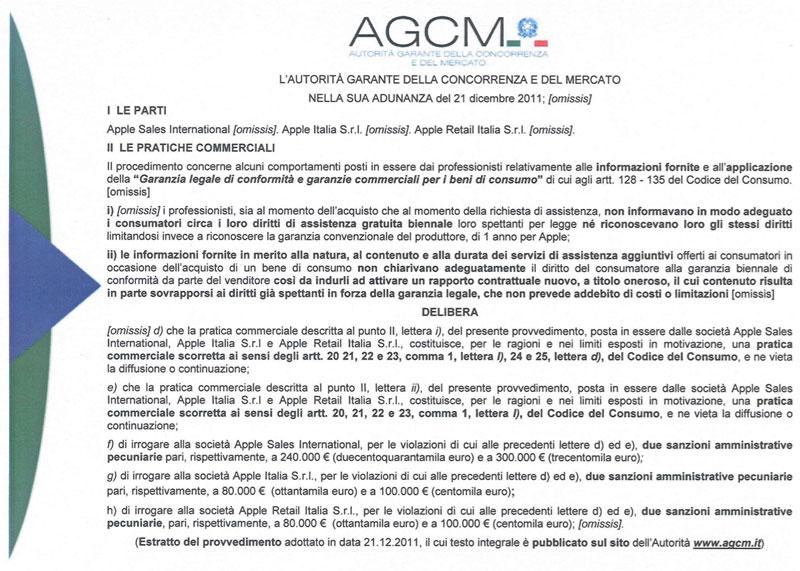 Apple has complied with a court order in Italy and begun informing customers at its online store about a legally mandated two-year warranty.
Now featured at the top of the main page of Apple's online store is a "communication to protect consumers" that links to a PDF explaining the court's ruling. The change to Apple's online store in Italy was first noted by setteBIT and detailed by The Register.
Apple posted the notice in compliance with a court ruling from late December, after an Italian court fined Apple Sales International, Apple Italia Srl and Apple Retail Italia 900,000 euros, or $1.2 million U.S., for "not providing clear information to customers on product assistance." THe Italian Antitrust Authority undertook the investigation after it received complaints of "unfair commercial practices" related to warranties.
Apple posted the notice in its online store to inform customers that local laws require companies to protect buyers with a free two-year warranty. Despite this, the court found that Apple continued to push its own paid two-year AppleCare warranty to consumers.
While Apple has begun to inform customers of the ruling, there's no indication that the company has agreed to pay the fines levied by the Italian Antitrust Authority. Apple had previously appealed the court's decision.
Apple was fined 400,000 euros for not providing adequate information to customers about the length of product guarantees, and another 500,000 euros because the company did not give customers enough information about its AppleCare extended warranty.
The iPhone maker's retail operations expanded into Italy in late 2006 with a store in Ponte di Nona's RomaEst shopping plaza, located in a rural area about 15 kilometers from Roma. Apple now has a total of 9 retail stores in Italy, with the remaining eight stores located in Bergamo, Oriocenter; Bologna, via Rizzoli; Caserta, Campina; Catania, Centro Sicilia; Firenze, I Gigli; Milano, Carosello; Milano, Fiordaliso; and Torino, Ge Gru.