Apple rumored to be developing new audio format designed for iCloud streaming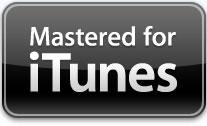 AppleInsider is supported by its audience and may earn commission as an Amazon Associate and affiliate partner on qualifying purchases. These affiliate partnerships do not influence our editorial content.
Apple is said to be working on a new audio file format that would help to bolster its iCloud service by focusing on "adaptive streaming" for users on the go.
In addition to improving streaming of music, the new audio file would also offer "high-definition" quality to users who have more bandwidth and storage available on their iPhone, iPad or iPod, according to The Guardian. The new file type is reportedly expected to upgrade the $24.99-per-year iTunes Match service as well, which allows users to access music they obtained from sources outside of iTunes over the iCloud service.
"A source with inside knowledge of the process says Apple has asked a London studio to prepare audio files for a new streaming format that will adapt to bandwidth or hardware capabilities," the report said. It quoted an unnamed person who said users' libraries would "improve in an instant," and nothing would need to be done to upgrade files from the current AAC format to high definition.
With the new method, users will reportedly be able to obtain high quality audio when they are over a faster connection, like Wi-Fi. But when on the go using 3G, bandwidth could be conserved by automatically accessing a lower quality file.
The U.K. publication said the timing of the rumor "suggests it will showcase the new streaming technology alongside the announcement of the third generation of its iPad tablet." Apple is expected to hold a media event on March 7 to unveil its next iPad.
The first indication that Apple was working on a high-definition audio format came from artist Neil Young, who said at a conference last month that he worked directly with late Apple co-founder Steve Jobs on the project. Young indicated the new music format would offer fans uncompromised studio-quality sound in the form of digital music downloads.
"Steve Jobs was a pioneer of digital music," Young said. "His legacy is tremendous. But when he went home, he listened to vinyl. And you gotta believe that if he lived long enough, he would have eventually done what I'm trying to do."
Rumblings of a high-definition audio format from Apple are not new. Last February, one report claimed that the company was in talks with record labels to improve the quality of song downloads available from the iTunes Music Store. Current downloads from iTunes are 16 bits, but it was said that Apple wants to increase them to a 24-bit high-fidelity format.
Apple previously upgraded the quality of the audio files it sells in 2007 with the release of iTunes 7.2 and iTunes Plus. iTunes Plus tracks feature high-quality 256kbps AAC encoding and are void of any digital rights management protection.