Apple highlights creation of 514,000 jobs in America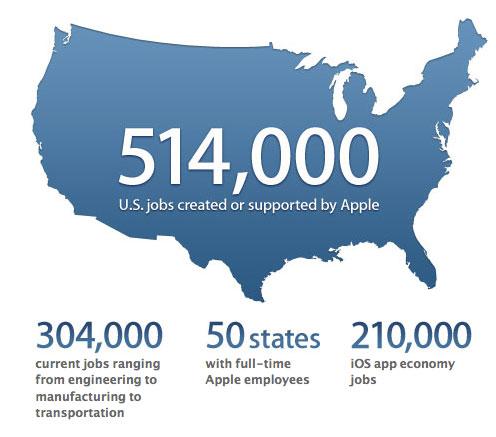 Apple on Friday updated its website with a new section touting the company's role in directly creating or supporting more than a half-million jobs in the U.S.
The "Job Creation" page highlights the 514,000 total people Apple says are employed in 50 states because of Apple. Of those, 304,000 are related to engineering, manufacturing and transportation, while 210,000 alone are a result of the App Store and development of applications for the iOS platform.
"Throughout our history, Apple has created entirely new products — and entirely new industries — by focusing on innovation," the site reads. "As a result, we've created or supported more than 500,000 jobs for U.S. workers: from the engineer who helped invent the iPad to the delivery person who brings it to your door."
The page cites a study by Analysis Group which found that Apple has directly or indirectly created 304,000 U.S. jobs. Those include 47,000 jobs at Apple, and 257,000 jobs at other companies.
"For example, this figure also includes workers in Texas who manufacture processors for iOS products, Corning employees in Kentucky and New York who create the majority of the glass for iPhone, and FedEx and UPS employees," the site states.
As for jobs related to the App Store, Apple cites a 2012 study by TechNet that found that 466,000 total jobs have been added to the U.S. economy related to mobile application development. Apple found that 45 percent of the job postings in the "app economy" are specifically tied to the iPhone and iOS.
Apple's decision to begin promoting its creation of jobs in the U.S. comes as the company has been under fire for its alignment with Foxconn and other China-based suppliers for its products. A story in January from The New York Times noted that Apple's reliance on overseas workers also gives the company greater flexibility, diligence and skilled labor availability.
When late Apple Chief Executive Steve Jobs met with President Barack Obama last February, Obama reportedly asked Jobs why Apple is unable to bring its manufacturing operations back to the U.S. Jobs reportedly told the president, "Those jobs aren't coming back."