Apple wants to improve bonding of plastic and metal in building new iPhones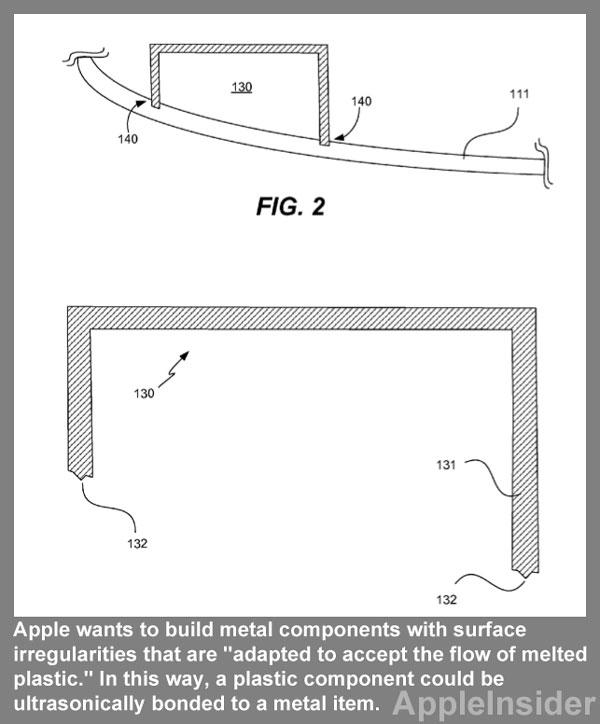 AppleInsider is supported by its audience and may earn commission as an Amazon Associate and affiliate partner on qualifying purchases. These affiliate partnerships do not influence our editorial content.
Rather than use unreliable adhesives, Apple is exploring new ways to permanently bond plastic and metal parts to build better portable devices like the iPhone.
The concept was revealed this week in a new patent application discovered by AppleInsider entitled "Ultrasonic Bonding of Discrete Plastic Parts to Metal." It describes melting a portion of a plastic component onto a rough metallic surface, allowing the two to permanently fuse.
Ultrasonic welding is not a new concept, and can be a more reliable method than using adhesives, which do not bond well with some materials. But the ultrasonic bonding process becomes difficult when using materials with two vastly different melting points, such as metals and plastics.
Thermoplastic materials typically turn to liquid at relatively low temperatures, while other materials like metal require much higher temperatures for fuse welding. This issue has traditionally limited the kinds of materials that can be used in ultrasonic bonding, Apple's filing notes.
"Any desire to substitute metal parts in for plastic parts in a design where welding is the mode of attachment has been traditionally impossible," the application reads. "This serves to limit the abilities of designers with respect to the materials that can be used in a particular design, such as for the housing and internal features or parts of an electronic device having complex internal features."
In most cases, if a company changes the design of a product and swaps a metal component for plastic, it is forced to also change from an ultrasonic weld to an adhesive attachment. This can be undesirable for solid, highly compact portable devices like the iPhone.
Apple's proposed solution is to build metal components with surface irregularities that are "adapted to accept the flow of melted plastic." In this way, a plastic component could be ultrasonically bonded to a metal item.
"Also, the plastic hardening step occurs while the melted plastic is inside at least one of the surface irregularities, thereby attaching the plastic part to the metallic part," the filing states.
Specifically cited in the application as devices that could benefit from this manufacturing process are both the iPhone and iPod lineup. The parts could also be both external and internal housing components, with metal pieces on the exterior of the device and lightweight plastic fused but hidden on the inside.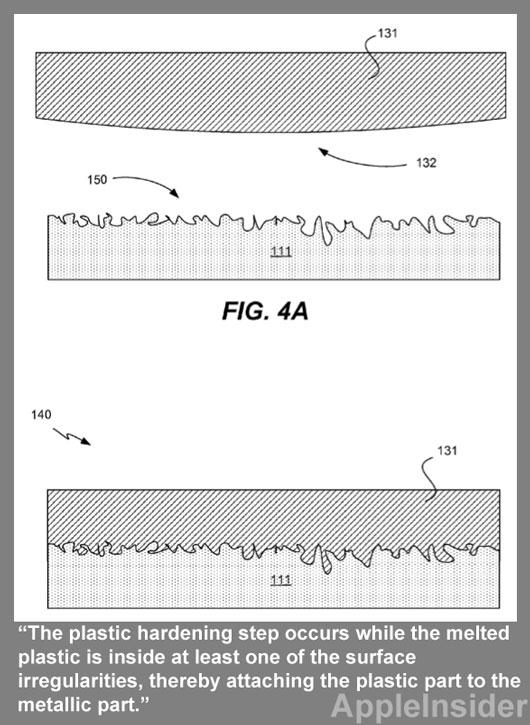 In addition to offering designers more flexibility and variety in crafting new devices, the ability to fuse plastic with metal can also aid in the manufacturing process. Apple's filing notes that it would be advantageous to be able to bond to metal parts at late stages of assembly.
The application, made public this week by the U.S. Patent and Trademark Office, was first filed by Apple in September of 2011. It is credited to Christopher David Prest and Douglas Weber.