Adobe releases free public beta of Photoshop CS6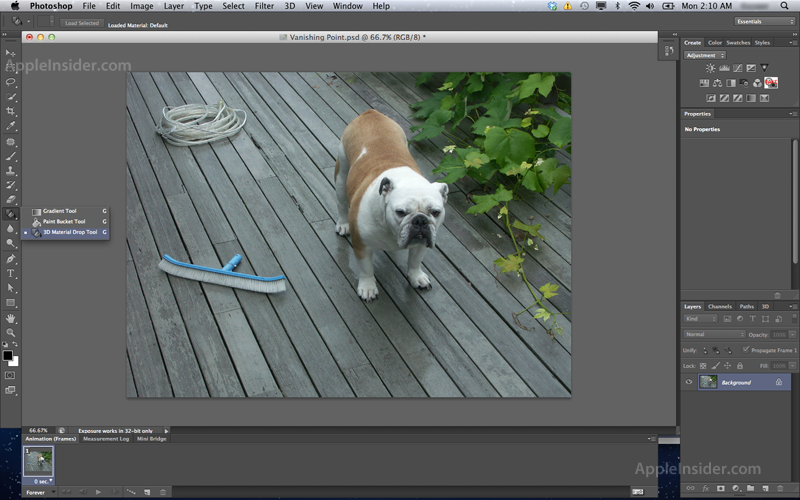 Adobe late on Wednesday released a public beta of its first major update to Photoshop in two years, touting new 3D editing capabilities and a redesigned interface.
The preview of Photoshop CS6 is available for download at the Adobe Labs website. The OS X version of the software is a free 984MB download.
Adobe last overhauled Photoshop with the release of Creative Suite 5 in April 2010.
According to the company, highlights of the upcoming version of the photo editing application include a new content-aware patch, "blazingly fast performance," a dark background user interface and "new and re-engineered design tools." The software will be powered by a new Adobe Mercury Graphics Engine, which promises "near-instant results" from editing tools.
"Photoshop CS6 will be a milestone release that pushes the boundaries of imaging innovation with incredible speed and performance," Winston Hendrickson, Adobe's vice president products, Creative Media Solutions, said in a statement.
Screenshot of an earlier beta of Photoshop CS 6
Users should note that the beta includes features from Adobe Photoshop CS6 Extended, such as 3D editing features and "quantitative imaging analysis capabilities," that will not be included in the basic version of Photoshop CS6.
After downloading the preview, users are directed to select "Try. I want to try Adobe Photoshop CS6 for a limited time." Users will then have seven days to activate the beta with an Adobe ID login.
Adobe has yet to announce an official release date for the software, though the press release announcing the public beta says the final release is "expected" in the first half of this year. Some reports have pointed to a May launch for Creative Suite 6.
AppleInsider was first to leak Photoshop CS6's new features, including the Aperture-like dark background UI and the new 3D capabilities, last October.