Apple's iPhone now the 'digital camera of choice' among consumers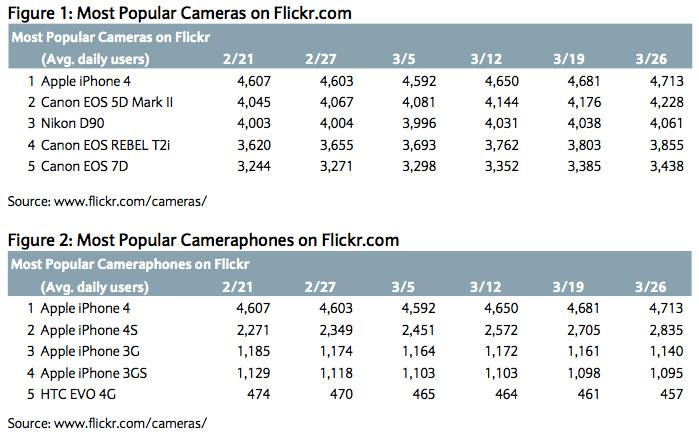 Apple's iPhone has become the de facto choice for consumers who use a digital camera, new statistics from the photo sharing service Flickr show.
The iPhone lineup is becoming the new standard for picture taking, analyst Ben A. Reitzes with Barclays declared in a note to investors on Monday, calling Apple's smartphone "the digital camera of choice for consumers and enthusiasts."
He noted that the latest data from Flickr shows that the iPhone 4 is the most popular camera used on the site with over 51 million registered users. That beat the second-place Canon EOS 5D Mark II, as well as the Nikon D90, Canon EOS REBEL T2i, and Canon EOS 7D.
When tracking solely smartphone use on Flickr, the statistics show complete domination by Apple. The top four smartphones for picture taking on Flickr are, in order, the iPhone 4, iPhone 4S, iPhone 3G, and iPhone 3GS.
The only other smartphone in Flickr's top five was the HTC EVO 4G, which had less than half the active users of the fourth-place iPhone 3GS. In fact, the only iPhone model that didn't make the top five was the first-generation handset released in 2007.
Reitzes said he believes the iPhone has replaced the standalone digital camera for many consumers because of the ease of use it offers, as well as the ability to quickly share photos online.
"This usability helps warrant a premium for the product and creates stickiness with software that connects consumers with other Apple products," he said.
The popularity of picture taking and editing on iOS devices was demonstrated last week, as Apple revealed that it had sold a million copies of its new iPhoto software for iPhone and iPad in less than 10 days. iPhoto for iOS is available on the App Store for $4.99.