Apple's 3D camera concept would capture & recreate images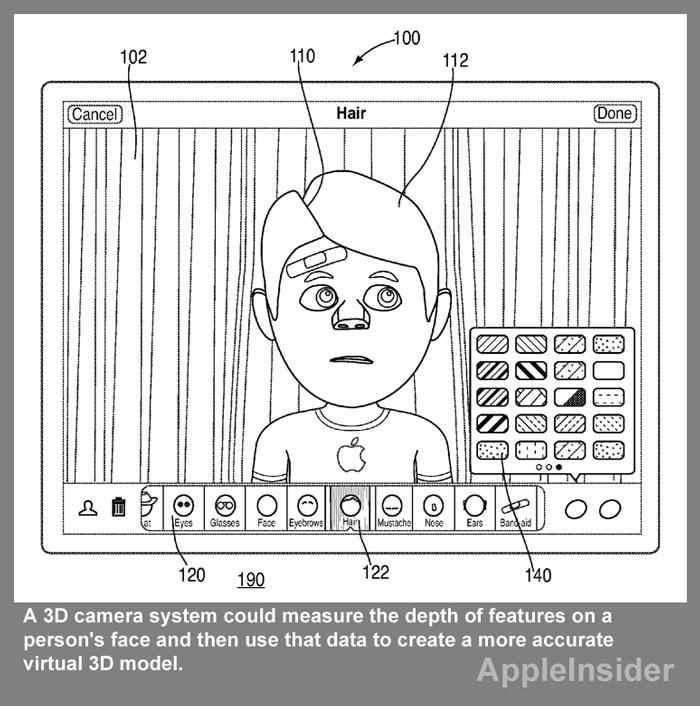 AppleInsider may earn an affiliate commission on purchases made through links on our site.
Apple has explored building a 3D camera systemthat would allow users to capture images and reconstruct them in a three-dimensional model.
Apple's interest in capturing three-dimensional images was revealed this week in a trio of patent applications published by the U.S. Patent and Trademark Office. They are titled:
The first application, which deals with the capturing of a 3D image, notes that existing 3D sensors approximate the distances of objects in a captured image, but cannot accurately reproduce the three-dimensional shape or depth of the object. Such sensors can be incapable of differentiating between a small object positioned close to the sensor or a large object that is farther away.
In one proposed solution, Apple's filing describes use a total of three sensors to capture polarized and non-polarized images, coupled with a processing model that would derive depth information from the images.
In another potential method, an image sensor with a polarized filter would be joined by two sensors used to capture luminance images, from which the processor would calculate depth information.
As for the purpose of capturing 3D images, the next two applications describe a system that could be used to scan a user's face and recreate their appearance with a virtual three-dimensional avatar. The accompanying illustrations show a Photo Booth-like interface that scans the user's face and then automatically creates a cartoonish representation of the person.
Apple has shown repeated interest in allowing users to create virtual avatars to represent themselves, potentially as an addition to its Game Center service for iOS, which is also coming to the Mac with OS X 10.8 Mountain Lion. Microsoft, Nintendo and Sony all offer similar virtual avatars for their respective Xbox 360, Wii and PlayStation 3 gaming consoles.
AppleInsider detailed Apple's proposed avatar creation tools last year. One application even described a system that would automatically generate an avatar based on a picture of the user.
The two latest patent applications take that concept even further, by using a 3D camera system to measure the depth of features on a person's face and then use that data to create a more accurate virtual 3D model.
The applications show how different features of a user's face — such as their mouth, eyes, nose, ears, and any facial hair — would be scanned and measured by the 3D camera system. That data could then be recreated by the system to create a cartoon-style avatar, while the user could further customize the creation to their liking.
The 3D image capturing patent was first filed in September of 2011 and is credited to Brett Bilbrey, Michael F. Culbert, David I. Simon, Rich Devaul, Mushtaq Sawar, and David S. Gere. The two 3D modeling patents were both filed in September of 2010 and are credited to Thomas Goossens.