Apple predicted to discontinue 17-inch MacBook Pro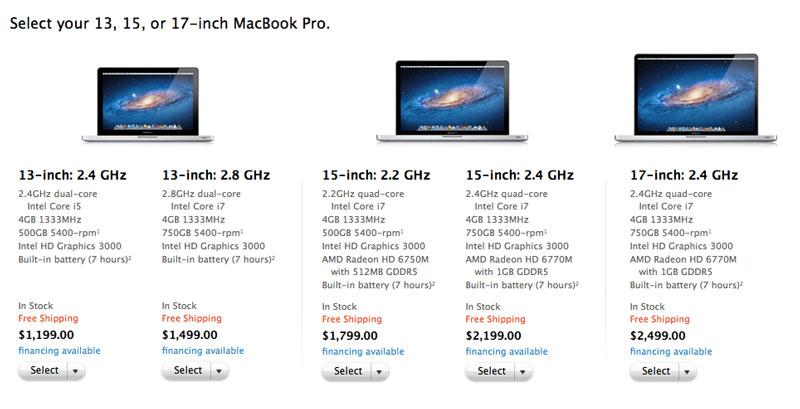 Though updates for the 13- and 15-inch models are on the horizon, Apple may not continue making its 17-inch MacBook Pro, according to one analyst.
Ming-Chi Kuo with KGI Securities predicted on Monday that Apple is "likely to stop making" the 17-inch MacBook Pro this year. He cited falling shipments with the company's top-of-the-line notebook as the primary reason he thinks it will get the ax.
Kuo has a respectable track record with regard to Apple's products. In particular, he was first to indicate in 2011 that Apple would phase out its legacy 13-inch polycarbonate MacBook.
Soon after, the white, entry-level MacBook was completely discontinued. It has been completely replaced at the $999 price point by the 11.6-inch MacBook Air, while education institutions can buy a special, less powerful version of the 13.3-inch MacBook Air in bulk for $999.
Apple is expected to launch a revamped MacBook Pro lineup in the coming weeks, featuring a new thin-and-light design similar to the MacBook Air, and powered by Intel's latest-generation Ivy Bridge processors. The launch of new MacBook Pros is expected to be staggered, with the new 15-inch models leading the way as soon as this month.
A new 13-inch MacBook Pro is expected to quickly follow and launch in June, bringing new features like solid-state storage and a thinner design lacking an optical drive. But while recent rumors have mentioned the 15-inch and 13-inch models, little has been said about a redesigned 17-inch MacBook Pro.
AppleInsider reported in February that Apple is gearing up to introduce radically redesigned MacBook Pro models this year, borrowing the ultra-thin design the company pioneered with its MacBook Air. One person familiar with the new MacBook Pro designs indicated "they're all going to look like MacBook Airs."