Apple iPad takes 95% of all tablet web traffic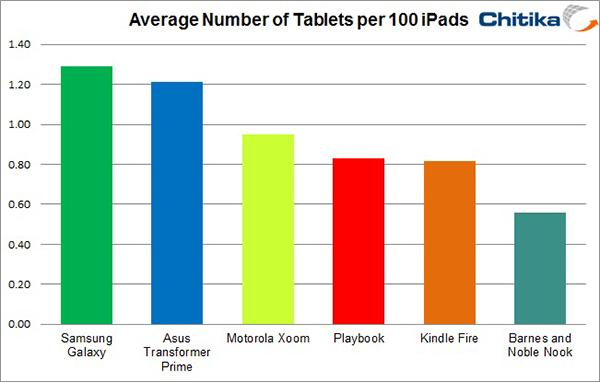 A new study released on Friday claims that the combined users of the three generations of Apple's iPad account for an overwhelming amount of all tablet-based internet traffic.
Chitika Insights, the research arm of the Chitika ad network, sifted through its database of ad impressions and found that 94.64 percent of all tablet web traffic can be attributed to the iPad.
In comparison, the second place Samsung Galaxy Tab only managed 1.22 percent of the market, while the Asus Transformer Prime eked out 1.2 percent. Rounding out the top six were Motorola's Xoom, RIM's Playbook and Amazon's Kindle Fire. In last place was Barnes and Noble's Nook which took 0.54 percent of the market.
To put the numbers in perspective, the most recent research from IDC found that worldwide shipments of the iPad rose to claim 68 percent of the market in the last quarter after the Kindle Fire pushed Apple's share below 60 percent during the holiday season.
The iPad shows no signs of slowing despite increased competition from Android-based devices made by Samsung and other large electronics companies. Future players include Microsoft, which has entered the fray with a $300 million investment in B&N's Nook, as well as Amazon's rumored 10-inch offering expected to be released in the second quarter.
Chitika Insights data shows iPad dominating tablet internet traffic. | Source: Chitika