Apple accidentally reveals iCloud.com banner notifications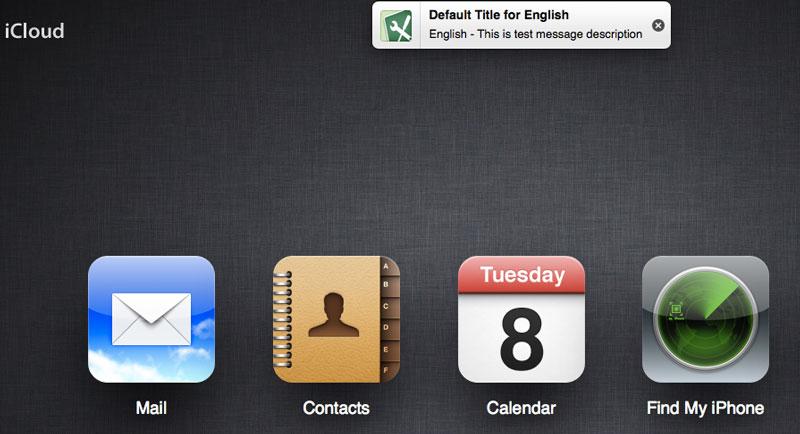 AppleInsider is supported by its audience and may earn commission as an Amazon Associate and affiliate partner on qualifying purchases. These affiliate partnerships do not influence our editorial content.
A test of a new banner notification feature at Apple's official iCloud website was mistakenly made public on Tuesday, revealing a forthcoming feature for the service.
Users who visited the iCloud.com website could find an iOS-style notification at the top of their browser. It featured placeholder text for both a title and a message.
"Default Title for English," the title read, followed by "English - This is test message description."
To the right of the notification was an 'X,' allowing users to close the message from their browser. The test message could not be selected and it did not link anywhere.
The early reveal shows that Apple is planning to bring banner alerts to iCloud.com, a feature that first debuted last year on the iPhone and iPad with the release of iOS 5. The banner alerts replaced the previous, more intrusive alert notifications that must be responded to in order to return the device to normal use.
Regular alerts and banner alerts both remain as selectable options by users in iOS 5, as part of Apple's new Notification Center. Notification Center will also be coming to the Mac this summer with the release of OS X 10.8 Mountain Lion.
In Mountain Lion, Notification Center will be accessible by choosing a circle button on the top right of the screen. With a gesture of two fingers sliding from the edge, the Notification Center can be pulled from the right of the screen.
That's slightly different from iOS devices like the iPhone and iPad, where the Notification Center is pulled down from the top of the screen with a simple finger swipe.
Tuesday's reveal at iCloud.com did not give any indication that a unified Notification Center will be coming to the website. But it did indicate that Apple is actively working on bringing banner-style notification alerts to the free cloud-based service.